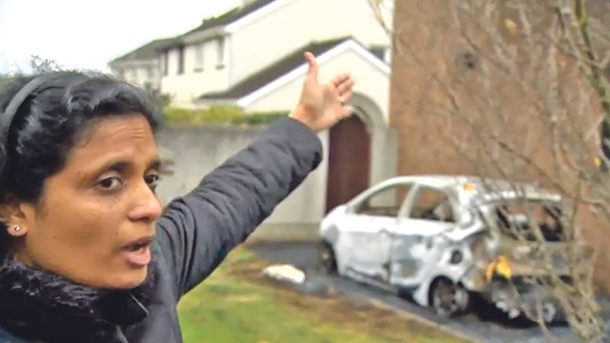 Indian family in Northern Ireland attacked in hate crime
A community in Northern Ireland has rallied behind an Indian family which was the target of an arson attack.
Within 24 hours of the hate crime, a crowd-sourcing campaign raised £7,000 (£2,000 more than the target amount) for cardiac nurse, Subi Philip, to buy a new car to replace her vehicle which was destroyed in the attack.
Subi and her two children, aged 10 and eight, were at their home in County Atrim when arsonists struck just before daybreak on Friday 25th November.
"I just heard a big bang and got out of my bed and saw a big fire. When I came downstairs and saw it, I started screaming. My girls didn't know why I was screaming and they were screaming too. I was really panicking," Subi said on BBC television.
The family is from India and Subi's husband is currently there attending his father's funeral.
Northern Ireland police is treating the attack as a hate crime.
"We believe that the attack was motivated by racial hatred," said Chief Inspector John Allen.
"Any attack on property is unacceptable, however I totally condemn the racial hate crime element of this attack, which makes it particularly repugnant," he added.
About 60 Indian families live in the area and most of them work in the Antrim Area Hospital as either nurses or doctors.
Following the blaze, three men started a fund to raise money to replace the family's car.
One of them, John McCarthy, said they started the online campaign with the aim of raising £5,000, expected to run for a few weeks, yet the public responded swiftly and generously.
"We expected this campaign to go on until Christmas – but not gather pace to £6,000 in 24 hours," he told the local Newsletter newspaper.
"Now the figure stands at £6,983 and has been pledged by 402 people, which shows how good people are," he added.
Mr McCarthy, 26, along with Michael Wilkinson, who lives in Vienna, and his brother Tom Wilkinson, 22, said they were moved by the family's plight after hearing it on the news.
The Ulster Unionist Party Member of Parliament for South Antrim, Adrian Cochrane-Watson, said Mrs Philip got her children out of bed and "escaped up the street to safety".
"This is a young mother who has been living in this country for a number of years, who has set up home," he said. "This is a lady, a professional who is saving lives every day of the week and rehabilitating people who are suffering from heart disease or heart attacks.
"The Fire and Rescue Service said the blaze was being treated as deliberate."
Police have appealed for information.