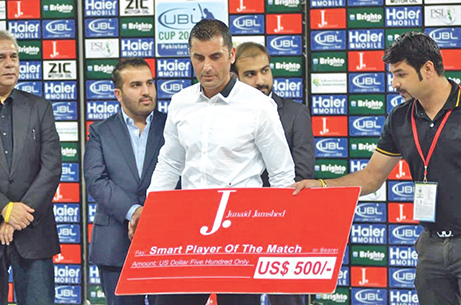 Retail chief hands over Smart Player of the Match award in Dubai
As the England cricket team celebrated their series win over Pakistan in Dubai last month, a luxury fashion retailer had the honour of handing out the 'Smart Player of the Match' award.
Managing director of Janan, Asif Khan, was invited to the Gulf State for a special awards presentation on Thursday 26th November, at the Dubai International Cricket Stadium.
Junaid Jamshed by Janan is the exclusive stockist of this internationally acclaimed brand which stocks clothes and accessories across four stores nationwide.
It is the retailer of Pakistani stitched garments for ladies, gents and children, and also provides unstitched ladies suits and a host of accessories.
The new winter collection, which is available in all stores nationwide, features beautiful prints and embellishments, showcasing craftsmanship from Pakistan at its best.
The collection not only features bold prints but also has the traditional classical style featuring Pakistani embroidery famous for its intricacy.
The winter collection is not only trendy and bold but also very graceful making it a must have for all the 'fashionistas' looking to stay ahead of the fashion's trends.
December is a very exciting month for J. Junaid Jamshed by Janan not only because of the fabulous winter collection but also because of the forthcoming launch of J. Fragrances by Janan.
The new shop is set to open on Saturday 12th December at the newly opened Broadway Centre in Bradford, with shoppers invited to join Junaid Jamshed along with the Khan brothers and the J. by Janan team for a 'memorable launch'.
The shop will exclusively retail the brand's perfume line, and with over 50 fragrances to choose from for both men and women the J. Fragrances by Janan will cater to the varied preferences of its clientele.
From fresh and floral to musky and woody scents, this range of perfumes is sure to have something that is perfect for everyone.