It seems there's no stopping a young but formidable teenager in furthering her cricketing ambitions.
Rhia Sedha is proving to be a remarkable sports person. Now playing cricket for six years, she's added a further seven trophies to her bulging collection. She says her biggest dream is to represent England in the national Women's Cricket Team.
---
ADVERT: Want a true taste of the Punjab? Visit 'Fanoosh' on Street Lane, Leeds
---
The determined youngster played under 13's and 15's cricket while progressing to District and County cricket, and also took a wicket in her first under 17's game.
Picking up an awe-inspiring number of significant trophies along the way, last year she became the second youngest player ever at age 12 to get a hat trick in the Women's League
Training throughout with her local cricket clubs, Rhia has also attended Yorkshire girl's pathways training and Pro Coach at Headingley. But it's not just girls that she's up against.
Rhia explains: "I play cricket in a mixed team for my local club Shadwell CC. Whenever I play, I always play at the same standard regardless if it is boys, girl's or ladies.
"The harder the competition, the more motivated I get. At junior level, I feel that girls are just as good as boys."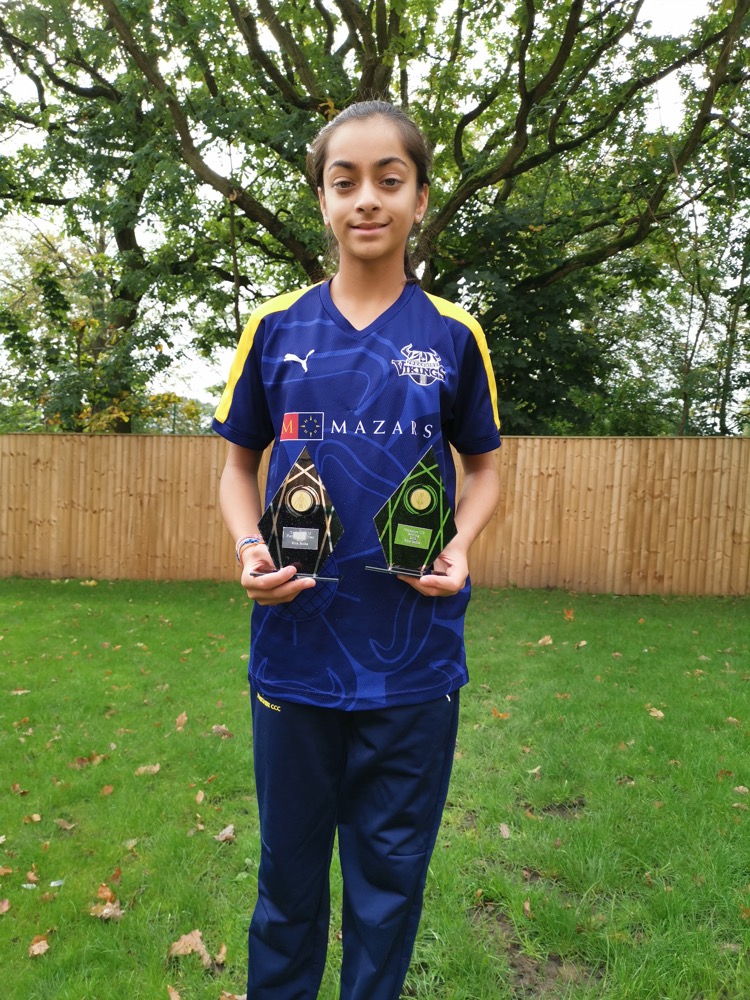 Rhia first fell in love with playing cricket in the back garden with her dad, Deepak, at the tender age of five-years-old. By the time she was seven and playing soft-ball cricket at primary school, her impressed P.E. teacher recommended that she should join the local cricket club.
This season, season Rhia was named Under 13's Player of the Year and also won the Under 13's Bowling Award.
With a love for all aspects of cricket, Rhia says: "I enjoy batting, bowling and fielding as they play a big part in a game of cricket, but if I had to choose the one that I am best at, I would say bowling.
"However, I feel it is just as important to be a team player and supportive of team members. I always try to play with a smile on my face and treat each game of equal importance so that I offer a 100% commitment."
Rhia seems to live and breathe cricket and has an impressive array of cricket celebrity autographs and photographs including Brendan McCullum, Adil Rashid, Lauren Winfield, Katherine Brunt and Heather Knight.
"One of my memorable moments was having the pleasure to take a picture with the Women's Cricket World Cup."
Talking about representing England one day in the national Women's Cricket Team, she comments: "I know there are plenty of hurdles and hard work and determination is required to achieve this but I am up for the challenge!"
Rhia's 2019 Cricket Achievements
Club Cricket Awards
Yorkshire County Girl's U13's Awards
U13's Batting Award


U13's Bowling Award
U15's Bowling Award


U13's Player of the Year
Player of the Competition for
Simpson Cup (Cup Winners)


U13's Most Improved Player


Juniors,Club Most Improved Player
---
ADVERT: Want a true taste of the Punjab? Visit 'Fanoosh' on Street Lane, Leeds