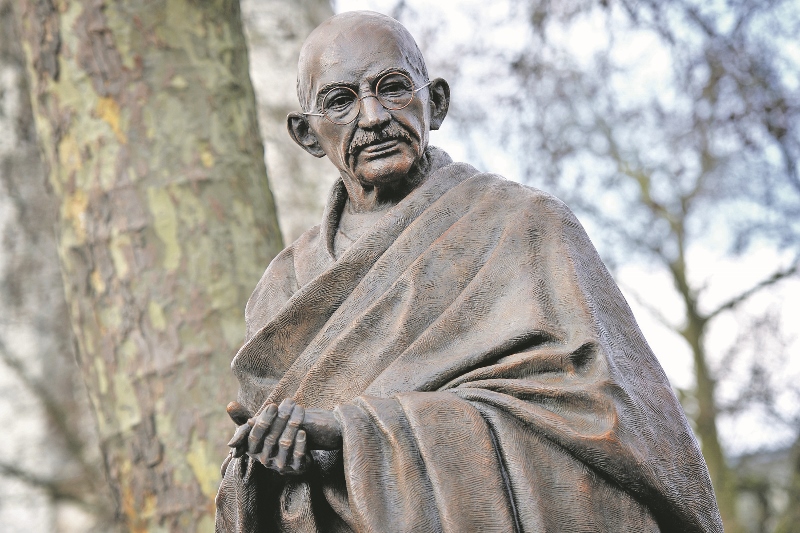 Iconic statue revealed to mark centenary year
One of the greatest humanitarian and political leaders in modern history was eternalised in London last weekend as a statue of Mahatma Gandhi was officially unveiled.
Prime Minister, David Cameron, and Indian Finance Minister, Arun Jaitley, drew back the covers from the giant bronze statue in Parliament Square to commemorate 100 years since Gandhi's return to India from South Africa.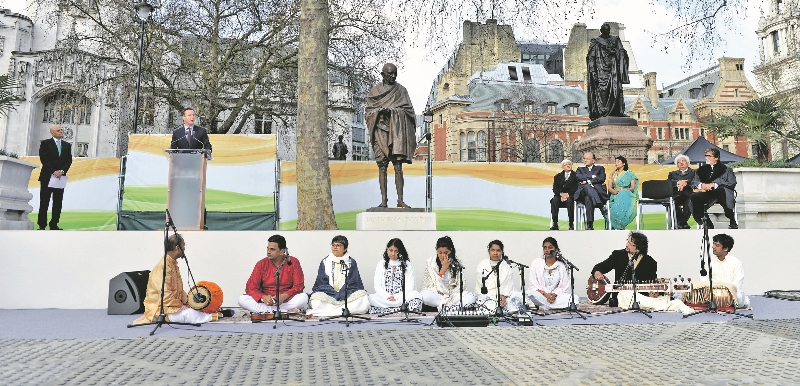 The ceremony, on Saturday 14th March, featured personal reflections from Mahatma Gandhi's grandson, and former Governor of West Bengal, Shri Gopalkrishna Gandhi.
Amitabh Bachchan, one of India's most prominent actors, also read words written by the renowned Indian leader, in front of members of the public and Lord and Lady Desai of the Gandhi Statue Memorial Trust – the charity that raised over £1million to fund the statue.
Mr Cameron quoted Gandhi in his speech on the day and welcomed the official opening of the capital's latest landmark.
"This statue is a magnificent tribute to one of the most towering figures in the history of world politics and by putting Mahatma Gandhi in this famous Square we are giving him an eternal home in our country," he said.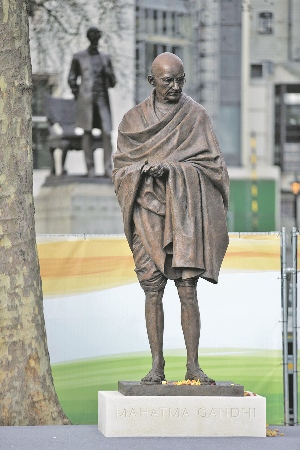 "Many of his teachings remain as potent today as when he first made them. 'The best way to find yourself is to lose yourself in the service of others' and 'Be the change that you want to see in the world' remain timeless, profound and inspiring words of wisdom.
"This statue celebrates the incredibly special friendship between the world's oldest democracy and its largest, as well as the universal power of Gandhi's message.
"Our ties with India have remained close throughout history and continue to go from strength to strength – through mutual respect as equals, cooperation and trade, and of course through the one-and-a-half million Indians who do so much to make Britain the country it is today, bringing our two countries closer, to the benefit of both."
The statue was created by renowned British sculptor Philip Jackson, who is known for his work on similar projects for the Queen Mother and the Bomber Command memorials.
Mr Jackson was inspired by a 1931 photo of Gandhi at No10 Downing Street where he met the Prime Minister of the day, Ramsey McDonald.
Indian Finance Minister, Arun Jaitley, said of the unveiling: "The statue will help ensure that the legacy of Gandhi lives on for future generations.
"It also marks an important, historic moment celebrating the strong bond between our two nations. India and the UK share the same values and we are a partnership of equals. This lasting friendship is just one of many legacies left by Gandhi, which I am keen that we work hard to strengthen further."
Secretary of State for Culture, Media and Sport, Sajid Javid, added: "This statue will stand as a reminder of Gandhi's ideals and Britain's historic relationship with India and its people. Our nations' friendship as equals, which brings growth and prosperity to both our countries, owes much to Gandhi's determination to achieve independence though peace."