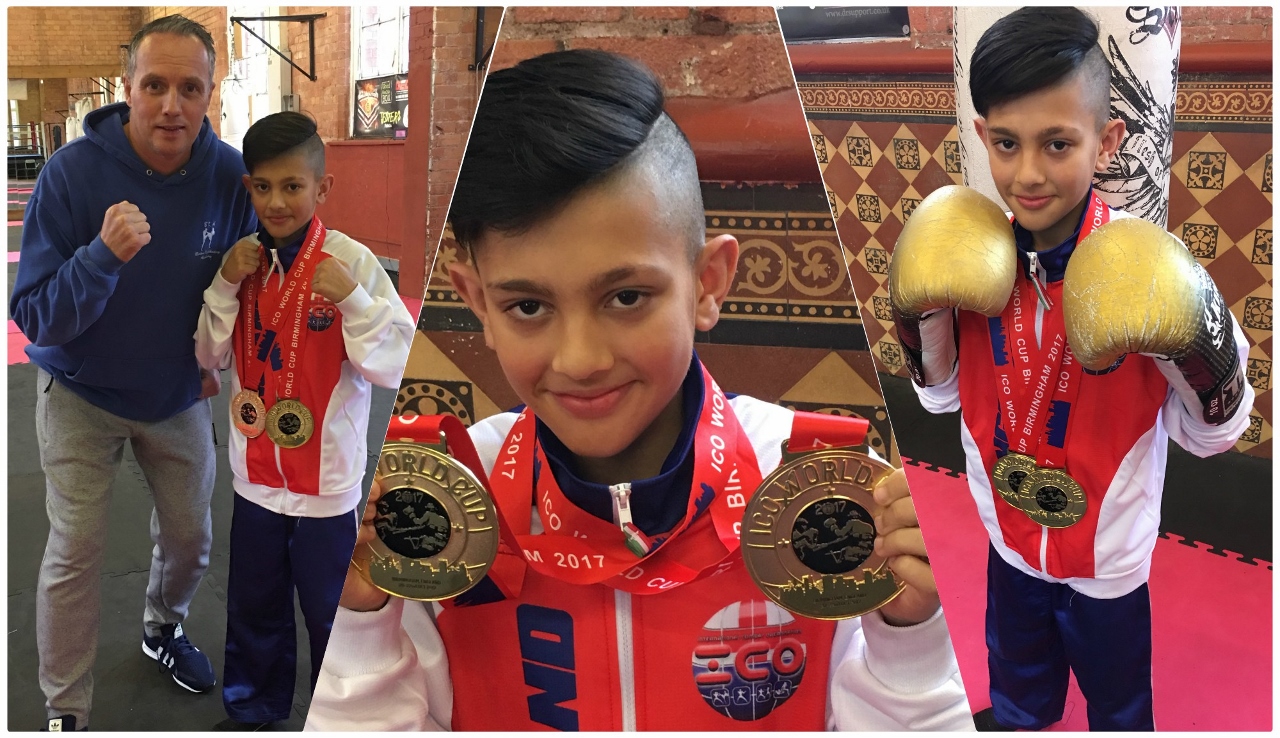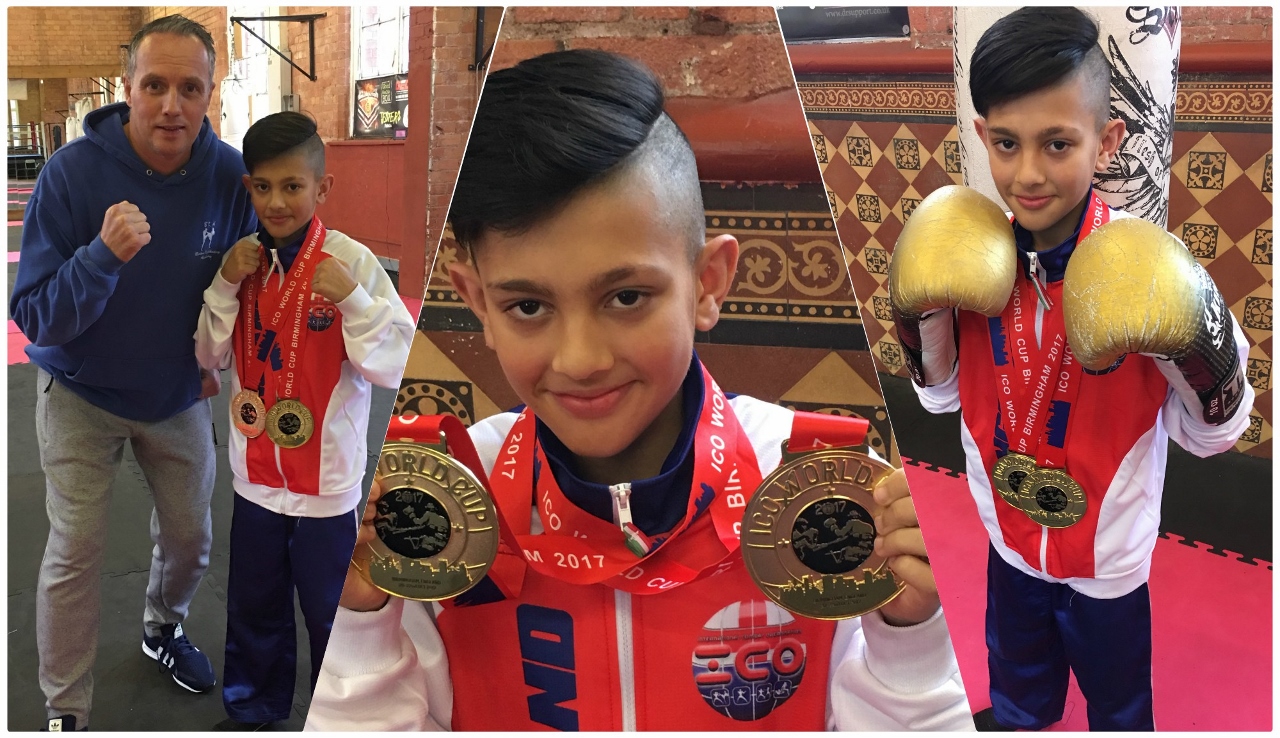 Eleven-year-old boy wonder Aiman Shaid caught the eye at the recent world International Combat Organisation Kickboxing World Championships, which were recently hosted in Birmingham.
The three-day event hosted teams from around the globe, with nations competing as far as Brazil and New Zealand between the 20th-22nd of October.
Aiman who was competing at the world event through merit after he won gold at the British Championships earlier this year when he successfully saw off some very tough competition from around the country back in March to claim the illustrious title.
Winning this title and achieving the gold medal means that Aiman wins a place in the national kickboxing squad, which is a huge achievement in itself for the young starlet.
At the World Championships Aiman was entered into two different divisions. He was entered into the Ring Continuous – 30kg boys 12yrs and Mat Continuous – 30kg boys 12yrs.
His coach Chris Squirrell, owner and chief instructor at Burton Kickboxing Academy spoke of Aiman's World Championship exploits, and how the event went for the junior star.
The second day was an equally impressive performance by Aiman Shaid who showcased his undoubted kickboxing ability on the world stage.
He managed to get himself to another final and once again showed no nerves and came away World Champion for the second time in two days, which is an incredible achievement for anyone but at the age of eleven this is an astonishing achievement.
"As his coach I wanted to see if he could mix it with some of the best kickboxers from around the world," said Chris.
"On day two Aiman was up again in the ring with an equally tough challenge ahead and, if I'm honest, this was the title I wanted most for Aiman and his family.
"Once again, he thought his way through the field of fighters and landed himself another final at the world championships. To say I was proud of him would be an understatement as he gained another unanimous decision following another great performance in his second final of the event."
"This young boy simply didn't disappoint and on the opening day he showed no signs of nerves and he steadily made his way through the opposition claiming a place in the final of the mat continuous.
"In the final, Aiman produced a 'Shaid masterclass'. He put in an unbelievable performance which I always knew he had in him. Ultimately all judges were unanimous in their decision and announced the rightful winner and new world champion as Aiman Shaid."
Aiman's path to being a double world champion has been a long one despite his young age and he has impressed his peers who are amazed and proud of his achievements to date. His coach again praised his young protégé he said: "To be a two times world champion doesn't really tell Aiman's story.
"He has worked extremely hard in preparation for this tournament, not just with me but with his national coach's Andrew Hennessy and Neil Kelly and it has been a very tough six months for him.
"Personally, I would like to comment on how Aiman is a very shy and humble boy who walked into my gym at the age of 6-year-old with his father, saying he wanted to start Kickboxing to gain a bit of fitness and to be able to defend himself.
"He is a pleasure to teach and a great role model to our younger members that hard work and dedication pays off."
Aiman's mum Kosar Javid spoke of her son's achievements and how he focused he is and motivated on his kickboxing she explained:
"Aiman is fully focused when it comes to his kickboxing, before any title fight or tournament his training intensifies in the gym.
"At home he has healthy meals, his mental preparation is done by his dad to ensure that he is fighting at 100% and with Allah's blessings, he has done very well Alhamdulilah."