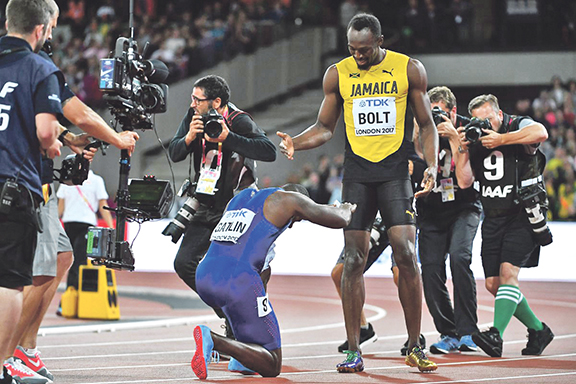 Usain Bolt's fairytale ending was ruined as Justin Gatlin ran away with the gold at the World Championships in London
Usain Bolt's final individual race ended in disappointment as the Jamaican finished third, with Justin Gatlin flying to victory.
Bolt wasn't even able to grab silver as 21-year-old outsider Christian Coleman made it a USA one-two.
Gatlin, 35, has twice banned for doping adding controversy to his achievement, winning with a time of 9.92 seconds, with Coleman just 0.02 seconds behind him and Bolt another hundredth slower.
Gatlin was greeted with an ovation of boos from the London crowd as the majority wanted to see the fastest man alive win one more time.
After Gatlin's second positive test, for testosterone in 2006, he avoided a life ban after cooperating with the authorities and received an eight-year suspension that was then reduced to four on appeal.
After the race the crowd proceeded to cheer Bolt's name as the 30-year-old was the last to leave the race as the sell-out stadium awaited his trademark pose.
The medal ceremony was a little less hostile towards Gatlin as the US national anthem played out.
The Jamaican has another chance for gold in the 4x100m relay on the final day of the championships as the world has its fingers crossed for another piece of Bolt brilliance.