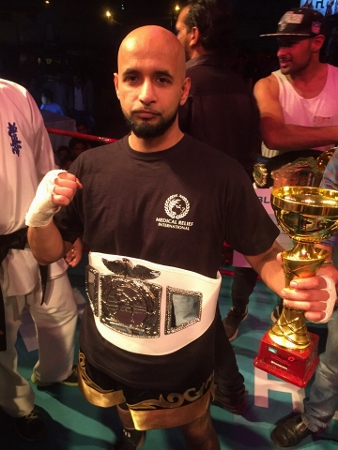 Kickboxing ace returns as champion from international bout
After almost six years of sitting on the sidelines, renowned Thai boxer Mubz Bajwa returned to the ring last week, where he stamped his name on the international stage.
The 37-year-old has fought for national titles in the past, is a Red-Band qualified instructor and has over 20 years experience in the sport. It's an illustrious career that has seen him conquering some of the best boxers in the biz.
However, his latest venture on Saturday 12th December put him in a challenging environment and new territory altogether when he travelled to Pakistan for his first overseas fight.
In the contest billed as 'Nations Collide', Mubz faced off against Singh Noi, from Thailand, for the K7 Redemption International Muay-Thai Championship.
Knocking out his opponent in the fourth round, the Brit was crowned champion in front of a packed audience, which included singers, models and sports people.
"It was an amazing experience and something I would love to do again," he said.
"The opponent I was up against was a very tough guy. He kicked like a horse and was always on the move.
"I knew by the fourth round that the only way I was going to win was by knocking him out so I planted my feet and launched a flurry of attacks.
"One of them caught him under the chin and he went down. From there I knew I had it."
Mabz returned to the UK just a couple of days after the fight where he began his recovery from the exhausting trip.
It wasn't all smooth sailing for the Birmingham fighter who had to battle through sciatica throughout his training, which is a condition caused by the compression of a spinal nerve.
"I didn't tell anybody about the condition beforehand because I didn't want people to worry about the fight not going ahead," he added.
"Thankfully I was able to compete and despite some ring rust, I got the win and the belt."
Already back in the gym, Mubz says he has big plans for 2016, yet with a world record and world title to his name in the past 12 months, he has a lot to live up to next year.