Bradford Muslim College
---
Creating young and dynamic scholars, academics, teachers and imams
A group of young Muslims from Bradford came together earlier this year to launch a new Islamic College for the benefit of the Muslim Community.
The Bradford Muslim College was launched in November by friends, Hamzah Khan, Muddasir Ul Haq and Hafeez Aziz with the intention of creating young and dynamic scholars, academics, teachers and imams who would be able to teach and educate the community and represent Muslims well in politics and the media.
The College will officially begin classes in January 2016, offering a number of courses including a one year Foundation Diploma for students who want to learn the basics of Islam such as the rules of prayer and the message of the Muslim holy book, the Qur'an.
The flagship course that the college will be offering is the four year undergraduate Alimiyyah Degree for students who want to study Arabic and Islamic Studies at an advanced level with the intentions of becoming teachers and Scholars.
Hamzah Khan, one of the Directors of the College, explained more about why the college has been set up.
"For countless years the Muslim community has been crying out for well spoken, highly educated leaders and representatives who can teach the traditional message of Islam and give clear and unequivocal information about what the Islamic stance is on some of the very complex and challenging situations the world faces today," he said.
"These leaders have not been forthcoming, so we decided to do something about it by setting up a College with lecturers of the highest calibre in areas such as Arabic, Islamic Law and Quranic understanding.
"Our College is determined to develop great teachers and leaders who can defend Islam from the extremes on both sides of the spectrum – far right extremism and radical religious extremism.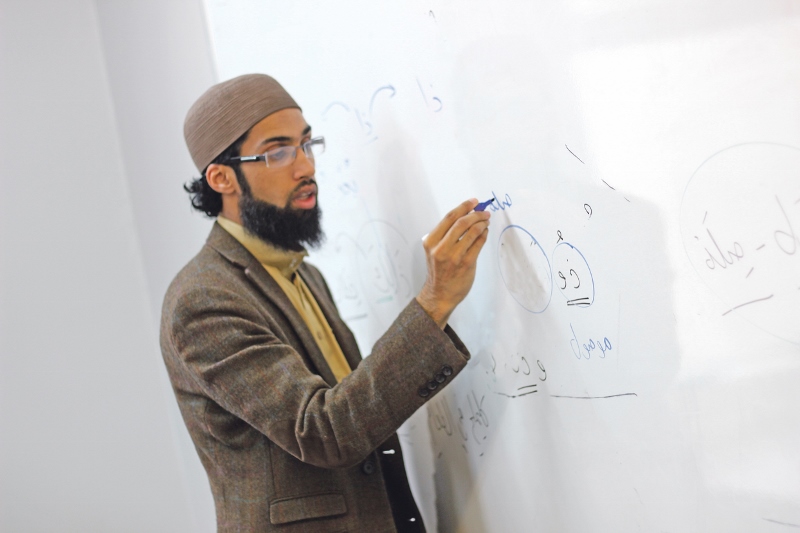 "We hope and expect that our graduates will be able to go out in to society and spread the real message of Islam which is one of balance, tolerance, mutual respect, harmony and selflessness – it is such an important message of reassurance that needs to be delivered in the times of conflict, tension and worry that we live in."
One of the unique aspects of the curriculum that the Bradford Muslim College has devised is the balance between the study of very traditional subjects such as Arabic Grammar, Fiqh and Hadith (taught for hundreds of year in Islamic Universities from Fez in Morocco to Baghdad in Iraq) with that of very new topics such as contemporary affairs, Islam in Britain, History and Heritage, and the History of Muslims in the UK.
Hafeez Aziz, who teaches at the College, explained the reasoning behind this bold move.
He added: "The whole purpose of the college is not to simply produce people of knowledge, but to produce people of knowledge who have an acute awareness of the context and needs of the community and society in which they will work and the political and social challenges that they will need to address.
"We want to produce teachers who can make the way they teach Islam relevant to people's lives and in touch with all of their problems and needs. We are hoping that this curriculum will achieve that for us."
To find out more about the Bradford Muslim College or to apply for one of their courses starting in January 2016 visit www.BradfordMuslimCollege.org.uk