The spectacular cavalry sport of tent-pegging saw Pakistani horsemen and their handsome horses displayed a heart-stopping showcase at Haworth Road Playing Fields in Bradford.
Tent-pegging is just one of ten disciplines recognised by the International Equestrian Federation. The objective is for a rider to pierce, pick-up and carry a target, with a lance or a sword, as they gallop towards the target.
---
ADVERT: Want a true taste of the Punjab? Visit 'Fanoosh' on Street Lane, Leeds
---
The sport is played in a lot of countries around the world, but is most popular in commonwealth countries, including Pakistan.
The event organised last month by the well-established Neza Baaz Club UK, is its first in Bradford, with bosses saying that it is set to go ahead annually in the district.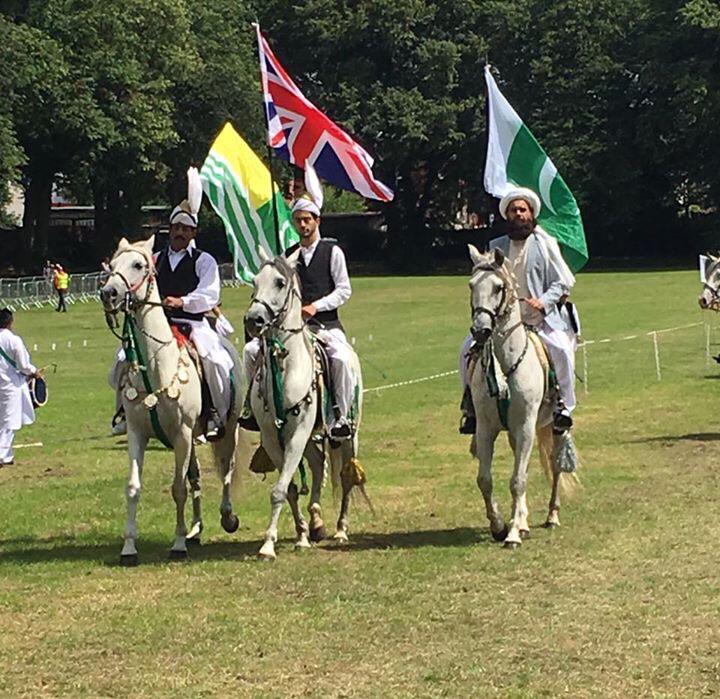 Over a 1,000 people went along to witness the daring skills of the riders, with England leg spinning cricketer Adil Rashid understood to be among the spectators.
Members of the Pothwar Haidry Club were present and had come over from Norway and Ireland to witness the equestrian skills.
Event organisers from Neza Baaz Club UK, Raja Kamran Zulfkar and Raja Shakeel Khan said of the Bradford event: "The Neza Bazi (tent-pegging) was really popular.
"The horses and riders were from all over the country. We even had horses come all the way from Ireland. It was really good to see walkers and passers-by enthralled by the action on the day."
"It is the first time we had this in Bradford and we are all really proud it went well."
Raja Raza Shaan, a member of the British Tent Pegging Association added: "It is amazing how cultural events like these bring together communities, cultures, people of different backgrounds and most of all, today's youth."
Association chairman Raja Altaf spoke about his passion for horses. He said: "I have been riding and looking after horses for over 50 years.
"I owned my very first horse when I was just ten years of age. Here in Bradford I own the Raja Farm which is based in Bingley Road, where we have nearly a dozen horses. We travel up and down the country to tent pegging events."

Association chairman Raja Altaf
Tent-pegging is a well known sport in Pakistan and is now being introduced into the UK. Followers say it keeps the youth active and connected to their Pakistani culture, and it's also an excellent way of diversifying sports in the UK.
Several tent pegging competitions are at national and international level with highest being the Tent Pegging World Cup and the World Championships.
---
ADVERT: Want a true taste of the Punjab? Visit 'Fanoosh' on Street Lane, Leeds