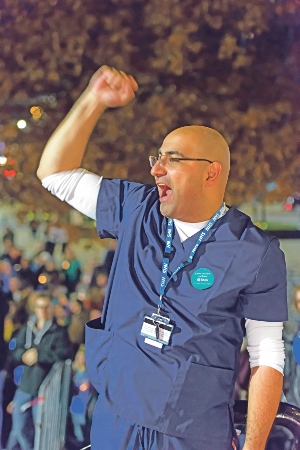 Junior doctors say a strike was an action of last resort
Junior doctors in Leeds say they are happy that strike action has been called off and are now hopeful that a lasting solution can be found during talks being held by the independent mediation organisation Acas.
Dr Phil Atkinson, an organiser of junior doctor demonstrations in Leeds three weeks ago, said that he and his colleagues very much regretted having to take the "unprecedented step" of strike action but they had exhausted all other methods of trying to get the government to listen to their concerns.
"A strike was not something that any doctor actually wanted but it was the only thing we actually had left to try and get government to listen to us about our genuine concerns," he told the Asian Express.
"We are sorry about the disruption that has taken place. We genuinely apologise for that but we were thinking about the long term, of protecting patient safety and protecting our profession.
"If government had accepted talks with Acas five days earlier, when we proposed it, routine services would not have been cancelled."
Dr Atkinson said that there had been much misinformation and misrepresentation of scientific studies and reports, such as about excess deaths at the weekend and seven-day work week. He therefore urged all patients, who come into contact with junior doctors, to ask them about it.
He also warned that unless an agreement was reached by 13th January then the BMA still had a mandate to call a strike.
Hospitals in Leeds and Bradford are re-booking patients who were affected by the planned junior doctors' strike on 1st December.
Last minute talks with government saw the medics suspend their industrial action, which could yet still be re-instated in a matter of weeks if new talks fail to reach a permanent deal.
Hundreds of appointments were cancelled across West Yorkshire ahead of the planned strikes.
At Leeds Teaching Hospitals 800 people were booked for an appointment or surgery on that day and all were advised of potential disruption.
"Last week we wrote to around 800 people saying their appointment or surgery was at risk but asking them to keep an eye on the news in case the strike was called off," said a hospital spokesman.
"As soon as the news came through about the strike being cancelled we put a message on our website asking people to come in as normal.
"Obviously not everyone will have got the message but we are confident this averted some of the disruption we might otherwise have seen."
Bradford Teaching Hospitals did not divulge the number of patients who were affected but a spokesperson said that they did cancel some routine elective activity and outpatient services.
"We are now in the process of contacting all affected patients to re-schedule and re-book these appointments and operations as soon as possible," a spokesperson said.
"We apologise for any inconvenience this has caused but would stress that our number one priority is always the safety of our patients."
Government and the junior doctors were on a collision course over disagreement on a new contract. Talks broke down in 2014 but government said this year they would unilaterally implement a new contract next summer.
As a result, 98 per cent of junior doctors, represented by the British Medical Association, voted in favour of three days of strikes with the first to have happened on 1st December.