Born in Pakistan, and now living in Slough, Hassan began boxing as a 12-year-old with Pinewood Starr ABC.
Up until earlier this year, he was competing as an amateur, but now the light-welterweight is signed up professionally with one of the globe's foremost boxing management company MTK Global.
As an amateur he's won one junior ABA championship, two NABGC championships, two GB Championships, one Youth ABA Championship, a Silver at the Youth Europeans, a Bronze at the Buenos Aires and one GB senior Elite Championships.
"I look to replicate my success as an amateur through he professional ranks under the guidance of my team Team Azim Promotions and MTK Global," says Hassan.
"I'm incredibly excited about my professional debut confirmed for 11th November, where I look to announce myself to the world."
Head coach and father Mr Azim comments: "Hassan is my eldest son, like any father, I've nurtured my son into the young man he is today.
"What's important to me is he be the best version of himself both inside and outside the ring.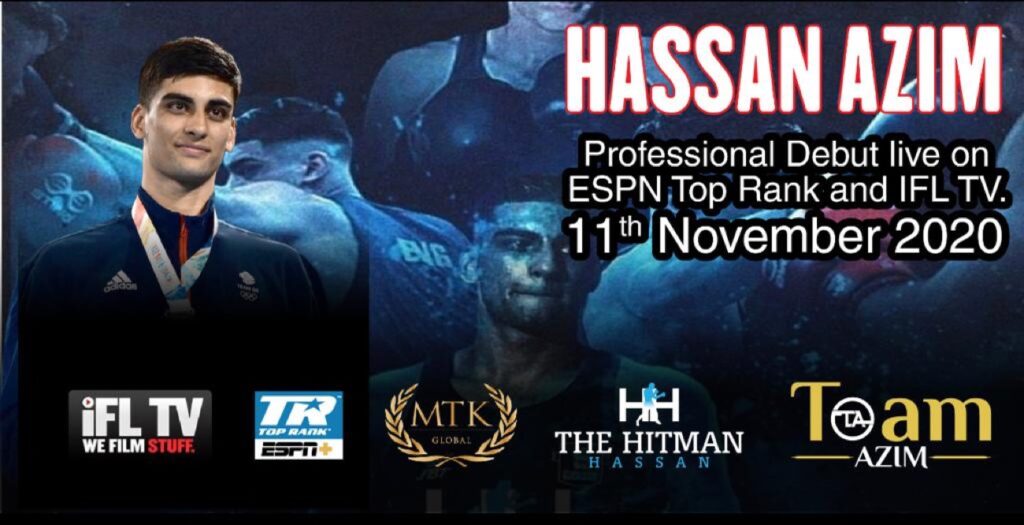 "I'm his guidance and his shield as I monitor and pave his path as a father and a coach. My training plans have been devised and outlined before evert camp, very meticulously leaving no stone unturned.
"Hassan really has excelled in the amateurs becoming one of the top five welterweights in the world.
"He's matured into a top young prospect and has the potential to make it to the top. I have put together Team Azim Promotions alongside management company MTK Global, a team that looks after all of Hassan's needs leaving us to concentrate solely on that which needs to be done in the ring.
"The next chapter in Hassan's career has began and I couldn't be prouder of what he has achieved so far.
"His accolades speak for themselves as he has proven time and time again that he belongs with the elite in the division. Hassan has what it takes to become a world champion and we won't stop till all of the belts are on the table."
Hassan Azim is a keen advocate of charity and is the Brand Ambassador for The Magic Wishing Well – an organisation that aims to help those here in the UK as as well as provide aid to global causes.