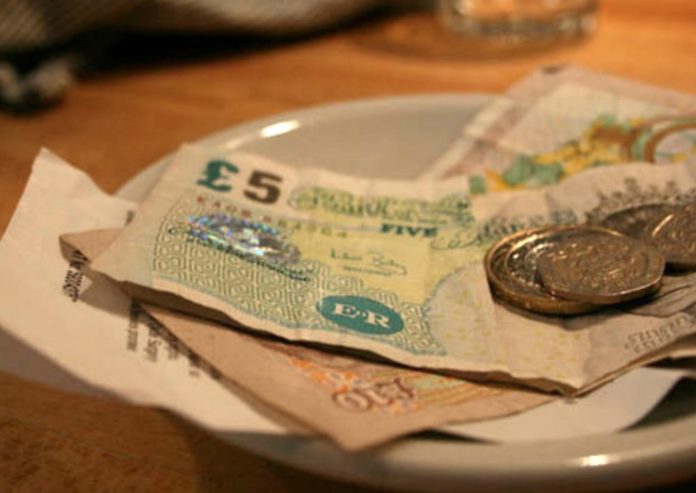 The Queen announced that workers in restaurants, pubs and hotels will receive 100 percent of their tips, as part of a new bill unveiled in the Queen's Speech.
The new Employment (Allocation of Tips) Bill, which comes more than three years after a consultation into tips, service charges and troncs was led by then business secretary Sajid Javid, will require employers distributing tips among workers to do so "on a fair and transparent basis".
It comes after the government highlighted concerns over a rise in unfair tipping practices, with more than 80 per cent of tips now being made on card.
This means that in the hospitality sector which provides around 3.2 million jobs in the UK, the new bill will force employers to hand over all tips to their staff. This will apply to companies in England, Scotland and Wales.
Currently, companies are able to follow a voluntary, opt-in system regarding tipping. This means they have no legal obligation to pass service charge over to staff.
However, the new Employment (Allocation of Tips) Bill will ensure the cash is handed over to waiting staff by law, meaning restaurateurs will have to 'pass on all tips, gratuities and service charges to workers without deductions.
It will also mean businesses must be transparent with customers about how tips are shared out among work forces.
The topic has been a source of contention for some time among hospitality workers, with many high street chains having recently come under fire for withholding tips from workers.
But the government's pledge to deliver new legislation requiring employers to pass on tips paid to workers in full has been met with concern by the hospitality sector.
UKHospitality shared concerns that this new legal obligation may force the hospitality sector to foot the bill with another tax.
"Adding legislation on tipping threatens to add another unwanted burden on businesses," says UKHospitality chief executive Kate Nicholls speaking with Big Hospitality magazine.
"Deductions are sometimes made to service charges as hospitality businesses are charged by banks in order to process payments.
"If the full amount is to be passed on, then hospitality businesses are going to be forced to foot the bill.
"If there is a new legal obligation to pass on the full amount of a service charge, then there needs to be action to ensure that the hospitality sector is not stuck with yet another tax.
"In an increasingly cashless society, up to 80% of all tips are now paid by card and this is only set to rise. Transactions are usually liable to a fee based on a percentage, so the question is who bears this cost?"
Last year staff at TGI Fridays staged the first restaurant strikes over tipping.
They walked out over a move by the chain giving 40% of the service charge to chefs and other back-of-house staff instead of giving them a pay increase. It has cost waiters up to £250 a month and effectively making them subsidise the pay of colleagues.