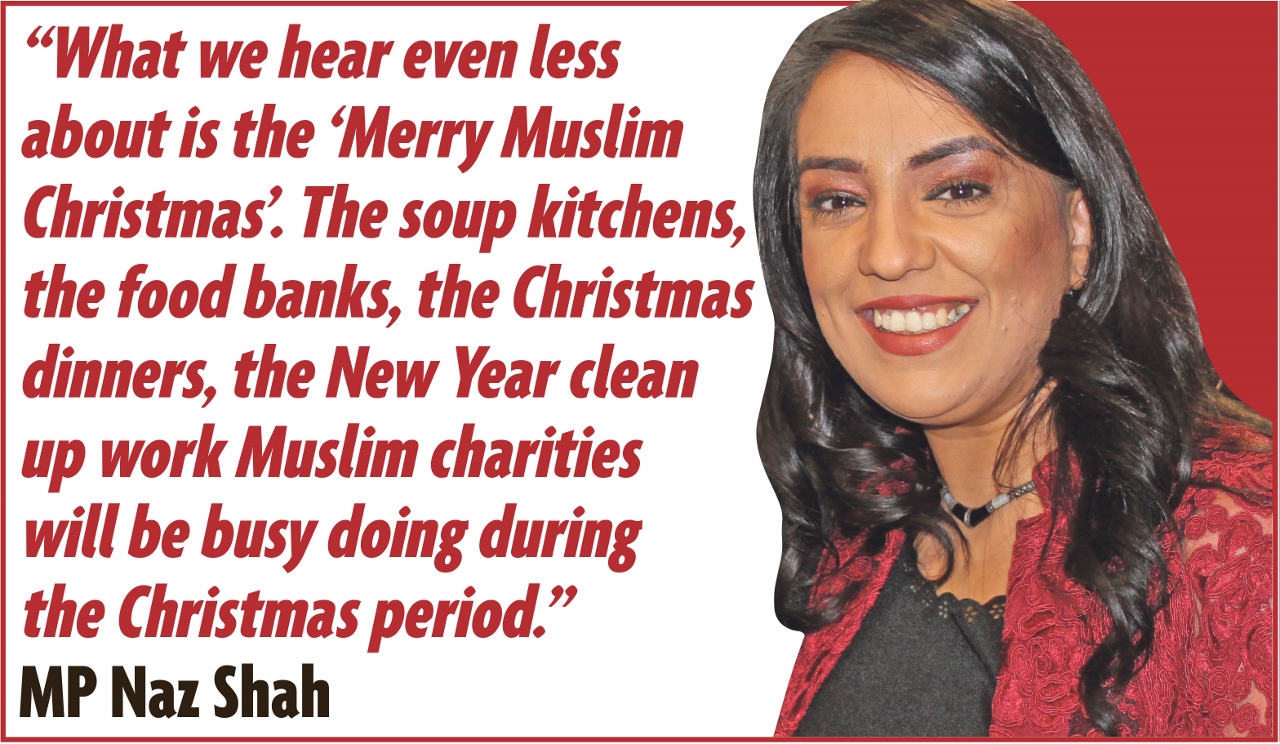 MP Naz Shah talks about the findings from a report on role of British Muslim charities and individuals
Frustratingly Muslims have been under relentless scrutiny as to whether they are integrated to British values or not, much of this a distasteful consequence of "sensational" headlines and mass negative mainstream media coverage.
Now a new report commissioned by the All Party Parliamentary Group (APPG), for which MP Naz Shah is Vice Chair, highlights the exceptional charity work of British Muslim organisations and individuals.
Titled 'Faith as the Fourth Emergency Service', the APPG on British Muslims highlights the prodigious range of work done by Muslim charities in the UK, which evokes the very best of British Muslim communities.
Says Naz Shah: "Too often Muslim charities come to our attention because of negative media coverage of governance issues or bad practice among a handful of individuals working in the charity sector.
"It could even be because of latent fears about charities being abused for terrorism financing even though evidence assembled by the Charities Commission recognises near non-existent level of threat of such abuse in the sector.
"What is less appreciated, and rarely celebrated, is the applaudable voluntary imput of Muslim charities in the UK.
"There's a commitment to giving to those less fortunate than themselves, a desire to help those in need, a willingness to volunteer time, professionalism and extend friendship to those who simply need a warm embrace, a friendly face and a place to go for a free hot meal.
"What we hear even less about is the 'Merry Muslim Christmas'. The soup kitchens, the food banks, the Christmas dinners, the New Year clean up work Muslim charities will be busy doing during the Christmas period.
"In this season of peace and goodwill to all, the APPG on British Muslims wanted to refocus attention on aspects of our British Muslim communities which are not considered 'newsworthy', which are not given due credit, and which all too easily slip into the background because too little of it is captured and disseminated by British Muslim charities themselves.
"While charity giving is a pillar of the Islamic faith, so is observing humility.
"Muslims too often quietly go about charity giving in a way that is consistent with the emphasis in Islam on discretion; of 'giving charity so that the left hand does not know what the right hand gives', but this is a story which needs to be told and we want to be the ones to tell it, by celebrating the benefits of a multi-faith society, where people from different faith traditions focus their charitable activities."
APPG Co-Chair Anna Soubry comments: "As I have said before, communities have much to learn from one another. There is much we can learn from British Muslims and the work they do over Christmas.
"I have been deeply moved by the evidence we have heard. The number of British Muslim Charities supporting non-Muslims during the season of good will is testament to the true nature of the Islamic Faith'.
APPG Co-Chair Wes Streeting adds: 'British Muslim communities are living out their faith by playing an active role and supporting the most deprived in their communities. Motivated by faith and a commitment to their fellow citizens this Christmas we will once again see British Muslims feeding, clothing, housing and providing friendship to those that are often forgotten as we celebrate Christmas with our families."