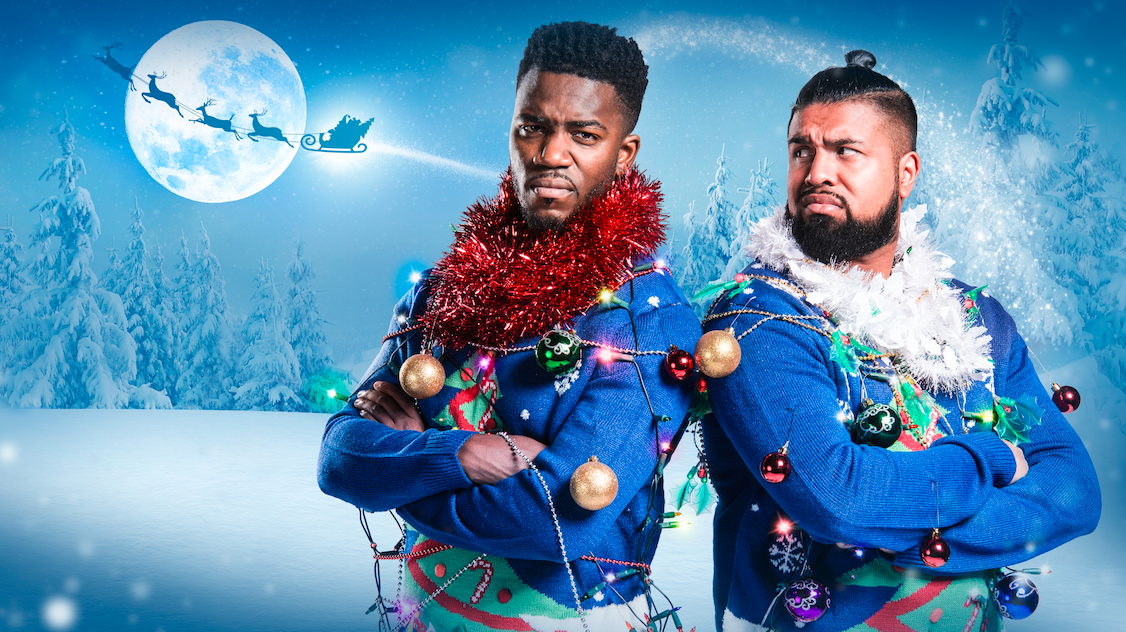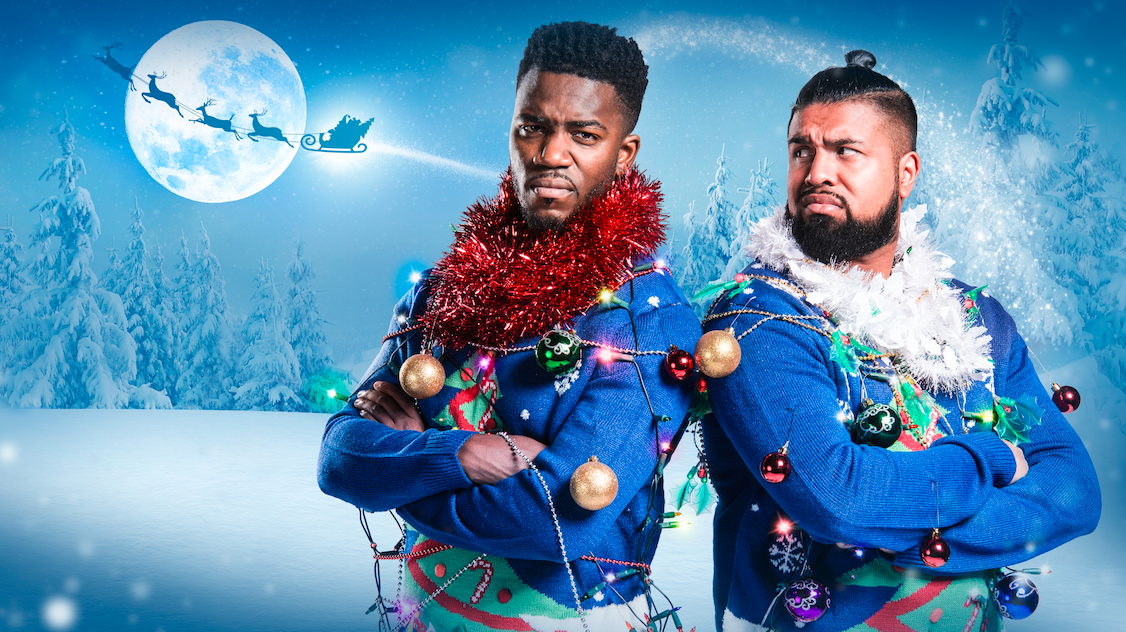 A brand new comedy short Christmas Jumpers is set to launch on Sky TV next week, airing on Thursday 21st December on Sky Arts (Sky 122). The short stars leading British Asian comedian and YouTube sensation Humza Arshad and online comedy star Mo Gilligan, two of the UK's brightest comedy stars. Christmas Jumpers revolves around a love triangle that hinges on creating the best Christmas jumper, bringing together an awesome cast that also includes Emily Atack (The InBetweeners) and Martin Trenaman (Phoneshop).
The launch of Christmas Jumpers wraps up a fantastic 2017 for Humza Arshad who has spent the year travelling around the world in his ambassador role for YouTube to combat hate speech, Islamaphobia and xenophobia, with recent travels taking him to Hong Kong, Istanbul, Rio and New York where he spoke at the UN alongside Queen Rania of Jordan and Whoopi Goldberg. Humza also saw the release of his debut scripted series Coconut for BBC Three as he played Ahmed Armstrong, a self-styled leading 'Gentleman Documentarian'. Humza is also one of the most viewed British comedians on YouTube with over 85 million views and has featured in the New York Times, Newsweek, Washington Post and USA Today for his work on preventing young people on the radicalisation and combating hate speech.
Comedian Humza Arshad says: "This is such a proud moment for me in my journey as the star of my very own show which I have co-written. To have such an amazing cast on my writing debut for Sky is truly humbling. We had so much fun on set and I'm really pleased with how my chemistry with Mo came out on screen. I can't wait for my fans to see me in something different…but they'll still get some of the tongue in cheek humour they've known me for!"
Big Deal Films is one of the fastest growing – fully independent – production companies in the UK with commissions across a number of genres including factual, entertainment and scripted for the likes of BBC One, BBC Two, BBC Three, Channel 4, Sky One and ITV2. Led by BAFTA winning talent manager, Dhanny Joshi, 32, Big Deal Films was created to create a mainstream platform to showcase diverse talent and stories that would be often overlooked by traditional media. With no investment backing and three years after launching, Big Deal Films is now considered the go to TV production company for innovative content and one that has frequently offered opportunities for BAME on and off screen talent.
Dhanny Joshi, Managing Director of Big Deal Films adds: "Christmas Jumpers wraps up a great year for Big Deal Films. This is our second scripted commission for a mainstream broadcaster and we're grateful to Sky for taking a chance on the underdog. We are very happy with the performances of some incredible actors in this episode and hopefully the audience will be too. We've continued to push diverse talent both on screen with Humza and Mo and behind the scenes with it being directed by Mustapha Kseibati and DOP'd by Kelvin Richard who both worked on the Bafta and Broadcast nominated Apple Tree House and of course myself and partner Thomas Stogdon here at Big Deal Films who executive produced."
Christmas Jumpers will air on Sky Arts (Sky 122) on Thursday 21st December at 10pm and is available to watch now on Sky Demand.