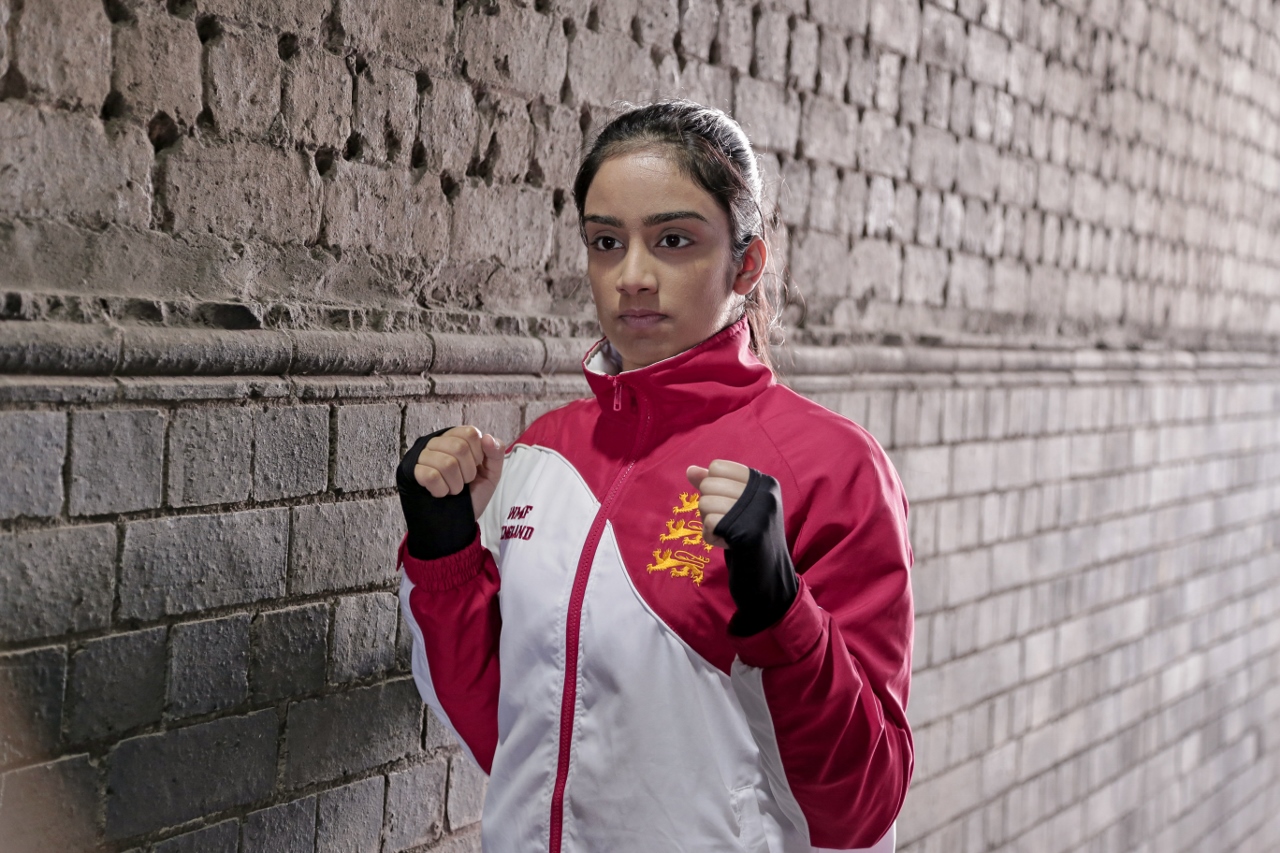 18-year-old Harleen Kaur balances Taekwondo as well as starting university with sports scholarship
Rising star Harleen Kaur has her eye on her Olympic dream but continues her selfless and admirable charity work to help others less fortunate than her.
The impressive Leeds-born martial arts star who's set her focus on taekwondo after she tried her hand at a range of different sports, also holds ambassadorial roles raising awareness for minority backgrounds.
At only 18, Harleen has already claimed British kickboxing gold in 2015, before she then won a World Martial Kombat Federation (WMKF) – 65kg silver medal in Malta on her World Championship debut becoming the first British Asian female to represent Team England in the process. She also is a second Dan karate black belt.
Now, Harleen has focused her attentions on taekwondo as well as starting Leeds Beckett University studying Sports and Exercise Science with a much-coveted sports scholarship.
Learning to juggle her studies with her training, Harleen explains how she manages to combine her study with training to be an Olympic hopeful.
Speaking to the Asian Express, Harleen says: "At the moment combining university studies with training is alright because I am only in two or three days a week and I can still keep up with training.
"It's when deadlines approach and assessments are due to be handed in that the pressure gets on.
"Because I have a scholarship there, everyone is very helpful and if I ever have any commitments with my ambassadorial roles or in connection with my sport they are very understanding and helpful."
There are exciting times are ahead for Harleen who will soon be jetting off to America next month.
Following interest from a university group, who've been tracking her progress and created a documentary on her, quite a feat for an 18-year-old she explained how it came about.
"I'm going to America next month, a team from Chapman University came over and filmed a documentary on me here in Bradford and will be screened next month at the University during the Sikh lens festival. I will be 19 on the 23rd so that will be a good present on my birthday a documentary being premiered about me."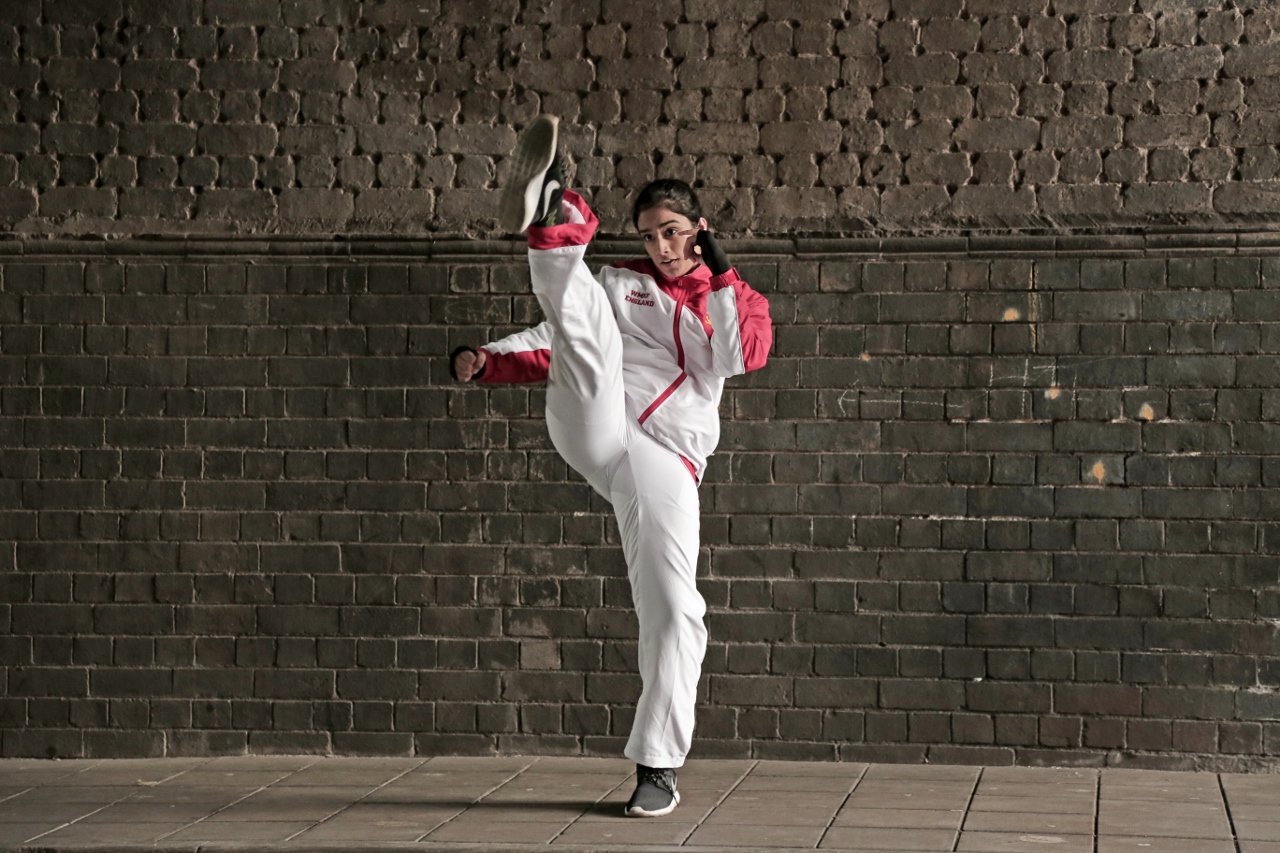 Harleen tells of the charity work and help she provides those in need which she holds so dear to heart and explained where she gained the drive to help out.
"Ever since I was little I used to go to India with my parents, and when you drive past what is going on and see with your own eyes people who are homeless and living in the slums. It used to always make me think wow we need to really appreciate the things we do have living back at home.
"There's kids here complaining they don't phones, when out there they don't even have homes!
"It is something I have thought about for years that I want to go and help make a difference. Drugs is a big issue over there as well and we look to use sport to deter people from this, I always wanted an opportunity to work at this club and to get the chance last year was amazing.
"In the summer I did charity work in India, for a few weeks with a charity called YFC, where I was teaching girls self-defence and I held my own camps there.
"It was like doing PE and sports for development, helping kids there who can't even afford to go to school, to give them a place to go and socialise.
"I am a really big believer in physical activity and equality also, so it was important to learn that aspect in life and how can be so important for them.
"Every evening for two hours I would go and teach it was usually a football club, but we would teach them different things like rounders and different skills and the volunteers there teach them sports based on life lessons, so they teach them about HIV and AIDs.
"On weekends I would do self-defence classes, different ones for girls and different ones for boys, it used to be free to encourage girls to come down, villages in India it is really bad, girls aren't even allowed to come out.
"Next year I'm looking to go to India again, I want to go over there and make my mark. I want to go over there and train individuals how to teach self-defence to the girls and boys, and maybe even open my own academy up and my own charity."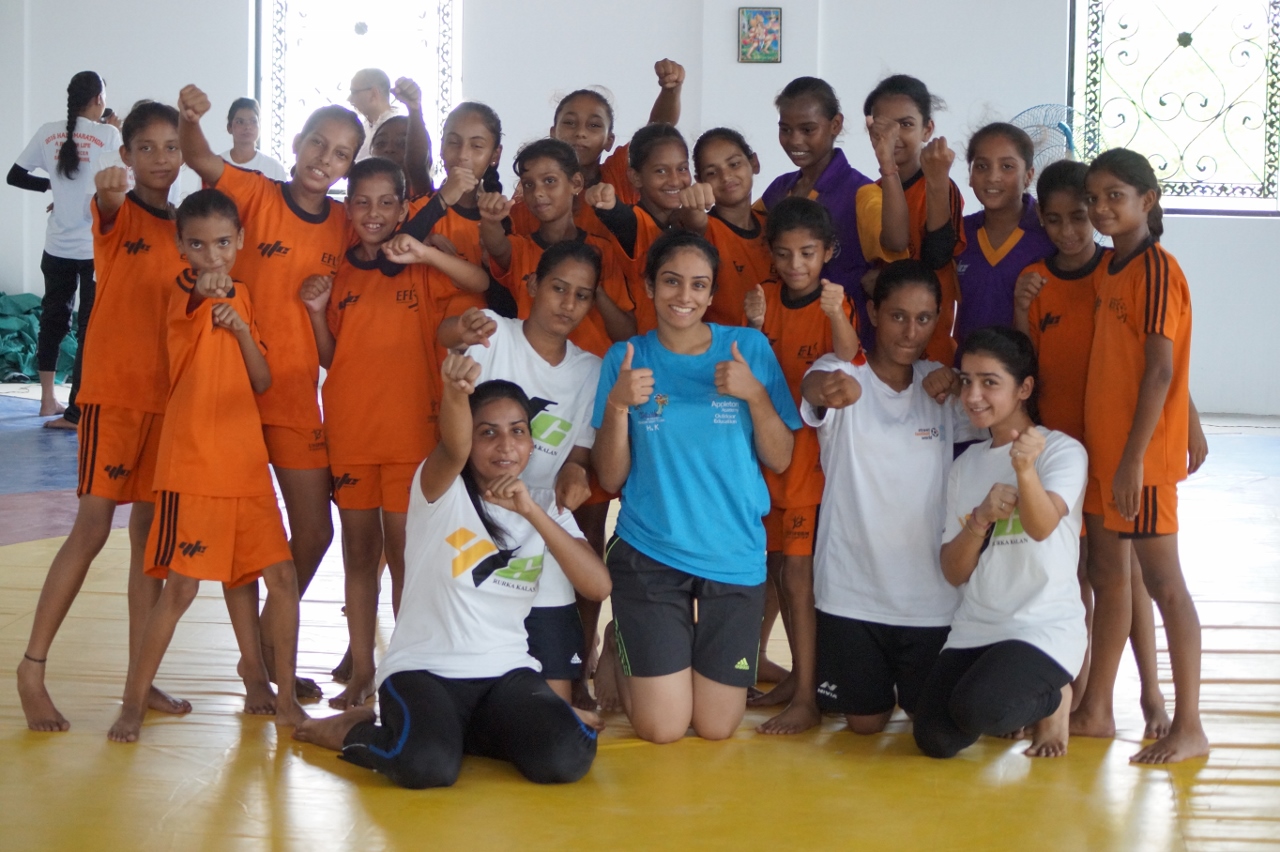 The tireless taekwondo star, still finds time for herself and has also got her focus set on taekwondo with an important year coming up and she wants to ensure she is ready for what has to come: "With Taekwondo there's a few events coming up next year and March will be particularly busy, there's events in Belgium, Holland and Germany. I'm not sure which ones I'll be going to yet, but I will be a busy period that's for sure."
Harleen harbours hopes of getting into Team GB and really wants to push on as it is her passion, she paid tribute to the team around her and her Olympic hopes, she said: "I want to focus on getting in Team GB and go as far as I can with it because I really do love it.
"Having a good team around me and coaching set up it really makes it enjoyable for me to push me as far as possible.
"The Olympics is something that I am looking to work towards, however there is a lot of competition out there and I know it won't be easy."
Somehow the relentless work and training doesn't end there and Harleen manages to fit time to karate as well.
Harleen says training with fellow team GB members is huge motivation to her and helps her push on: "I train with Rick Simpson. I am currently a second Dan blackbelt in Karate, but I am grading for my first Dan taekwondo black belt on the 18th November.
"Ellie, who I train with, has just been at the Junior World Championships and she's with team GB, there's also Jamie who is with Team GB. It is really good to be at the same club as people like that and practice with people of their calibre."
Harleen who is also a huge campaigner and ambassador for minority groups also discussed from her own experience what needs to be done to help get more girls into sport.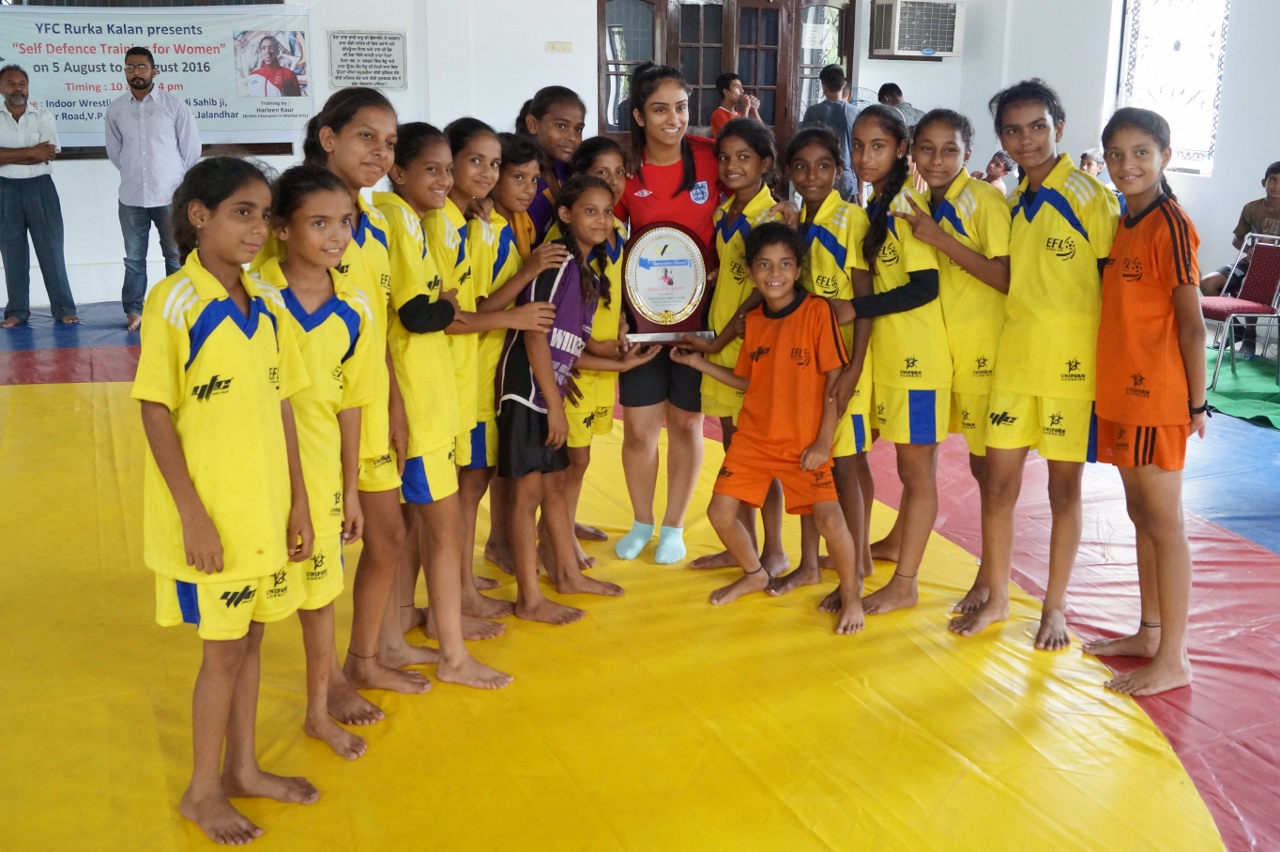 "I believe a massive push needs to be made to get more girls into sports and more needs to be done to showcase the girls who are already out there.
"When there are big sporting events, it is always the men get the spotlight and particularly with sports like tennis and football. There needs to be more exposure at grassroots and lower levels to help support girl's groups and to help and empower them.
"I think family support plays a major role too, what I've found is that when girls reach a certain age, family start to push girls away from sports and suggest it's not as important as studying and getting good grades and a so called proper career.
"There is also a lot of racism in sport at all levels.
"Luckily I am yet to experience this myself yet, but I know that people from Indian and Pakistani backgrounds do suffer this and with girl's parents don't even let them out because it's not good for society to see them out doing sports.
"I remember speaking to someone who was forced to sneak out of the house to be able to go and train to do kickboxing. If her parents found out, they wouldn't have let her go. It is when I hear stories like that I realise how lucky I am to have the support network that I do.
"The financial side can also see people deter and leave the sport because once you get to the elite level it can become very difficult to afford it with travel to events and the equipment and everything that is involved.
"I have learnt this myself because I am not sponsored by anyone myself and it can get hard when you need to pay for competitions and on a weekly or monthly basis especially if you're travelling abroad. At the minute I pay for this through savings and my parents help me."
Harleen who is undoubtedly a great role model to girls hoping to embark on a sporting career or any career in general went on discuss her ambassadorial roles and how she the celebrity names she has encountered along the way, she adds: "I do see myself as a role model to others.
"When I am out in the public and people stop me and tell me they want to do what I am doing, continues to inspire me. It instils me with confidence knowing I have people looking up to me, I know I have to carry on and achieve as much as I possibly can to get even higher.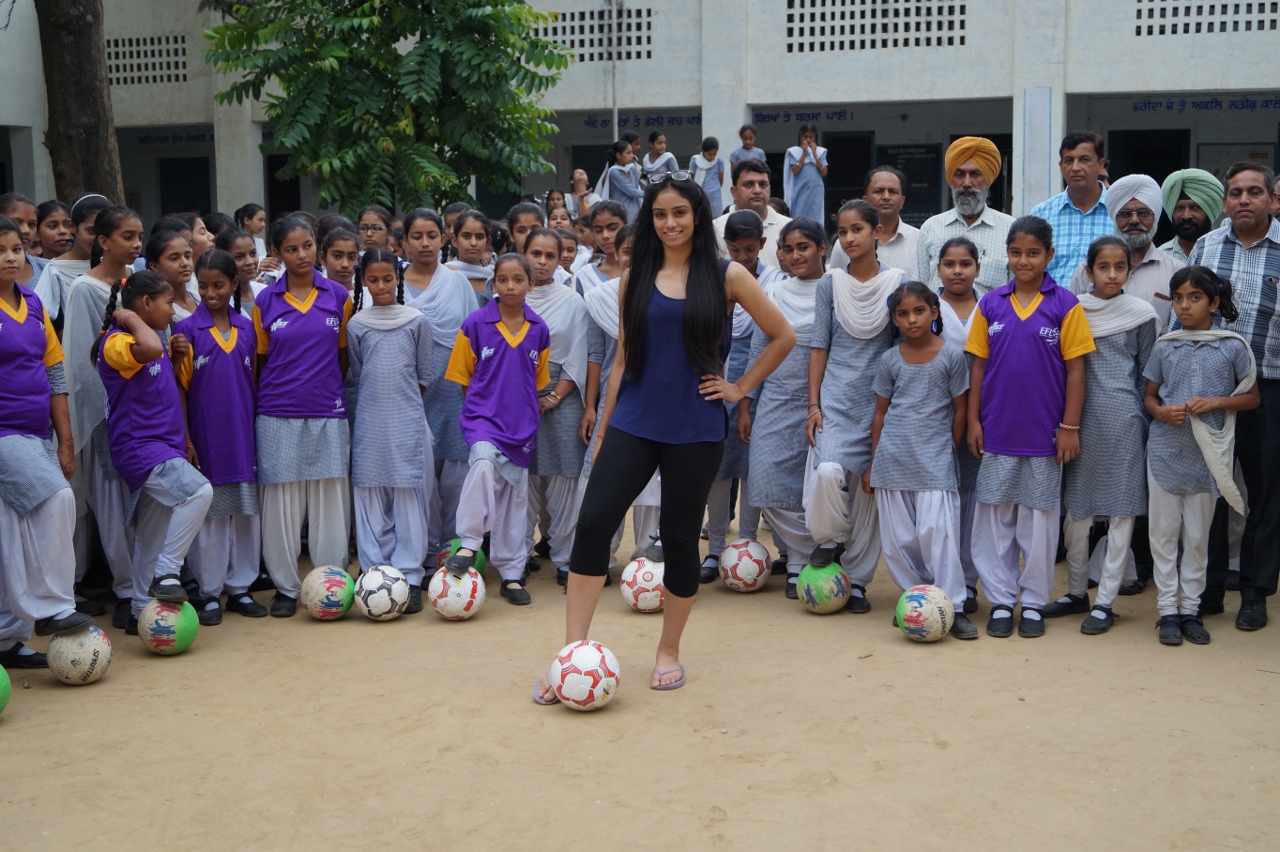 "I'm an ambassador for Sporting Equals which is a charity that promotes sport and physical activity for black and minority groups. They held the BEDSA (British Ethnic Diversity Sports Awards), in London and I was a nominee for the young sports personality category where I was a runner up to Alice Tye the Paralympic swimmer.
"I was on stage with Sir Lenny Henry, and handed an award out for outstanding contribution to sport award by the Tennis Foundation.
"I found that an amazing experience for me to rub shoulders with some of the massive names who were there, people like Denise Lewis and Lewis Hamilton who were nominated for awards and Olympians like Lataylo Mohamed who's an Olympic silver medallist.
"Even David Haye was there at the back struggling with his Achilles tendon at the back I thought I know that hair anywhere and it was David Haye. Going to events such as this only motivates me further to get the best out of myself."
Harleen then went on to go into more detail on the work she does with sporting equals and how she gives back to the children and how a future career in public speaking is a possibility and she gave some advice to any girls out there who have doubts about themselves she passionately pledged:
"With sporting equals, we go to schools and give talks to the kids and tell them how important it is to get involved with sports. They're a charity organisation who run workshops and I do things like go along to charity football tournaments. I find this side of it really rewarding.
"I quite enjoy public speaking and helping children, so this is a route I might look into going down."
"My advice to a younger me would be grasp every opportunity which comes your way and have no regrets so don't hesitate to take a chance and make the most of it."