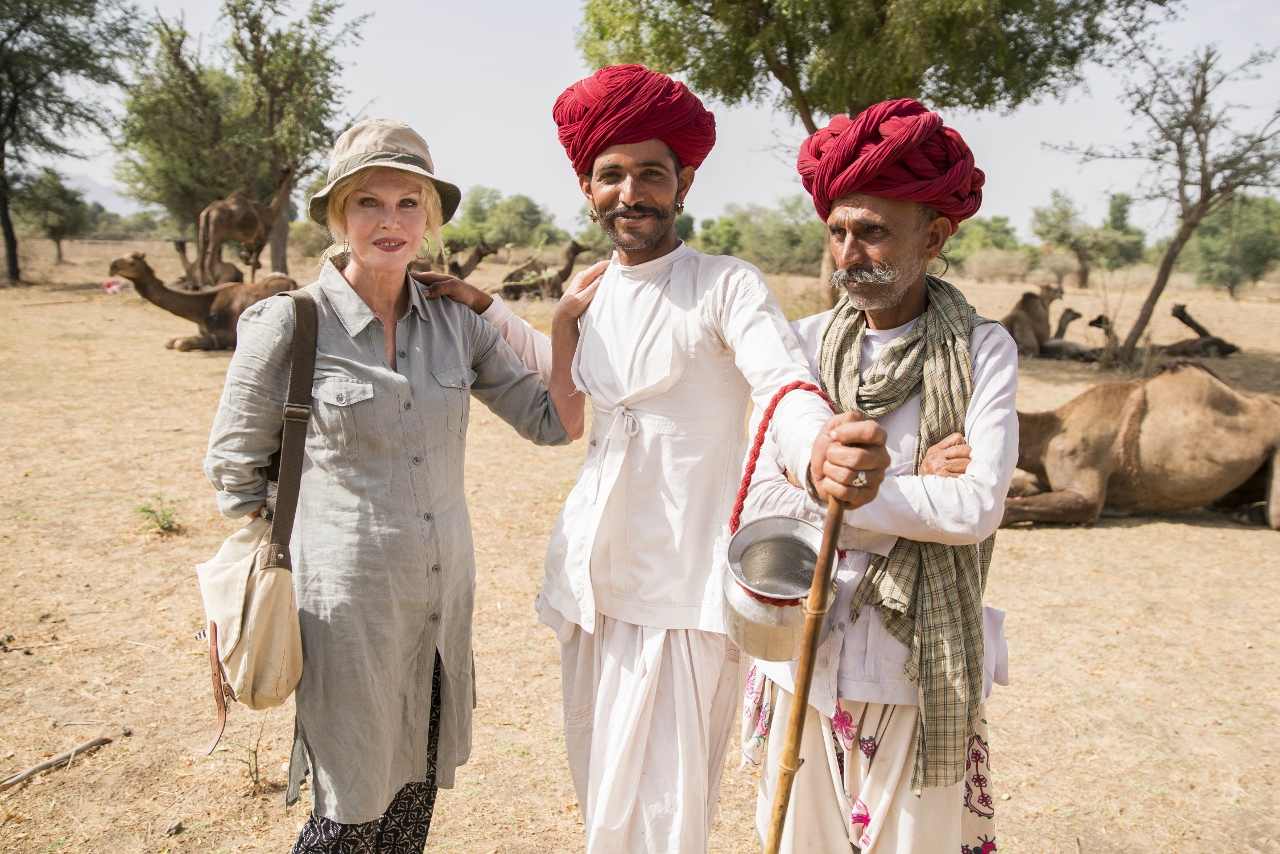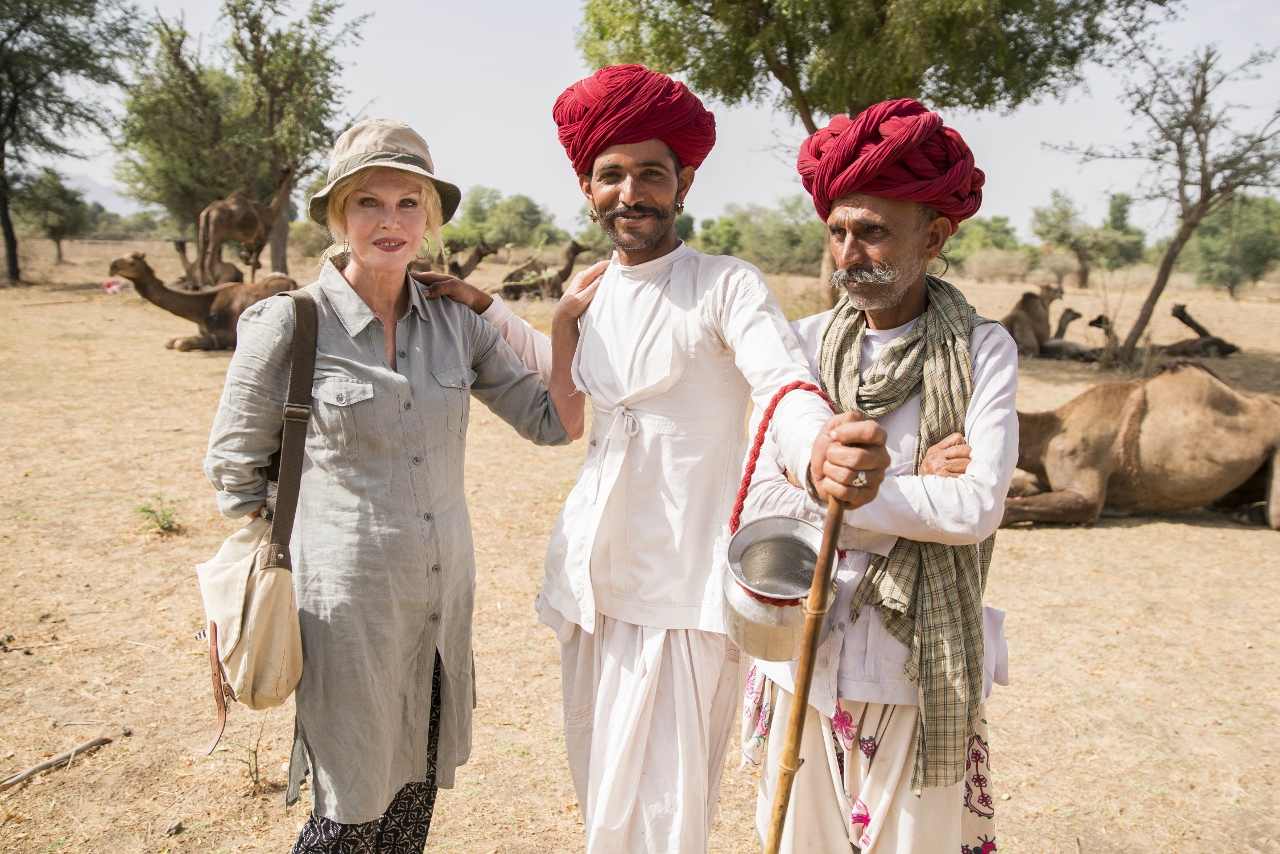 Joanna Lumley returns to the country of her birth for a deeply personal journey around the vibrant and unique country of India in a three-part documentary.
Joanna was born in India during the last days of the Raj and both sides of her family called India home, for several generations – her father and my sister were both born in what is now Pakistan.
"I was born in Srinagar, Kashmir, in 1946, a year before Indian independence. My parents had met and married there in 1941, and spent their honeymoon in a houseboat on Dal Lake," says Joanna.
"It was my great-great-great-great-grandfather, James Rutherford Lumley, who was the first of my family to settle in India, at the end of the 18th century.
"He was a military man who became adjutant general of the Indian army. His son was born there, and his son after him, all the way down to my father, also James Rutherford Lumley, who was a major in the 6th Gurkha Rifles."
In a television series she travels the length and breadth of the country, for an immersive and extraordinary exploration of its diverse landscapes, varying cultural traditions and incomparable spirit.
Along the way, she meets an eclectic mix of people and discovers how independence has shaped India into the constantly evolving and endlessly fascinating country it is today.
In episode one, Joanna travels from the very south of the country all the way to the foothills of the Himalayas. In Madurai she explores the multi-coloured and dazzling Meenakshi temple which comes alive at night with religious celebration. Joanna finds herself caught up in a ceremony celebrating the love of Lord Shiva and his wife, the goddess Parvarti, which has been performed in the same way every night for thousands of years.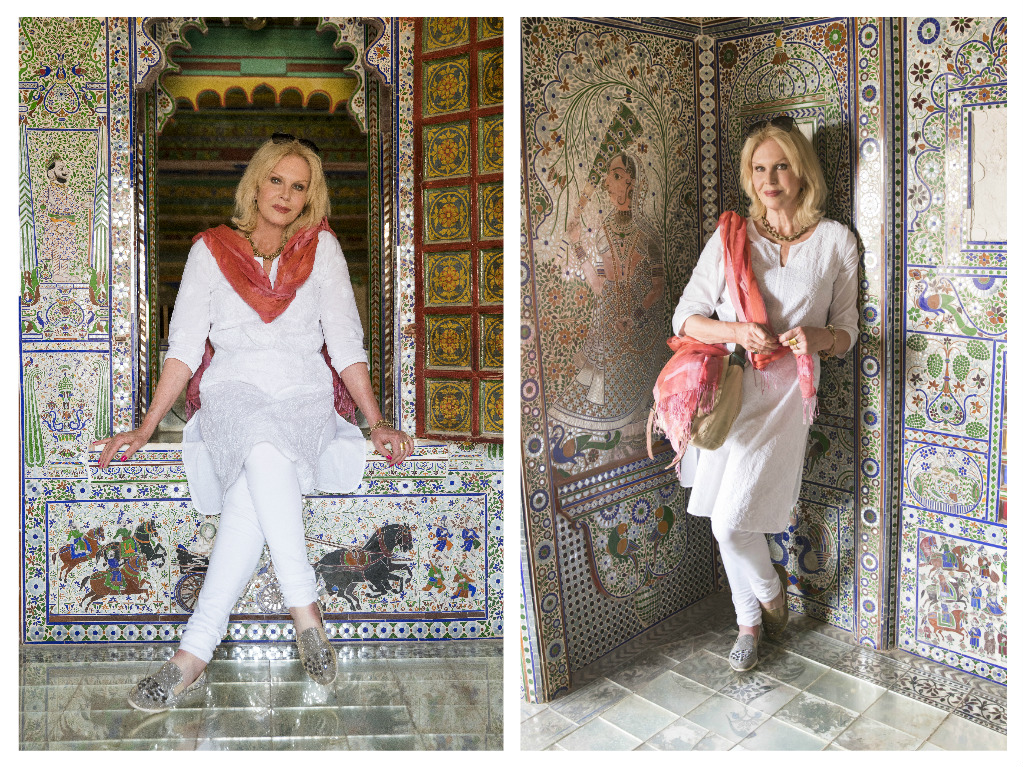 With the country being predominantly vegetarian, India has the lowest consumption, per capita, of meat in the world. Joanna indulges in a traditional lunch, using her hands to eat. She says: "I'm not doing it properly but watch people here doing it. So skillful and lovely."
At the Western Ghats, Joanna meets old friend Robin Brown who has spent half his life travelling through India on his beloved motorbike. Their mothers were lifelong friends and the pair discuss how much they miss them while Robin takes Joanna for a hair-raising ride on the winding road to the Valparai Plateau, which climbs 3500 feet over 40 perilous hairpin bends. Robin instructs Joanna not to wobble and she replies: 'I'm not going to do any wobbling. I was trained in The Avengers if you remember?"
The plateau was deforested 200 years ago and replaced with tea plantations, which require vast numbers of workers. Chance encounters with elephants have resulted in five deaths a year and Joanna meets a local team of scientists working hard to track the elephants. The ardent animal lover is then thrilled to be invited along when they follow up on a siting.
Indian elephants are notoriously difficult to see in the wild and despite much evidence that they recently passed through the area, the team are forced to admit defeat after an extensive but fruitless search through the dense jungle. Joanna says: "Well this has been a thrilling morning because even though we didn't see the beautiful elephant, we've seen so much evidence of it. And in a way it's rather marvelous that nature doesn't just come to your command. You can't just say 'I'd like to see the elephants'. You can't just do it like that."
On the way back to base the team get another call and this time they are in luck. At the side of the road is the exquisite sight of a mother and her calf, slowly making their way down a hillside, followed by three more elephants. Using her binoculars, Joanna says: "It would have been heart breaking not to have seen something as beautiful as this. I'm so, so thrilled. It's one of the great dreams of my life to see an Indian elephant in the wild."
After perusing the jewellery markets of Hyderbad, Joanna explores the world's biggest film studio complex for new movie industry, Tollywood. The best creative brains in India are concocting digital magic and use their expertise to turn Joanna into a goddess on screen.
Calcutta was the capital of British India for nearly 200 years and the birthplace of Joanna's great, great grandfather in 1810.
The city has now fallen on harder times and Joanna is moved by the plight of the many people on its streets. There are 10,000 people who identify as transgender and have suffered rejection and violence. Joanna meets three young men who dream of having the treatment and surgery required to become women. She hears how they have been marginalised by society, rejected by their families, forced into the sex trade to survive and must fight daily to live as they wish.
The British Empire made a fortune from Calcutta's raw materials and Joanna meets 67 year old Latta Bajoria who defied expectations by refusing to sell the family jute empire when her husband died.
Her journey ends four hundred miles north of Calcutta, in Sikkim, at the foot of the Himalayas. Her grandfather remained stationed here for many years and it is where her mother grew up. Driving through the winding roads, Joanna says: "I'm so thrilled to be here. All these names are so familiar, particularly from my mother's childhood. They must have made these journeys and the roads weren't as good as this."
Sikkim reluctantly became part of India in 1975 and Joanna needs to show her passport to enter. The magnificent peak of Kangchenjunga is the third highest mountain in the world. Joanna takes a cable car to Gangtok to see its five peaks from the sky.
Joanna meets Pema and Dechem, two young members of the royal family who were deposed in 1975. Pema and Dechem are working on a project to archive thousands of official letters and royal family documentation dating from 1875 to 1975. Joanna is stunned to be shown letters written between their great-grandfather and her grandfather. She says: "I tell you, emails are not as good."
She hopes to explore a building called 'The Residency', where her mother spent her childhood and which she has only ever seen in photographs. Sadly access is denied and initially Joanna is bitterly disappointed.
She is then delighted when Dechen pulls a few strings and arranges for her father to show her around The Residency. She says: "It was so kind of Dechen's father to take me around there. I only ever saw it in black and white photographs. Now today I've had a chance to see what it was like, to smell the air and see the trees and what it would have been like to be her. And I swear I saw dancing amongst the flowerbeds, the little spirit of my eight-year old mother with her dogs and her pony. Fabulous."
'Joanna Lumley's India' is a three-part series starting 9.oopm Saturday 1st July on ITV.