"The version of history portrayed in Attenborough's seminal film 'Ghandhi.' But now if you look at the evidence, that is a very one-sided interpretation."  
The 1947 Partition of India has always been part of Gurinder Chadha's life, despite growing up in West London.
Born in Nairobi, Kenya, 13 years after the controversial Mountbatten Plan struck a jagged line through the Union of India to create the Dominion of Pakistan, the British-Punjabi film-maker describes herself as someone who grew up "in the shadow of Partition".
Chadha's ancestors lived in the foothills of the Himalayas, now on the Pakistani side of the border.
Her grandparents lived through the tumultuous events which saw sectarian violence between India's Muslims and the Hindu and Sikh majority, which witnessed the greatest refugee crisis the world has ever seen.
An estimated 14 million people were displaced during Partition and up to a million lives were lost.
An independent India was a cause for celebration. The creation of Pakistan was equally a cause for celebration amongst many millions of Muslims; but the process by which this was achieved was what caused such terrible suffering for so many Hindus, Muslims and Sikhs.
As a writer-director, Chadha has repeatedly translated her personal experience as a Punjabi-British woman into uplifting, crowd-pleasing movies, from her ground-breaking 1993 debut 'Bhaji On The Beach' to her box-office smash 'Bend It Like Beckham'. This tragic aspect of her cultural and family background was something she'd always shied away from as a film-maker because, she says, "it was too dark, too traumatic."
Then, in 2005, she took part in the BBC's family-tree-exploring programme 'Who Do You Think You Are?', which took her back to her ancestral homeland.
"I was quite reticent in my feelings about Pakistan," she recalls now.

"In the programme as I arrive in Pakistan, I was in Jhelum, trying to find my grandfather's house, and eventually we found it with the help of the people who are now living there."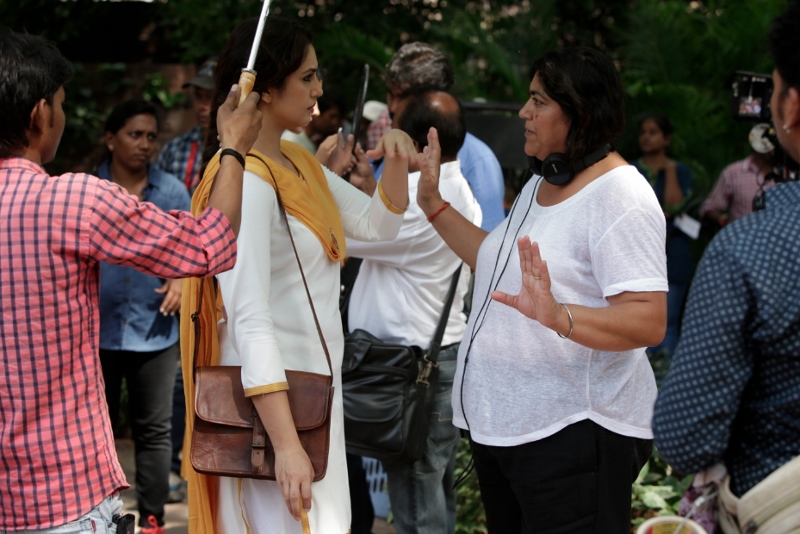 Chadha was struck by the warmth and generosity of the Pakistanis she encountered.
It was then Chadha realised that she had to confront her fears and make her movie about Partition. "I decided I wanted to make a film about what I call 'The People's Partition'," she explains.

"I didn't just want to explore why Partition happened and focus on the political wrangles between public figures, I also wanted to make sure the audience understood the impact of Partition on ordinary people."
Chadha therefore conceived the idea of setting her story entirely in Viceroy's House, the British Raj's seat of government in Delhi, to create an "Upstairs, Downstairs vision of Partition. This would focus on the negotiations upstairs between Lord Mountbatten, the last Viceroy of India, and the country's political leaders Nehru, Gandhi and Mohammed Ali Jinnah, whilst interweaving the stories of the Indians downstairs.
"In the film, Viceroy's House is almost a character in its own right," says Chadha "It was designed by Lutyens and took 17-years to build.  

"My intention was to examine how someone like me can look at new historical evidence and explore an alternative historical narrative to what I'd been taught as a girl."

"Its imposing architecture was an expression of Imperial power, intended to intimidate.

"I'm sure that when it was completed in 1929, no one could have imagined that in less than 20-years it would become the home of the first President of India – and it remains the largest residence of any head of state anywhere in the world!"
As Chadha's conception of how to tell the story developed, the combination of British and Indian backers gave Chadha the opportunity to make the kind of film she grew up loving, but which she feels are now few and far between.
Whilst bowing down to their genius, Chadha sees her movie as being in the same tradition as David Lean's 'A Passage To India' (1984) and Richard Attenborough's 'Gandhi' (1982).
"Growing up in England, I was brought up with the commonly held historical narrative that in 1947, after a long freedom struggle led by Gandhi, the British wanted to hand India back. They sent Mountbatten out there to do it, but we started fighting each other," she continues.

"And because of that, Mountbatten had no choice but to divide the country. So in a way, the violence of Partition was our fault.

"This is the version of history portrayed in Attenborough's seminal film Gandhi. But now if you look at the evidence, that is a very one-sided interpretation."