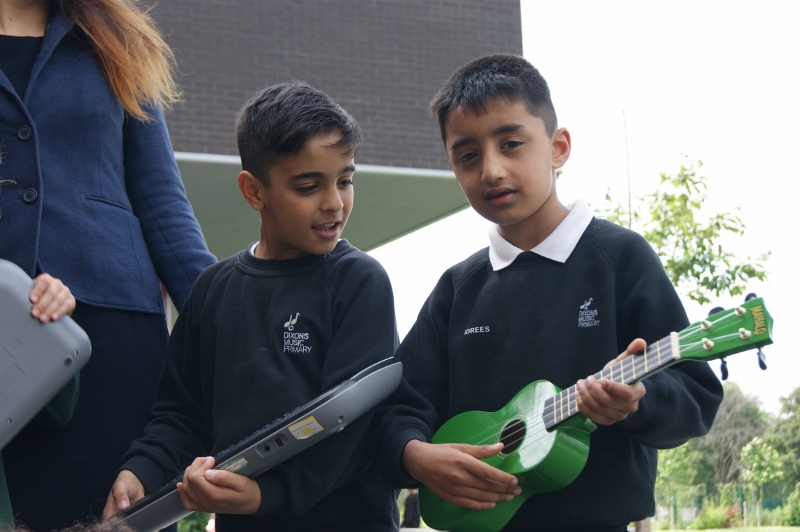 Principal of Dixon Music Academy, 33-year-old Michelle Long, has been on a musical crescendo of a journey with her school since she joined in 2012.
After the school received an Ofsted report four years ago which stated there was 'room for improvement', the staff decided to 'take note' and turn things around.
The school spoke to the inspectors about the bad report and they said to see it as 'the grit in [the school's] oyster'.
Michelle was 'amazed' when the school received an 'outstanding' Ofsted this month and said it had been "alot of hard work and dedication from the teachers" who had been on the journey with her since the last inspection.
The dynamic Head Teacher admits that she is not herself musical, but the 'rest of her family are'.
Michelle is, however, interested in how music can help with other areas of learning.
She said: "Our CEO and Executive Principal, Sir Nick Weller, visited New York in 2011 to see what was happening in the Charter Schools over there, where everybody learns an instrument. The schools are set up in the poorer areas of New York and it's just spread across America now."
Dixon Music Academy adopted the idea of musical learning and brought it over to Bradford from over the pond. Every student now plays an instrument, along with lessons on the keyboard and singing throughout the week.
"It's hard to get any data to show how this has improved the overall quality of the students' learning but it undoubtedly has," Michelle continued.

"If you look at Early Years, one of the Early Learning goals is 'self confidence and self awareness'.

"Our children perform better than students nationally, even though they're coming in from a really low baseline, and we think that's because right from age four upwards, they take part in performances throughout the year. Every 13 weeks, children will take part in a performance in the theatre to other parents, whereas usually Reception will only experience singing in a Christmas play."
The Ofsted report said: "The principal's clear vision for the school, and unrelenting drive to realise it, have resulted in considerable improvements since the previous inspection.
"This is a school where staff are absolutely committed to continuous improvement.

"Pupils in all year groups make outstanding progress and, overall, their attainment is above average.

It added: "Pupils achieve well in music. Pupils' behaviour is exemplary: they are courteous and polite."
Michelle believes that 'every child is good at something.' A main focus for the school is that students are able to play an instrument of their choice by the time they get into Key Stage 2.
"We might direct some children to certain instruments, so the pupils who are confident and outgoing tend to turn to the drums.

"The children who play the ocarina in Years 1 and 2 may go onto the flute, and those with fine motor skills may end up playing ukulele or electric guitar. We try and hone in on their strengths. Up until Year 2, everyone has a go on everything."
Now that the school has received their outstanding results, Michelle said they can "now focus on what we're really here for. That's to get the best results we can for our students so that they succeed at university, thrive in a top job and have a great life."