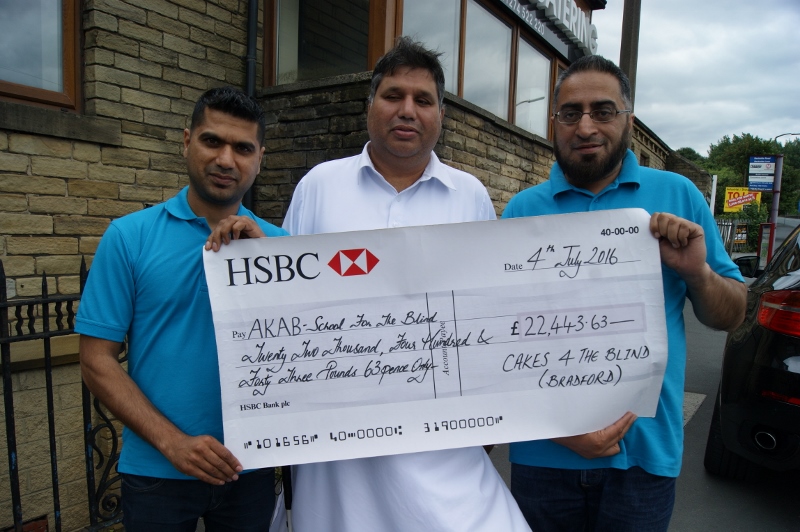 After cooking up an extra sweet plan to raise money for charity during Ramadan, two men from Bradford have raised over £22,000 by selling chocolate fudge cakes.
The pair spent over £300 of their own money in petrol delivering the cakes as they selflessly raised funds for the AKAB School for the Blind, in Khaliqabad, Pakistan.
Amjad Akram, who owns Let'z Talk on Great Horton Road, and Abdul Satar have been busy delivering the chocolatey treats throughout the Islamic holy month.
Amjad explained: "We chose the school this year because it is only a small charity which can get overlooked by many.
"There is no administration fee so all the money goes directly to the school and from top to bottom, nobody is getting paid.

"Ultimately it's a charity that's paying no wages, making no deductions and therefore generating no profit. They're a charity that doesn't take money out."
AKAB School for the Blind is a specialist boarding school for the visually impaired, catering for 150 male and female students ranging from pre-school through to high school age.
In addition to education, the school provides free accommodation, food and transportation for children, the majority of whom originate from poverty stricken families.
Amjad continued: "100 per cent of all the profits we make will go to the school. We have done the big charities before and managed to raise £9,000 for Kashmiri Orphan Relief a year ago."

Abdul added: "This is a charity that doesn't have a face. Nobody is promoting them and that's ultimately why we chose them."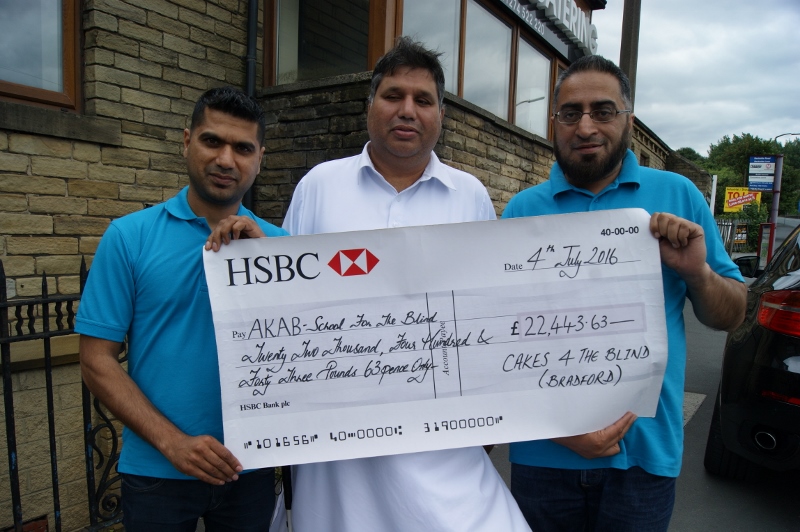 Abdul said they set a target of £15,000 but there was such a demand for the cakes that this total soon snowballed.
"People did their research into the charity and realised it was genuine and we had a great response," he added.
The school will now invest the funds in playground equipment and Braille technology.
"We got an overwhelming response from the Bradford people who were very generous," Amjad said. "They were not only buying cakes but they were donating money towards the cause. Some people would only buy one cake but pay for two.

"Thanks to everyone who purchased a cake and our sponsors – Pakistani Catering – who put an extra five pounds towards the total for every cake sold."
Amjad and Abdul will be going to the Pakistan school in August so they can see for themselves how the money has made a difference.
Pakistan Catering director, Abdul Ghafoor, praised the men's efforts: "These two gentleman have done a fantastic job. I'm so grateful for how they have raised awareness for the school."
Prof. Muhammad Ilyas Ayoub, a professor from the school – who is blind himself – flew all the way from Pakistan to receive the cheque this past week.
He said: "This money will really help with the improvement of school facilities and of course it came as a huge surprise to me as I was expecting around the £15,000 mark.

"It is up to the people who donated to us to decide what we shall do with this money, but we may buy a bus or improve the playground. I have no words to express my gratitude to the people who donated generously."