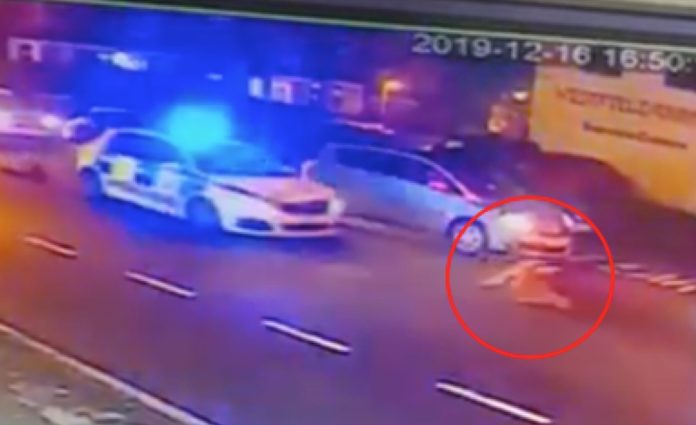 A 61-year-old female pedestrian was seriously injured in crash with police car in Bradford last night.
The incident occurred in Lilycroft Road, Girlington, at approximately 4:50 pm. The lady was taken via air ambulance to Leeds General Infirmary. It's understood she has suffered serious injuries.
Police officers were in a marked police vehicle responding to an emergency call when their vehicle was involved in a serious road traffic collision.
Upon circulation of the video of the incident, some have taken to social media and WhatsApp groups to voice speculation.
The video appears to show two police cars with blue lights on travelling along the road in the direction of the roundabout.
The woman can be seen pausing to let the first police car go by, and then begins crossing the road. She is apparently struck by the second police car, and is carried a distance on the bonnet of the vehicle before being flung to the ground.
While police inquiries continue to establish the full circumstances of the incident, local councillors are using members of the public to be patient and let authorities continue their investigations.
The matter has been referred to the Independent Office for Police Conduct (IOPC), as is routine procedure.
In a statement on Monday night, an IOPC spokesman appealed for witnesses, saying: "At approximately 4.45pm today, Monday 16 December, a marked West Yorkshire Police car was in collision with a member of the public on Lilycroft Road. The woman, who is believed to be in her 60s, was airlifted to hospital.
"The collision took place near the Nearcliffe Road junction and the marked police car was travelling towards Girlington.
"Anyone who may have witnessed the incident is asked to contact our investigators via Witness@policeconduct.gov.uk or 0800 096 9070."