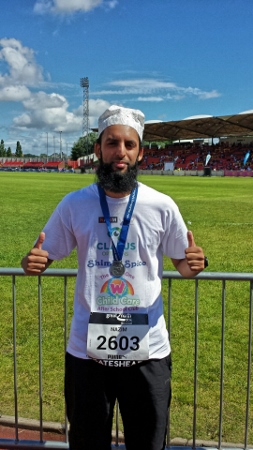 For many, the idea of working through a 19-hour fast is one which is unfavourable at best, yet for one Bradford man, working was the least of his challenges.
On Sunday 3rd July 2016, Nazim Ali completed the Great North 10K in Gateshead whilst fasting during the Islamic holy month of Ramadan.
Despite warm weather and a hilly race course, the 35-year-old completed the run in 'just under 59 minutes', without the aid of water or food for the day.
Eventually raising over £10,000 for charity, Nazim said it was the carnival atmosphere on the day which helped keep him motivated.
"I ran past renowned landmarks such as the Tyne Bridge, Millennium Bridge and then completed the run in the famous Gateshead International Athletics Stadium," he said.
"There were 5,000 other runners with a carnival atmosphere."

When he finished the run in the morning, Nazim still had 10 hours before he opened his fast, which meant no access to any food or drink beforehand.

He said: "I was blown away by all the support and raised over £11,000 for the Dewsbury-based SKT Welfare's Syrian Orphans Sponsorship Programme for their flagship Springs of Hope Orphanage and Family Centre in the Turkish/Syrian border town of Reyhanli."

Nazim met the Syrian Orphans personally during his recent Pre-Ramadan Deployment in late May.
"I made it my mission to try and help them," he said.  
"The sadness etched on their faces was the spur and motivation for me wanting to help. There are 149 Syrian Orphans and countless widows in the Orphanage. SKT Welfare have permission from the authorities to bring another 30 Orphans from war torn Syria in the coming months."

Donations from the race will provide food, shelter, education, clothes, healthcare and parental care for the Syrian Orphans for a whole year.
"I have now raised almost £75,000 for a whole plethora of charitable causes including numerous charity runs and multiple charity mountain climbs."

Majid Butt, CEO of SKT Welfare, said: "Nazim is an absolute inspiration to every one of us. We are honoured to be connected with him.  I'm absolutely thrilled that he has done this for such a noble cause."

SKT Welfare has a 100 per cent donation policy which means donations will go that much further.
Nazim added: "I have witnessed their ground-breaking work in action on the ground. They are a charity which does not outsource, meaning they take full responsibility for the delivery of all their projects from start to finish."
Nazim won't be resting his legs for long, as he will be pounding the pavements once again for the Leeds 10K Run on Sunday 10th July for SKT Welfare's 'Clear Water 4 Gaza Desalination Plant' which will provide 50,000 litres of clean water a day to a village of over 7,000 people.
People can sponsor via: www.justgiving.com/nazimwater4palestine