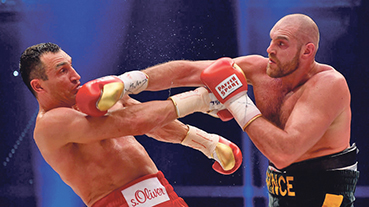 I recall some of the biggest shocks in boxing history when I witnessed George Foreman win the world title at a grand old age of 45 years old, invincible Mike Tyson getting knocked out by underdog Buster Douglas and the greatest heavyweight of all time Muhammed Ali losing to a novice Leon Spinks.
However undefeated British heavyweight Tyson Fury produced one of the most recent shocks in boxing history when he beat the undisputed champion Wladimir Klitschko in Dusseldorf, Germany.
Fury had been written off in this fight and most boxing experts had given him no chance of winning against Klitschko who had remained champion for over ten years and during this time had collected and retained the majority of the world title belts.
Fury's victory was well deserved and from the opening bell the 6ft 9inch giant out worked and out thought Klitschko. Fury was able to capitalise on his longer reach, youth and mobility to keep the champion at bay and for the majority of the fight Klitschko was unable to throw any meaningful punches including his dangerous right hand.
The fight itself was not a classic but it was shocking and unbelievable as Fury proved all the sceptics wrong and made Klitschko look ordinary, old, tired and gun shy.
Fury is a throwback to the Muhammed Ali days and like Ali he is definitely a controversial character who speaks his mind without worrying about any backlash like his recent reported views on homosexuality.
Whatever people think of Fury on a personal level, what is certain is that the boxer has developed in a very good fighter over the years and beating such a polished and well respected champion like Klitschko deserves credit and respect.
During his interview after the fight, Fury said "I was very anxious waiting for the decision after being deducted a point, I knew it would make it closer and you never can tell." Fury won this bout by majority decision.
Looking at the punching statistics during this bout Fury connected with 86 of his 371 and Klitschko landed 52 from 231.
Fury's win is great for British heavyweight boxing and he follows previous world champions Bob Fitzsimmons, Michael Bentt, Herbie Hyde, Frank Bruno, Henry Akinwande, Lennox Lewis and David Haye into the world champion record books.
As to the future, it would seem that Klitschko will be given an immediate rematch against Fury. Klitschko believes he significantly underperformed against Fury and his defeat was a one-off. He has made it clear that he is eager to prove that he is the better fighter and in the rematch will raise his game and be victorious.
I personally believe that Klitschko has performed better in previous boxing bouts against more skilled opponents, but he is 39 years older now and Fury is different when compared because he is the much bigger man, younger, more mobile, elusive and unpredictable and his style is very difficult to beat for any fighter.
The other future opponents for the winner of the Fury vs Klitschko rematch are Britain's David Haye, Anthony Joshua and American WBC World Champion Deontay Wilder.