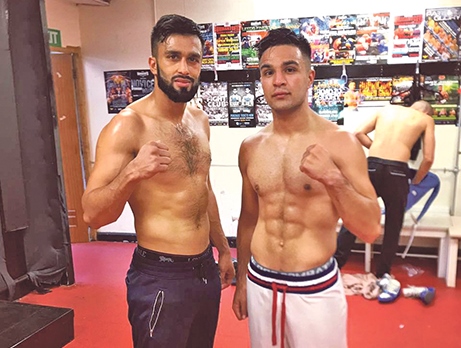 Yorkshire fighters Adil Anwar and Hamed Ghaz have been putting in the hard yards in preparation of Ghaz's upcoming fight
Adil Anwar and Hamed Ghaz have been putting each other through their paces at their gym at Burmantofts in Leeds.
Ghaz's fight is on 1st September at Elland Road against 29-year-old Fonz Alexender as the Bradford man looks to add another victory to his impeccable record.
Since turning professional at the ripe age of 18 the light welterweight has a perfect record of ten wins (two by KO).
The 21-year-old is looking to get two or three wins under his belt with coach Mark Bateson in the hope of a British title shot in the future.
Hamed is feeling extremely confident ahead of the fight:
"This is the best camp we've done so far and I'm in great shape.
"We're five weeks in with another four to go until the fight where all the hard work will pay off."
Leeds-lad Adil rates Hamed very highly rated and expects big things from his sparring partner:
"I'm looking forward to seeing Hamed get out there. He's been training hard and it'll be great to see him in action.
"Once he wins this fight it's onwards and upwards and on to bigger and better things."
The 30-year-old is also training hard as he looks for his next opponent following his defeat to Jose Del Rio in Spain.
With a record of 22 wins (eight by KO) and seven defeats Adil is extremely keen to get back in the ring and prove his qualities.
For ticket enquiries contact Hamed Ghaz on Facebook.