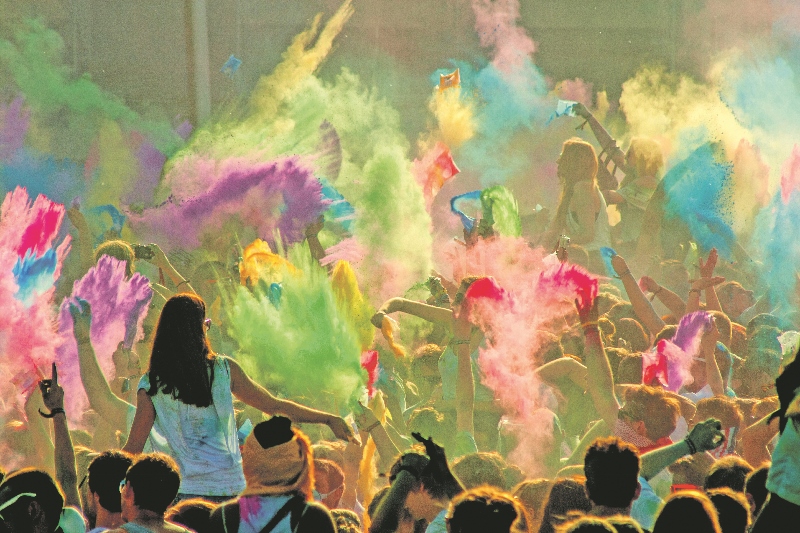 Colourful scenes welcome in Spring
Vibrant colours fill the sky, skin and clothes are turned every shade possible, and thousands flock to the streets to celebrate – it can all only mean one thing that Holi is upon us.
The holiday, also known as the festival of colour, was celebrated around the world last week with people heading to the streets to celebrate the picturesque occasion.
Despite being derived from Hindu tradition, it has become popular amongst many faiths across Asia and even extends across Europe with scenes of powder flying in the air seen on all continents.
Holi officially marks the coming of Spring arriving at the start of March and marked the night prior with the lighting of bonfires where small foods are thrown on by Hindu families.
The next day, people of all ages head to the streets to join in with the renowned event, smearing each other with paint and throwing coloured water and powder at each other.
The story of Holi and its beginnings come from Krishna and the legend of Holika and Prahlad.
It is believed by some that the Hindu deity, Krishna was a mischievous young boy and used to throw coloured powder during his youth.
Others state that it is to remember the story of a King and his son Prahlad. The king ordered everyone in the land to worship him however the prince opted to worship Lord Vishnu instead.
In an attempt to kill his son, he tricked him into sitting on the lap of his sister Holika – who was immune to fire – in a bonfire.
The prince emerged unharmed whilst Holika died as she used her powers for evil. In some areas of India, effigies of Holika (where Holi could be derived from) are burned with the ashes seen as good luck.