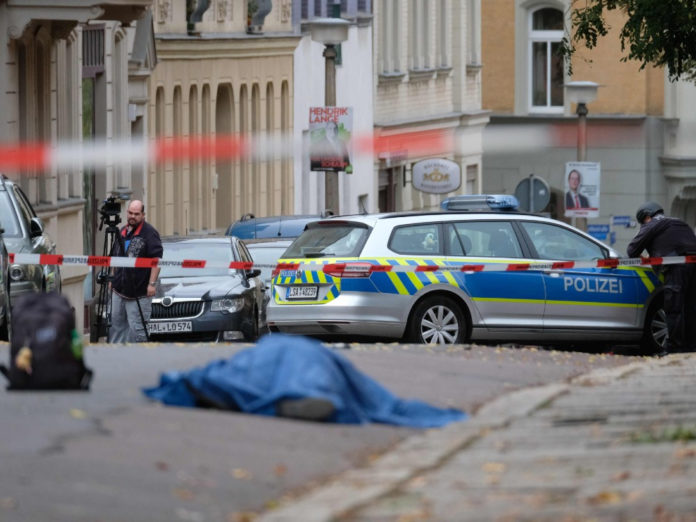 Two people have been confirmed killed and two others injured in gun attacks as a neo-Nazi gunman tried to break into a synagogue in the east German city of Halle.
One suspect who has been arrested,  Stephan Balliet is a 27-year-old man from the state of Saxony-Anhalt.
It's believed he killed a Muslim man at a kebab shop nearby before he turned to kill a woman near a synagogue where dozens were inside observing Yom Kippur.
Witnesses inside the synagogue say the gunman tried to force his way through the door.
He was wearing a video camera and streamed the attack online, according to the Site Intelligence extremist monitoring group.
A lockdown of the area has been lifted, following earlier fears that others were involved and had fled.
German Interior Minister Horst Seehofer has described the attack as anti-Semitic.
"According to the federal prosecutor there are sufficient indications for a possible right-wing extremist motive," he said.
Police say the suspect was arrested after fleeing the scene.
The violence came as Jews celebrated Yom Kippur, Judaism's holiest day.
The attack started at around noon local time (11am BST) on Humboldtstrasse, which houses the synagogue and Jewish cemetery.
A witness at the kebab shop told German N-tv news that a gunman in camouflage had opened fire on the venue.
Footage from the attacks was livestreamed on Amazon's video gaming platform Twitch.
The 35-minute livestream was verified by the International Centre for the Study of Radicalisation (ICSR) at King's College London after being shared online.
The headcam footage showed the attacker spending several minutes attempting to break into the synagogue, and swearing in German repeatedly as he failed.
Meanwhile, the country's federal public prosecutor has taken over the investigation into the case – a move commonly seen for suspected terror attacks.
Investigators said it was unclear whether other suspects could be at large.
In Berlin, the state interior senator urged police to step up security at Jewish institutions in the German capital.
A spokesman for Twitch said: "Twitch has a zero-tolerance policy against hateful conduct, and any act of violence is taken extremely seriously.
"We worked with urgency to remove this content and will permanently suspend any accounts found to be posting or reposting content of this abhorrent act."