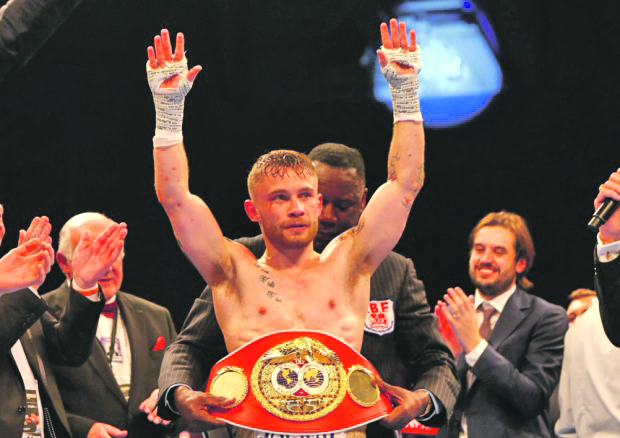 Carl Frampton is a super bantamweight boxer from Belfast, Northern Ireland. He is 28 years old, 5ft 5inches in height and is currently the undefeated IBF world champion. Frampton boxing record consists of 20 impressive wins with 14 knockout victories and no loses.
Frampton has been in the ring with some very good fighters and beaten them all in a one sided contest and that includes the world's top super bantamweights boxers like Gavin Reid, Raul Hirales, Steve Molitor, Kiko Martinez and Hugo Fidel Cazares (to name a few).
On Saturday night Frampton managed to retain his IBF bantamweight title with a fifth round stoppage of mandatory challenger Chris Avalos (25-2-0) in front the his home crowd in Belfast.
The Frampton and Avalos boxing bout was live on terrestrial television ITV who are making a boxing comeback of their own and who aired a boxing bout the first time in almost seven years.
The retired Belfast boxing legend Barry McGuigan who has guided Frampton career from the start believes Frampton is arguably the best super bantamweight in the world. He believes that Frampton would manage to beat the current elite fighters in the division and that includes British rival Scott Quigg (30-0-2 with 22KO), Leo Santa Cruz (29-0-1 with 17KO) and the man currently ranked one of the best in the in the world pound for pound Guillermo Rigondeaux (15-0-0 with 10KO).
Quigg who was present at the Frampton and Avalos fight as a spectator believes that he will be able to fight Frampton later on this year and believes he has the tools to defeat him. The Quigg vs Frampton bout would be a British blockbuster in the UK and would be held in a football stadium due to the British rivalry between the two fighters.
Frampton said the following after the Avalos fight in response to Quigg's fight challenge ""I would love it. I think Scott wants it; it's a summer showdown between the both of us. It's a massive fight but Scott needs to remember who the real world champion is… I would leave Belfast if I had to. Maybe somewhere neutral, it doesn't matter to me. I think Scott would agree with me. It's the biggest fight in the UK [other than] Amir Khan-Kell Brook possibly, but I think this one's been brewing a lot longer. It's a huge domestic showdown."
Frampton who has faced his own demons inside and outside of the ring in terms of the Irish Protestants and Catholic problems believes through his boxing he can become a "force of unity" like his Irish predecessor and Manager Mcguigan.
Frampton is already the people's champion especially in Ulster, Ireland and will soon become a household name should he manage to achieve world domination and beat his boxing rivals.
I personally have followed Frampton's career for some time and strongly believe he has the boxing ingredients to become one of the legends of the ring. However even though the Frampton fight against Quigg and Cruz are mouther watering prospects I believe Frampton will overcome them challenges and set up a mega fight with the evenly matched Rigondeaux.
We wish Frampton the best in his boxing career.