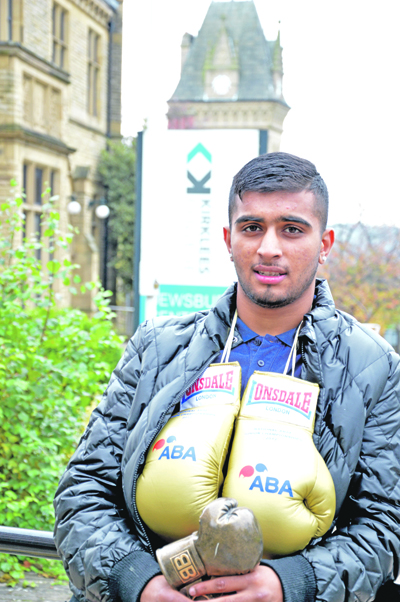 Boxing champ aiming for success in and out of the ring
One of the country's fastest rising stars in the world of boxing may have his eyes set on the Rio 2016 Olympics yet there is one other challenge to overcome before the international showcase.
Light welterweight competitor, Hamza Hussain, from Staincliffe, is currently the highest ranked competitor in his division and holds the English Under-18 title.
However, at 17-years-old, it isn't only boxing that the young fighter is determined to succeed in, with education playing a vital role in his future ambitions.
Currently studying at Kirklees College in Dewbsury, Hussain balances his sporting career with his student life, as he completes a Level 2 BTEC in Business and IT.
The former Batley Business and Enterprise College student currently trains with the Batley central Amateur Boxing Club and spars regularly with British champion, Gary Sykes.
Naming Amir Khan as his idol, Hussain hopes to repeat the Bolton star's performance at his own Olympic Games yet says he still understands the importance of having a good education behind him.
"I train for my boxing twice a day, six times a week," he said. "It's hard to fit in my studying around it but everyone at college is very supportive and gives me extra help if I need a day off or if I'm struggling with deadlines.
"I want to box professionally and go to the Olympics but I also want to go to university so ultimately I can start my own business one day. I think it's important to have something else to do alongside my sporting career."
He added: "I decided to do business and IT because I am good at it, but also because it will give me a lot of options. There are lots of things I could go on to do once I get my qualifications."
Having already won several titles as a youngster, and having competed in the Youth ABA National Championships, GB Boxing Championships and European Junior Championships, Hussain believes he is ready for a shot at the Gold in less than two years time.
Kirklees College Dewsbury Business team leader, Ruth Seale, reiterated the student's belief and said he has all the skills to succeed, both in and out of the ring.
"It is great to see Hamza as enthusiastic about his studies as he is about his boxing career," Ms Seale said.
"He has already shown that he has great dedication and determination and we're sure he will go on to succeed at both."