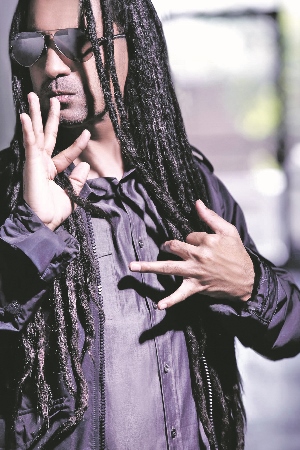 Birmingham Reggae artist Apache Indian is preparing to release his sensational new tune 'Election Crisis'. The song is creating ripples across the country and has caught the ears of many people as it raises issues regarding the upcoming General Election in May and the importance of making the right choices when voting!
Apache who is famously known for his huge hit song 'Boom Shack-A-Lak' (which featured in the Dumber & Dumber movies), is also known for writing songs tackling the social issues of Arranged Marriages, Aids, Alcohol & Drug misuse, the Caste System and more.
Apache says: "The song wasn't easy to write but I felt it was important to write a song about the elections to raise the issues that need to be raised! People either are confused about who to vote for or just not bothered about politics in general". The singer has definitely caught the mood of the nation by highlighting that the elections are in a crisis!
The song itself is very hard hitting. The dancehall ragga style is infectious and definitely catches your attention. The lyrics get straight to the point and cleverly address issues that we hear everyday regarding immigration, unemployment and cuts to public services.
Apache himself has worked very closely with his community in Handsworth, Birmingham over the years. Two years ago Apache set up his own music academy to help young people in the area. The Academy called the 'Apache Indian Music Academy' (A.I.M) is based at South and City College on Soho Road, Handsworth. He runs it completely on a voluntary basis and helps young people with music and life skills every Wednesday from 12pm to 9pm. The Academy is run completely FREE and now draws up to 70 young people weekly!
AIM has become very popular and successful in the community and is now supported by various local sponsors that provide food, water, clothing and various other things that benefit the young people on a weekly basis. The college offers further support by encouraging youths to enrol on courses and provides advice on apprenticeship and jobs.
Apache's vision was to encourage the community to help each other without any money passing hands and without any funding. His vision has worked and is growing every week with more young people attending the Academy and with more local businesses wanting to help.
The Academy features in the forthcoming music video for 'Election Crisis' and will give an insight into Apache's vision and movement that's making a difference to the lives of people and to the community. Apache is also an Ambassador of a Charity called 'Include Me Too' which lends support to young disabled children and their families.
Election Crisis' was written and recorded by Apache Indian. Produced by Charlie Hype for the Sunset Entertainment Group.
Please show your support for the Movement that is making a real difference by downloading 'Election Crisis' with partial proceeds benefiting the Apache Indian Music Academy (AIM).
Election Crisis releases on on Monday 30th March 2015 via iTunes and all other digital stores.