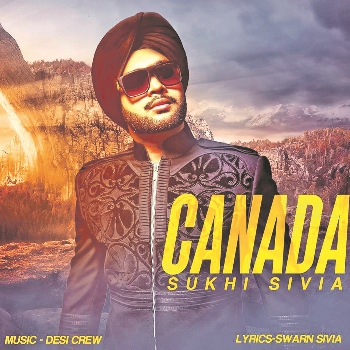 After the huge global impact of his debut single 'Sarkara' produced by musical maestro Dr Zeus, Sukhi Sivia is back with his second installment, this time a more mellow approach with 'Canada'.
Sarkara remained in the Asian Download Chart for over 25 weeks and firmly placed Sukhi on the musical map.
Originally from Punjab but now living in the UK, he returned to India recently after 5 years and recorded 'Canada' with his father the famous lyricist Swarn Sivia.
Sukhi explains: "It was a great honour to be back home with my family as I had promised them I wouldn't return without making a mark in our music industry. Recording Canada with my father was unplanned, it just happened and was definitely an added bonus to my trip home".
The concept of the video behind Canada is about a guy falling in love with a girl in India who then moves to Canada. He decides to fly over and give her a pleasant surprise but soon discovers that she's changed and forgotten about her culture!
The music was produced by the impressive 'Desi Crew' who have previously worked on some Punjabi blockbuster movies as well as for a number of high profile music artists including Gippy Grewal and Geeta Zailder. They are currently working with Jazzy B.
'Canada' is released on the Merci Records label and out now on iTunes and other digital outlets.