Sister speaks out for the first time on Samia Shahid's death
First Published Fri, 9th March 2018
"WE'VE BEEN DRAGGED THROUGH "HELL"
The unexpected death of a British national abroad almost always makes national headlines, but in the case of a Bradford woman Samia Shahid, the story attracted immense attention when a narrative suggested that it was an 'honour killing'.
Now for the first time since the death of 28-year-old Samia Shahid in Pakistan, her sister has spoken publicly about the trauma and abuse they have gone through after Samia's untimely and very tragic passing.
Speaking exclusively to the Asian Express, Madiha Shahid tells of the horror and grueling effect mainstream news headlines have had on the family since Samia's death while losing the right to mourn the loss of not one, but two family members.
Madiha has not only lost her beautiful sister Samia in 2016, but also her ailing father Mohammed Shahid in January this year who was suffering from kidney failure. Her father Mohammed Shahid's recent death has been a catalyst for Madiha to step forward and speak out.
'Confident and independent'
Madiha, describes Samia as a confident, independent, loving sister with a bubbly personality and the apple of her father's eye.
"Samia was our late father's favourite, and this was no secret. She was completely a 'daddy's girl', he'd laugh at her cheekiness and silliness – he fully supported her in all her decisions," says Madiha.
"All across the world's media, there have been so many mistakes and lies including the one about her being a beauty therapist – this is completely wrong, she never even did any beauty course. She never worked as a beautician, in fact she worked at a post office in Bradford, and in Dubai at a property company.
"Samia had a very determined personality. Our parents have always encouraged us to achieve our ambitions in life and as a result of this I myself am a graduate."
"My late father had never attempted to impose his views upon us and we have always had freedom to make our own decisions; in fact, this is the reason that I am one of the very few Asian females that is employed as an Operations Supervisor in a busy airport.
"My family have been made to look like they are a narrow-minded and backwards-thinking Asian family, when this is clearly not the case.
"How many Asian families can say that they allow their daughters the freedom to travel? As a girl, I've travelled most of Europe, the States and the far East without my parents – independently, freely and under no restrictions."
Marriage to Shakeel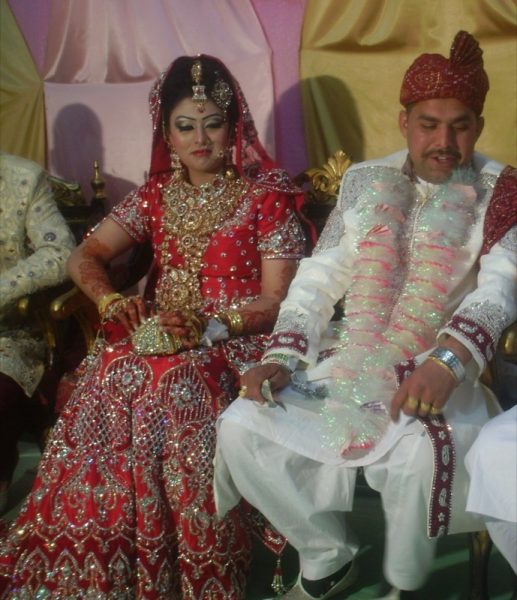 Madiha says that contrary to mainstream media, Samia was never forced to marry their cousin Shakeel. With a choice of numerous marriage proposals Samia had decided that she had wanted to marry Shakeel.
Samia, unlike in many traditional Pakistani families was not pushed into an early marriage. She was 25-years-old when she married Shakeel.
"This was an arranged marriage but NEVER a forced marriage."
"Getting married is a big decision. Samia wasn't short of suitable prospects and had a number of proposals to chose from," says Madiha.
"When Shakeel's proposal came through, of course like anyone else – she thought about it to some length. She talked about making the decision and any reservations she might have had with me as well as her friends. That's normal – isn't it?"
"Yes, it was an 'arranged marriage' but never a 'forced marriage'. Even prior to accepting Shakeel's proposal for marriage in February 2012, Samia in 2011 spent four weeks in Pakistan where they spent time together and both excitedly decided to tie the knot.
"When Samia returned back from Pakistan, wedding plans were in full swing with Samia taking charge of every fine detail about her jewellery, clothes, make-up and everything else for the big day. She was very happy at that time, everyone knows this."
With the big day set to take place on 27th February 2012 in Jhelum, Pakistan, Samia used wedding planning services in the UK before flying out on 18th February 2012.
Samia did the bulk of her shopping at Pakistani Bazaar. Mr Mohammed Sajid, working as a senior sales assistant for 17-years at the popular fashion house on Killinghall Road in Bradford, in a witness statement talks in detail about Samia ordering her outfits for her wedding.
Samia was a regular customer at Pakistani Bazaar, often turning up with her mum, sisters and cousins to buy clothes, as well as on her own.
Witness statement: 'Loved-up and 'mushy'
"She was always giggling and joking around,' says Sajid.
"In preparation of her wedding in Pakistan, Samia was exceptionally particular with what she wanted and made modifications to the designer wedding dress and other outfits she had chosen."
Samia told Sajid that she had asked her father for a big extravagant wedding at a venue, and almost 1000 people were to attend. "She would always talk about her wedding and husband to be," he adds.
"She seemed to be very loved-up and 'mushy', it was because of this I started calling her 'Laila' (Juliette). She would just laugh, blush and jokingly threaten me that if her outfits weren't right she wouldn't be happy with me."
After the wedding Samia stayed in Pakistan with her new husband Shakeel for some four months before returning to the UK in the summer of 2012. She resumed her job at a post office and openly discussed her happy marriage with other work colleagues.
When Samia next went to Pakistani Bazaar for a spot of shopping, she gleefully shared pictures of the wedding and her husband, and babbled on about him with Sajid.
Media lies
Sajid says: "From what I have gathered about media coverage (on Samia's marriage to Shakeel) is that she's portrayed as a forced oppressed woman fighting the stereotypical norm of Asian women."
"I'm perplexed by the (news) coverage because she never indicated anything of the sort. Her bubbly, happy-go-lucky confident nature did not show that she was under any kind of pressure."
Saddened by her death, Sajid adds: "I simply don't know what happened to her, but I know she wasn't forced into marriage."
Madiha says: "Samia and Shakeel's extravagant wedding celebrations lasted over four days and there are wedding videos and numerous independent statements from guests confirm Samia was very happy with this marriage and it was far from a 'forced marriage' unlike how the media has spat out."
Pakistan – two long stays with Shakeel
Even when Samia returned to the UK, she would spend so much time on her phone speaking with Shakeel. She wasn't shy about the fact that she missed him and talked about it a lot, often 'puppy-eyed' and 'moping around'.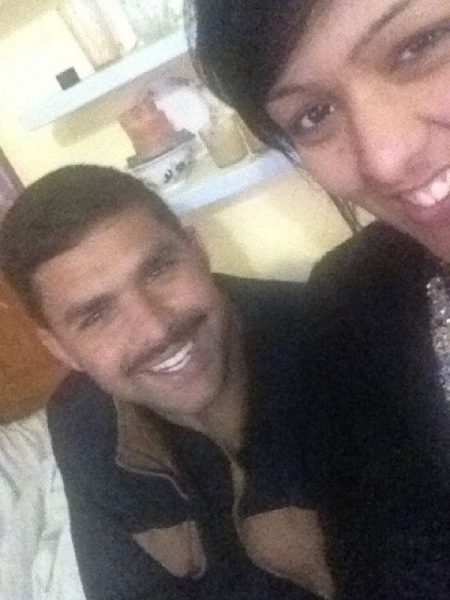 Then in December 2012 Samia booked her own flight using a local Bradford travel agent and returned back to Pakistan to be with her husband Shakeel.
"It's extremely surprising how a one-sided documentary has failed to mention a four-month stay with Shakeel after the wedding and then Samia's second trip to Pakistan where she lived with her husband for a further six-months," Madiha comments.
Samia travelled to Pakistan for her wedding on 18th February 2012 and stayed until 12th June 2012, only to return back to Shakeel same year on 20th December 2012, this time for a six-month period. She returned back to the UK on 28th June 2013.

Madiha adds: "If someone has had a forced marriage and escaped from Pakistan, can someone please explain why they would book their own flight only to return to Pakistan within a six-month period?"
It is important to note that Samia and Shakeel's was a registered court marriage in Pakistan and therefore is legally recognised as a valid marriage in the UK. Letters from the Pakistani Union, in Pakistan confirms that to date they have never received any 'petition for divorce from either party' and their records show that Shakeel is still Samia's lawful husband.
"Contrary to the claims that have been made against Shakeel that he only married Samia for her 'passport', surely, if this was the case a visa application would have been submitted to the UK embassy.
"The reality is that Shakeel never urged to come to the UK as he is comfortably self-sufficient in Pakistan, and never submitted a visa application to the UK, let alone have a visa refused."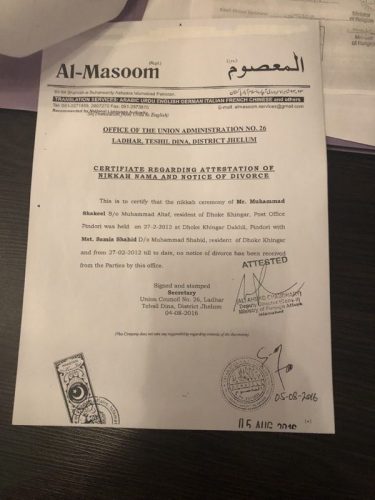 Courtship with Syed Mukhtar Kazam
At some point late in 2013, Samia on social media became acquainted with Syed Mukhtar Kazam, a Pakistani national working in Dubai. Having built up an online relationship for some weeks, the pair decided to meet up in London and spend some time together.
Friendship soon turned into courtship.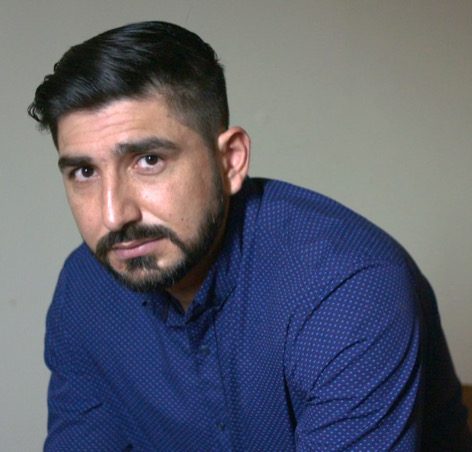 When Kazam returned to Dubai, the romantic relationship continued to develop, with Samia soon arranging a four-day holiday to Dubai on 6th March 2014 where she would meet up with Kazam.
"In the recent TV documentary, Samia's friends have lied blatantly about her being on a 'lock-down' upon returning to the UK, when clearly this cannot be the case," says Madiha.
"Samia was regularly attending the gym, restaurant with friends, not to mention the trips to London and a four-day break to Dubai. Does this sound like someone on a "lock-down?"
"Not to speak to them bitches"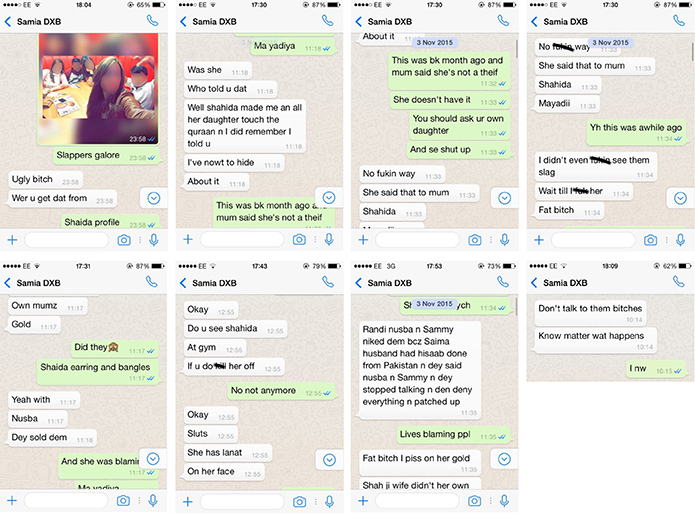 It has recently transpired that Samia's friends who stated that Samia was "not happy with her marriage to Shakeel", had a fracas following accusations that Samia stole their mother's gold.
"I do not understand why Nusba and Samaira (Sam) and Shahida have lied to the press so much about us as a family and unfolding Samia's story as if they knew her so well.
"Sam and Nusba had stole their own mother's gold, sold it, and pinned the blame on Samia after she had visited their home."
"This was back in November 2015, when Samia returned home from Dubai following problems she was having with Kazam."
According to Madiha, they even lied on a TV documentary making it seem that Samia was singled out and attacked during a mugging. In fact both Samia and our cousin where hurt during this incident and were taken to hospital via ambulance. There is a record of this incident and the injuries they both sustained available to the press directly from the BRI.
"Nusba and Sam narrated the story to make it seem that that possibly someone Samia knew had attacked her to scare her for her Dubai decision.
"Samia specifically after a major fallout with these 'so-called' friends told me not to speak to 'them bitches'. Samia despised them – see the text messages my sister sent me. How these girls claim to be in communication with my sister and express so much detail of her Dubai story is very, very questionable. They are liars.
"The press have blatantly lied about Samia leading an oppressed and submissive life at home with us and have scraped together a handful of half-truths to build a very negative and damning picture of our family."
The lure of Dubai high-life
Madiha believes that Kazam befriended her sister, luring her into a secret romantic relationship despite being aware she was a married woman. She says he being a Pakistani he'd found a 'golden egg' by wooing Samia, not only could she earn a lot more than he did in Dubai, but this was also his opportunity to eventually get into Britain.
"There was never a legal or proper Islamic divorce obtained from the UK, nor did Samia ever tell the family that she wanted a separation from Shakeel. We believe he reinforced the notion of keeping everything a secret from us.
"It's common knowledge on the streets that foreign men lure British girls trapping them into a 'relationship' before taking them abroad as a workhorse. And a life in Dubai is a big attraction."
"As far as we were concerned up until the point she went to Dubai she was happy. Shakeel on a regular basis would send her money from Pakistan via money exchange, he even sent money up to the point she eloped with Kazam."
The arrested Mullah
Interestingly, the applicant on the decree absolute is not Samia Shahid, but in fact her husband Mohammed Shakeel who has never even been in Britain.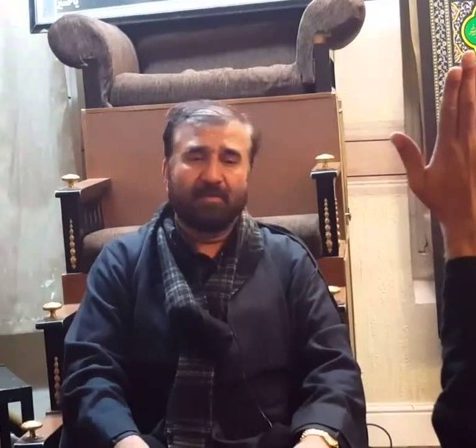 A document issued by a Maulana Syed Muhammad Sibtain Kazmi, is presented as the formal 'Divorce Decree Absolute' for Samia and Shakeel's nikkah certificate.Interestingly, the applicant on the decree absolute dated 1st May 2014 is not Samia Shahid, but in fact her husband Mohammed Shakeel who has never even been in Britain.
Though residing in Bradford, Maulana Syed Muhammad Sibtain Kazmi's documents display an address in Luton.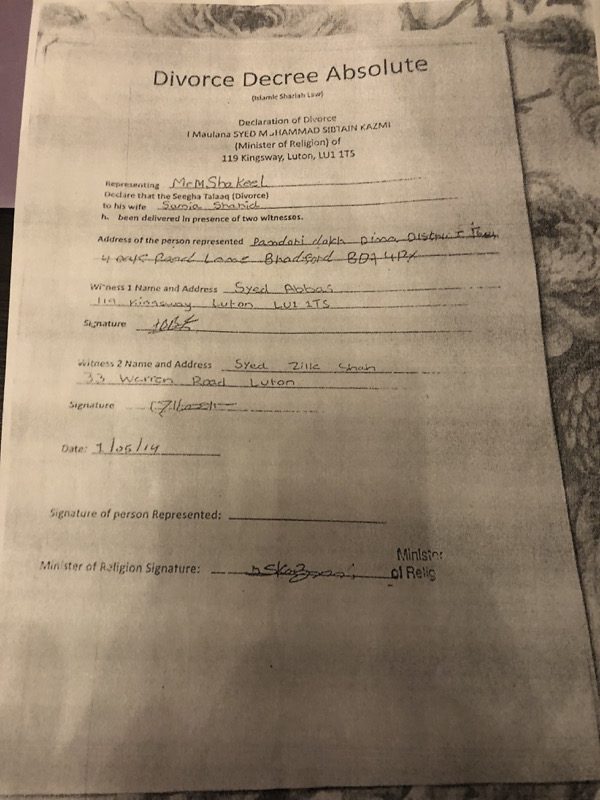 The Maulana carried out a nikkah ceremony for Samia and Kazam on 7th September 2014, but in light of the Judgment obtained from the Sharia Council the divorce has not been properly conducted and therefore is not valid and any subsequent nikkah is not recognised under Islamic Laws. Another complication being that a Shiite Imam cannot nullify a Sunni marriage and vice versa.
Both the Islamic Shariah Council in Leyton and Bradford's Jamiyat Tabligh-ul-Islam have confirmed that it does not recognise Maulana Syed Muhammad Sibtain Kazmi's issued decree absolute nor does it recognise him as a minister of religion.
Maulana Syed Muhammad Sibtain Kazmi, a Shiite Imam, was arrested in 2017 on terrorism charges by Pakistan's Federal Investigation Agency (FIA). The FIA had wanted him for 14-years as he had been implicated of being involved in the killing of Maulana Azam Tariq in 2003 by gunmen in Islamabad during a spate of violence between Shiite and Sunni groups.
The Maulana was acquitted of charges and released on 5th March 2018.
Spousal visa to work in Dubai
The family believes Samia was pressurised by Kazam who insisted on a civil registry, which would make it possible for Samia obtain a spousal visa to live and work in Dubai alongside him.
The couple went through with a registry at Leeds City Hall on 24th September 2014. For this Samia declared herself as 'single' and not a 'divorcee', even though she was specifically asked by the registrar if she had been married in any country before.
"In the eyes of the law, the registry itself was an act of bigamy, which the family believe was aided and abetted by Kazmi," says Madiha.
"It is my understanding that Kazam has his own agenda in befriending and courting Samia and insisting on registering the marriage. He wanted my sister to move to Dubai with him and work there as a 'slave' to support him and has family.
"Kazam (Ali) knew that as a Pakistani national in Dubai he can only ever earn a certain amount of wages whereas a British national can earn double or in Samia's case – treble what he would."
When Samia left for Dubai in 2015 without telling her family, at first they reported her missing, obviously worried for her wellbeing.
A few days later Samia contacted Madiha and informed her that she had gone to Dubai for work and that she had met someone else.
Shocked, Madiha began to question Samia's decision: "I felt concerned with all of this and remember going to the police to report an incident of 'grooming'.
"Police informed me that because Samia was over the age of 18, there was nothing they could do."
Dubai life not so glamorous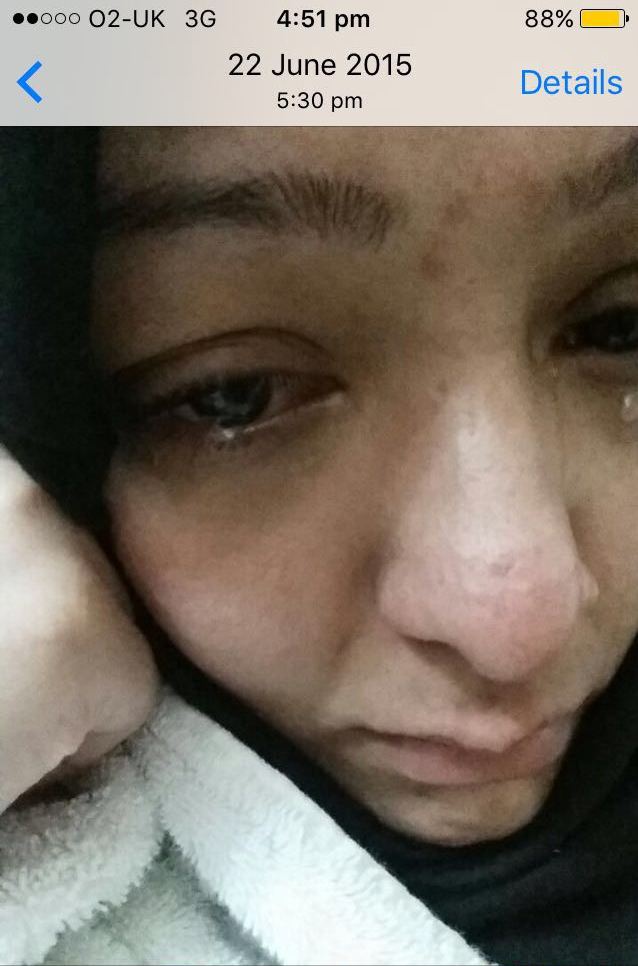 "Whilst in Dubai, Samia really, really missed home. She started telling me about how sorry she was about everything and that she had made a mistake.
"Her life in Dubai wasn't at all what she thought it would be. She was working really hard, and never had any money. She told me that Kazam would take it all from her. She was being subjected to emotional abuse.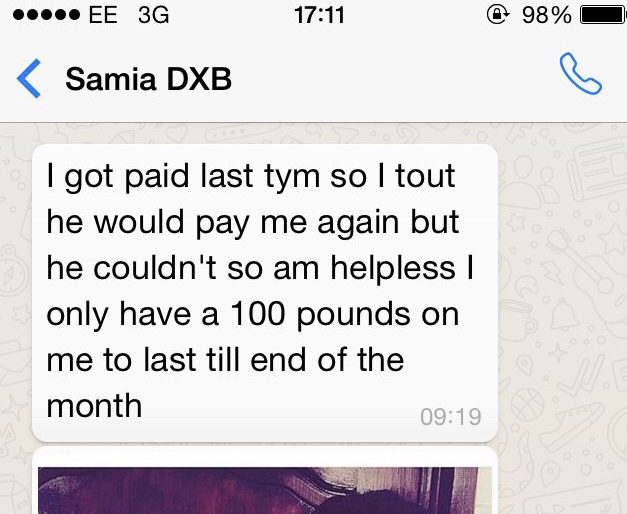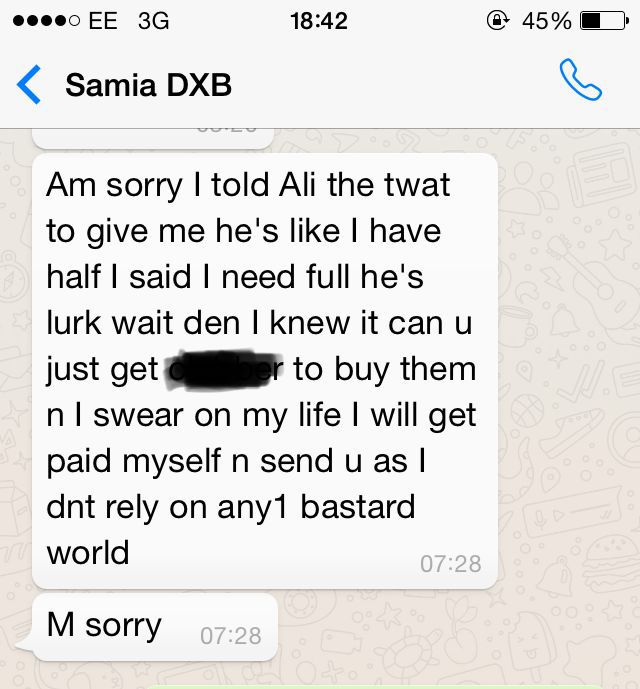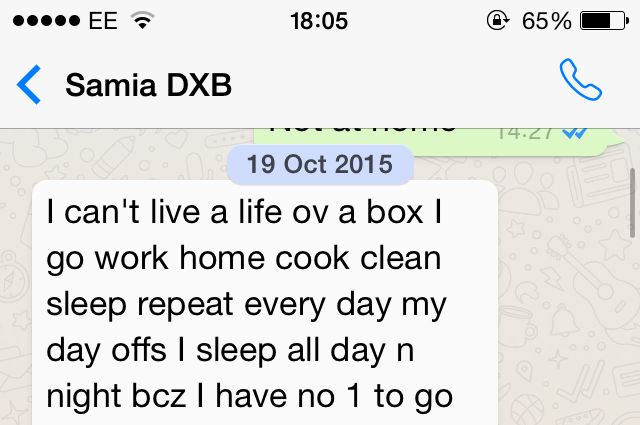 Samia since going to Dubai had come back to the UK to see her family on two separate trips due to the problems she was facing in Dubai with Kazam.
Madiha says that from what Samia has told her and pictures she had sent showing her apartment view were very different from the glamorous ones portrayed in the TV documentary.
According to Gulf news, on the 17th August 2016, Samia was living on the 10th Floor apartment at a building in Ajman, Sharjah.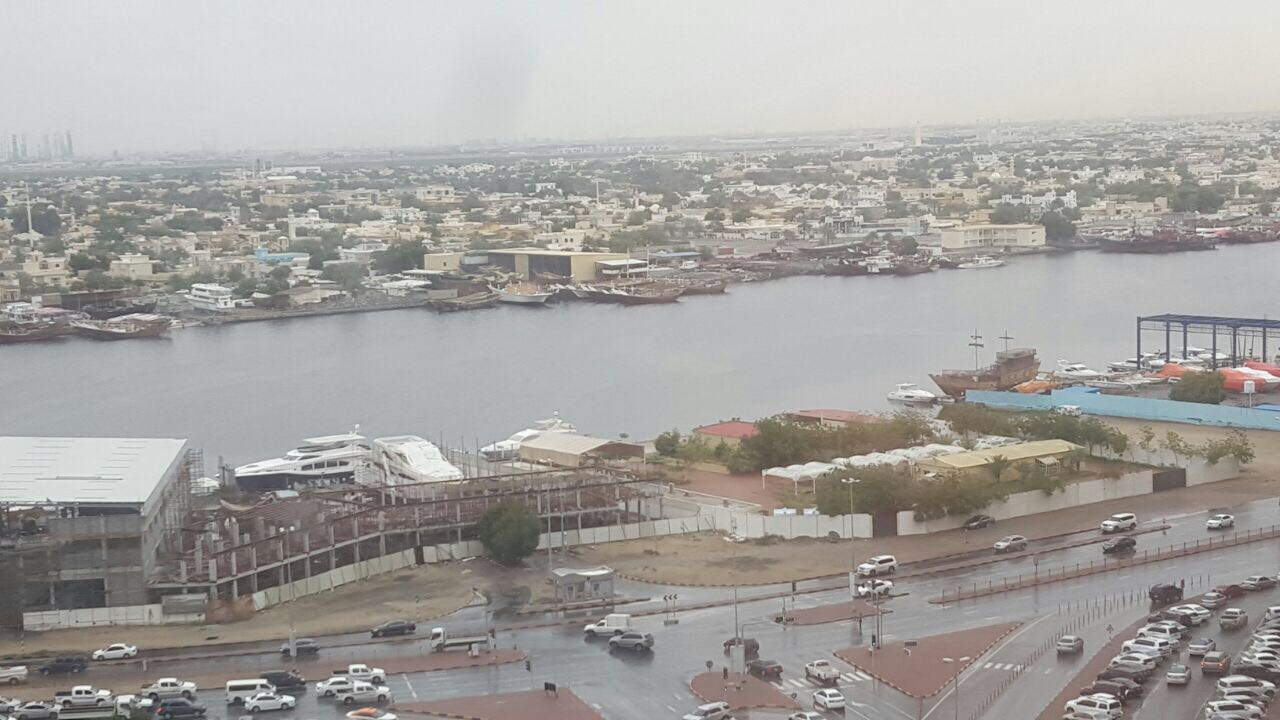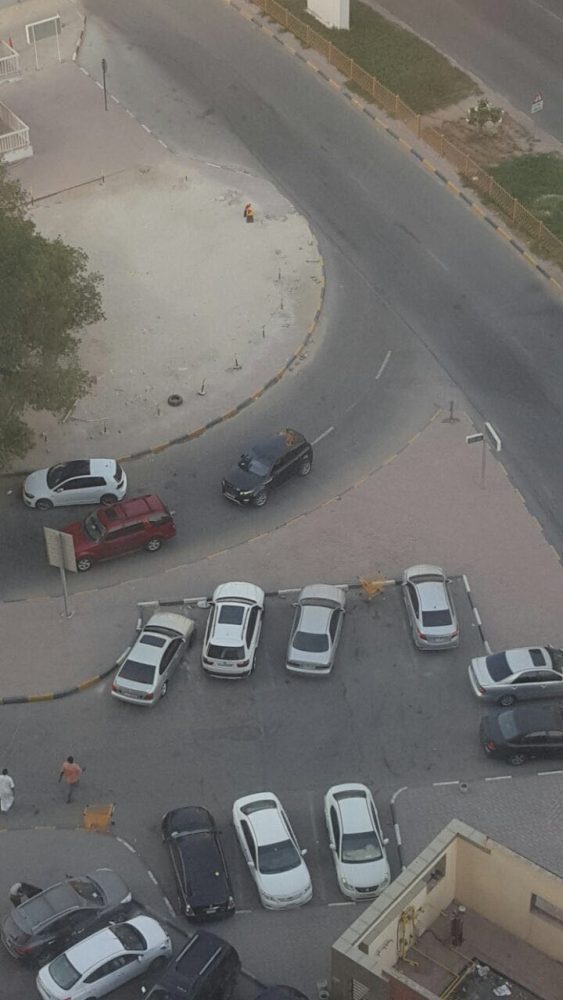 "My sister was living in the workers colony – it's considered 'the slums' compared to the lavish Dubai that Kazam had promised her, and he was taking all the money she was earning off her."
"The biggest problem my sister was having with Kazam in Dubai was that it was not at all the life she was promised by him and not like he says 'she had the best of this world'. She came to England twice because of their issues and of course, she missed home and her liberated lifestyle.
"I was shocked to see how she'd be dressed – covered head-to-toe in black all the time! Our parents never made us do that – in fact we were always liberated – dressed how we wanted. When I asked Samia about the sudden change in her dress code, she replied that Kazam didn't want her leaving the apartment without being fully covered.
"The pictures of Samia in Dubai as shown in the TV documentary with Kazam without having her head-scarf on are from her 2014 trip before she 'married' him.
He wouldn't allow her out of the house without being dressed in a burkah.
"My sister never even celebrated her last birthday, and sent me pictures of herself crying. She was broken. She sent me a text saying that she didn't even bother to look nice on the day because she felt there was no point in doing so."
Not accepted by 'new husband's family
Samia's text conversations also reveal that Kazam's family had not accepted Samia as his wife, and that his mother was 'flippin' over the relationship. They did not accepting Samia because she was Sunni Muslim and not Shiite, as well as the fact she was a 'divorcee'.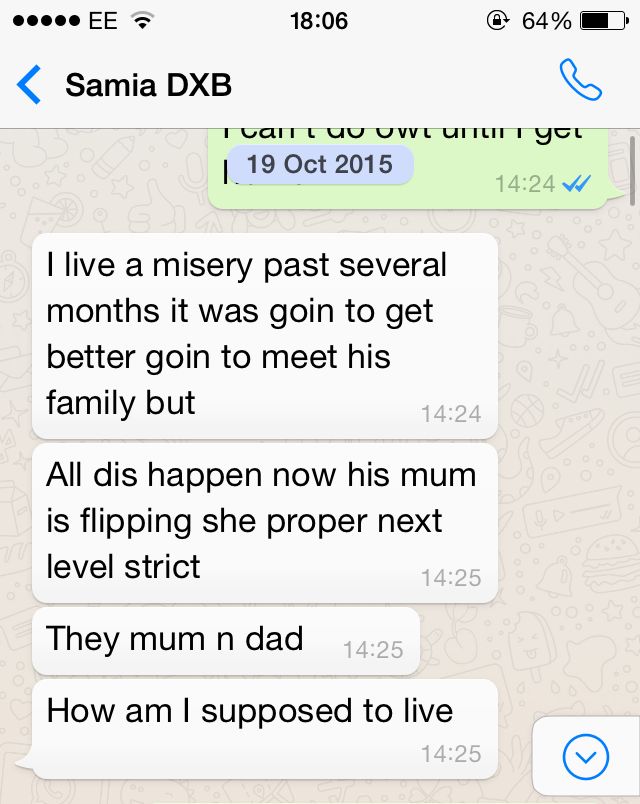 Voice recordings between Kazam and his family reveal him denying the very existence about the 'girl from Jehlum' (Samia) upon being questioned by them. In another, Kazam (also referred to as Ali) tells of his family's fury of him being with a woman who is married to somebody else. He says to Samia: "They (his family) think you're a f*****g whore now".
Click below to hear the voice recordings of Kazam telling Samia his family think she's a 'f*****g whore'
"Has anybody even seen a single picture of Samia with Mukhtar's mother and father? The answer is "No". Where are they? Why didn't they accept her? Was it because they all knew that she was still married to Shakeel?," questions Madiha.
Samia had very little money despite working very hard in Dubai. Samia in a text message says to her sister says she only had a £100 to last her until the end of the month.
In another text she refer to Kazam as a 'twat' and she said she didn't want to depend on 'any one bastard in this world'.
Text messages from Samia to sister Madiha tell of a life of 'misery' for the past several months and that she was 'living in a box' doing nothing but a schedule of 'work, home, cook, clean, sleep, repeat'.
Any days she had off she'd sleep because there wasn't anything else for her to do or any place for her to go. In the messages to her sister Samia says, 'how am I supposed to live his family will never accept me'.
"So far what has not been mentioned in the press is how Kazam made my sister leave home, go against her loved ones, break the law, make her work , take her wages and then couldn't even obtain his own family's approval of her."
Final trip to Pakistan
It was when Shakeel's mother passed away that Samia expressed to Shakeel that she'd like to go to Pakistan, and be with him during this difficult time.
Samia waited for her wages to come through and at the first opportunity bought her own flight ticket.
By Kazam's own admission in the press he was very 'surprised' where the money for the ticket had come from because he knew he had control of her money. What he failed to mention is that Samia waited for her wage to come and bought her own ticket to fly to Pakistan straight away.
There is no evidence that Samia's family deceived her by playing the 'seriously poorly father in Pakistan' game with her. There are no text messages from the family indicating this. There are no telephone recordings of any such conversation.
"I was in the UK when Samia arrived in Pakistan," adds Madha.
"How could she be told that our father is on his deathbed when she knew that both her siblings were in the UK? Surely, she would want to know why we are not going to Pakistan."
When Samia was collected by Shakeel and went home with him, she stayed in Shakeel's home through the duration of her visit, opposite her father's ancestral home.
Also omitted from any Pakistan police reports, are statements from a fertility clinic doctor with whom Samia and Shakeel met just a couple of days before her demise.
The examining doctors at the time showed the police CCTV footage showing Samia and Shakeel attending the fertility clinic together. It is claimed that Samia, in an interview with the lady doctor, refers to Shakeel as her husband and tells they're trying for a baby.
On the tragic day of Samia's death, she had been out to lay flowers on her aunt's grave. She then bought and distributed fruit for children in the poorer parts of the village and then went to her father's home. Here she met some guests who were sitting with her father. Samia stayed for a short while and returned to her home, where she was later found dead.
"The news of Samia's death utterly destroyed us. Mum and I flew out the same day in utter shock to Pakistan.
"Mum had only just returned from there as she had a pre-paid return ticket to go when our aunt (phuppo) passed away.
"Emotionally torn we could not understand her sudden death. Did she have one of her severe asthma attacks due to the heat, did she have a heart attack and if so why or was it something else?
"We didn't know. We didn't understand. We didn't know why she was taken from us. She was so young, so beautiful."
It is maintained by Samia's immediate family that any police reports following further enquiries have been navigated to prove just one particular outcome – a crime of honour.
The family also claim that deceased pictures of Samia showing heavy marks on her neck are doctored images. They question the source of these images is still pending.
The Government Hospital in Jhelum has stated that no such photo was supplied in the form they have been presented.
The family would like to know who provided the doctored images and more so the motive behind the same. In addition, what checks were carried out by the Mainstream Media to confirm the validity of the images.
Over 50 witness statements confirming Samia's father and Shakeel's whereabouts (ie. not being present with her) on the day at that time of her death have been dismissed as have almost all the initial Pakistani police enquiry team.
Madiha claims that corruption in Pakistan's policing system made this case vulnerable and open to be directed under duress due to political pressures from the UK.
Entire family tarnished
Almost all the entire immediate family has been implicated in Samia's death.
Punjab Forensic Science Agency provided a report to the Pakistani police which states that four DVD's worth of data was recovered from Samia's mobile phone.
"So much data was recovered from Samia's phone but the Pakistani Police have conveniently ignored all of it except two-pages-worth, which have been used out of context and where Samia is conversing with Munnaza. Why is this?
"Samia said to 'Munazza' that she's going to Pakistan to meet her poorly father – perhaps Samia didn't want to explain the real reason for her trip to Pakistan. Perhaps she lied to Kazam about Pakistan, because she knew otherwise he'd never let her know."
Samia's father Mohammed Shahid, who passed away earlier this year due to kidney failure (not gastric band surgery as suggested by a major national newspaper), was cleared by Pakistan's high court of having anything to do with Samia's death. The Supreme Court in June 2017 also confirms that there is no evidence against the father.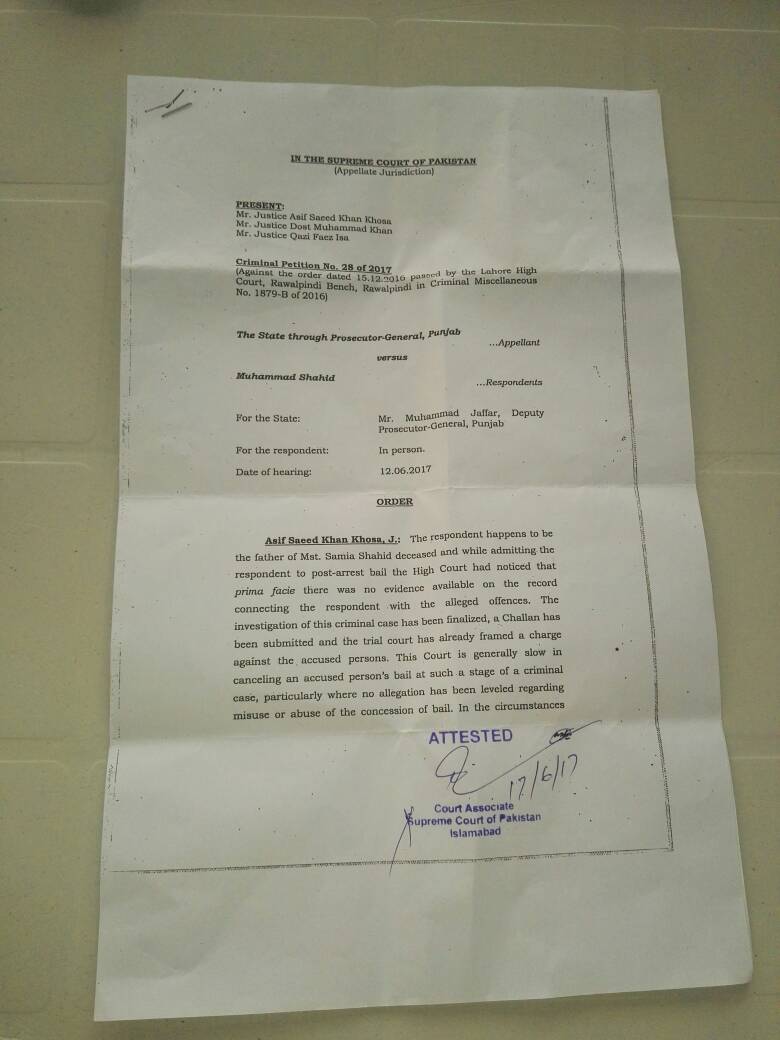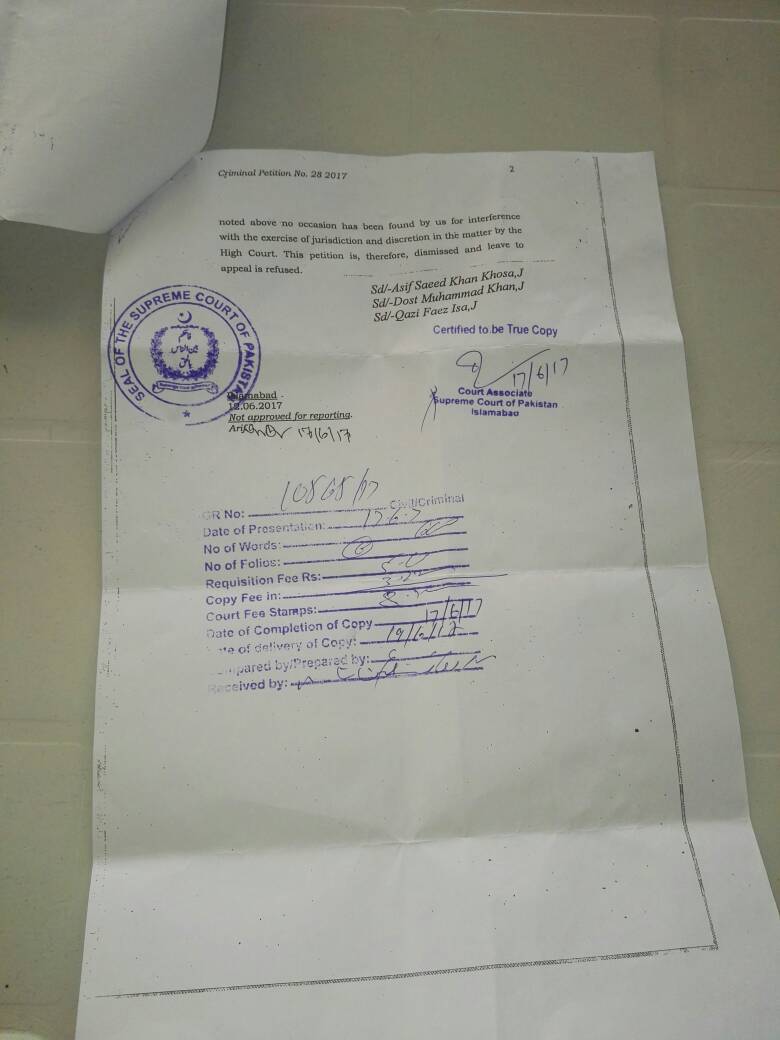 Despite no hard evidence connecting mother Imtiaz and sister Madiha, the Pakistan Police have declared them proclaimed offenders in Pakistan.
"Our father died from a broken heart, and because of the terror he had to go through whilst being implicated in Samia's death," says Madiha.
"No one should be falsely accused of such a serious crime without any substantial evidence.
"We believe this is a case of pinning the crime onto someone just to get the relevant paperwork done," says Madiha.
"Corruption, sifarish (bribery) and working under duress from higher commanding officers in Pakistan's police is a commonplace practice there.
"We are fighting to clear our names and are taking this matter further. We are innocent, so why have we been tarnished so publicly? I have lost my sister and father and yet I cannot grieve, the world is not allowing me to."
"Everyone's been Judge, Jury and Executioners"
"The facts that have been presented seem like the truth but so much is missing. There's much more to the story that what's been told," insists Madiha.
"The world has behaved as judge, jury and executioners. Much of the news content generated by mainstream press was not only misleading, but implied we were part of a murder without evidence. How can this be acceptable?"
Madiha, further states: "I have lost my only sister, my eldest sister, who I loved dearly, she has left an empty space in so many lives.
"On the day of Samia's death my mother and I flew out to Pakistan, so confused and heartbroken – and it just got worse for us.
"We as a family have not even been afforded the opportunity to grieve properly.
"My father would telephone us every day from Pakistan and I would cry longing to meet him, my dad would reassure me and say 'don't cry Madiha, Allah will make us meet', but I never got to meet him before he died.
"Due to all of these false allegations, my father died a broken man – is this fair?
"My father had been wrongfully tarnished of being involved with his favourite daughter's death, even though the courts said he is innocent. Where's the justice in that?"
"He was on his death bed and I was not even afforded the opportunity to visit my ill father and pay my final respects when he died due to the Pakistani Police having manipulated this entire case against us.
"I do not accept their investigations. It's a total miscarriage of justice.
"I have lost a father who I had not seen for a year and a half. Our lives have been ruined beyond imagination, all this because of the a false narrative calling this an honour killing at the offset."
The family request an investigation by British authorities to get involved to try and establish exactly what happened to Samia.
West Yorkshire Police Homicide investigations
Asian Express have obtained a document issued by the Homicide and Major Enquiry Team of West Yorkshire Police which states that Samia's divorce to Shakeel does not stand in UK law and that the letter produced to authorities claiming Samia was 'forced into marriage' with Shakeel cannot be verified legitimately as Samia is now deceased.
Furthermore, this document also talks of complications with the cleric who carried out Samia's nikkah to Kazam. Sibtain Kazmi is a Shiite Muslim, as is Mukhtar Kazam and since Samia and her family are Sunni Muslims so some clarification would be required for the divorce to be accepted in Pakistan.