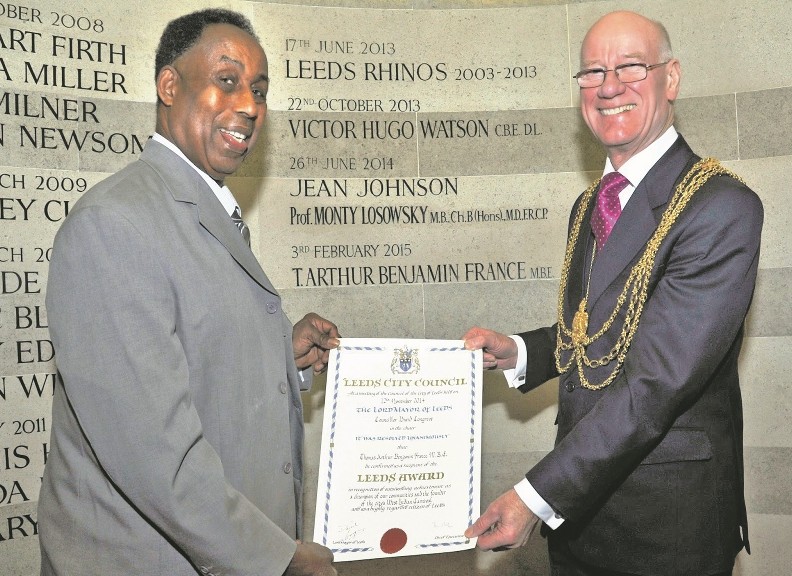 Arthur France MBE recognised for services to Leeds
A tireless community campaigner, who amongst his many achievements was the founder of one of Leeds' most popular and celebrated annual cultural events, has received a top civic honour.
As part of a special ceremony held in the civic hall this month, Arthur France MBE was recognised for his fantastic contribution to the city for nearly 60 years, and in particular the West Indian community, with the presentation of a 'Leeds Award' by the Lord Mayor, Councillor David Congreve.
Arthur, who was originally born on the Caribbean island of Nevis, moved to Leeds with his sister in 1957, and in 1963 became one of three people which pioneered and founded the United Caribbean Association (UCA).
Having enjoyed the theatre and colour of the carnival as a child in Nevis, Arthur had a dream of Leeds having its very own event, and this ambition was realised in 1967 when the city held its first ever carnival, which was also the first to be held in Europe.
Arthur has also been the chairperson of the Leeds Carnival since its inception with the event continuing to go from strength to strength, now firmly established as an annual celebration which is recognised and loved by people not just in the UK but right around the world.
Last year alone, the Leeds Carnival attracted around 80,000 spectators and was estimated to have brought approximately £3m in to the city's economy.
On receiving the Leeds Award, Arthur said: "When I came here in 1957 awards and accolades were the furthest things from my mind. I simply believed that we all have a responsibility to be good citizens, to help others and to contribute to making the places where we live the best they can be.
"I still believe that today, so I am touched and honoured to receive the Leeds Award.
"I have an enduring love for my Caribbean culture and my adopted home city of Leeds and I am proud that the Leeds West Indian Carnival has flown the flag for all that's great about both."
Providing facilities and creating educational opportunities for young people and the wider community have also continued to be one of Arthur's passions.
In 1973, this included becoming a member of a steering group which set up Chapeltown Community Centre, assisting with the creation of a learning and computer school. In 1985, he was also named chair of the Leeds West Indian Centre, a post which again he continues to hold today.