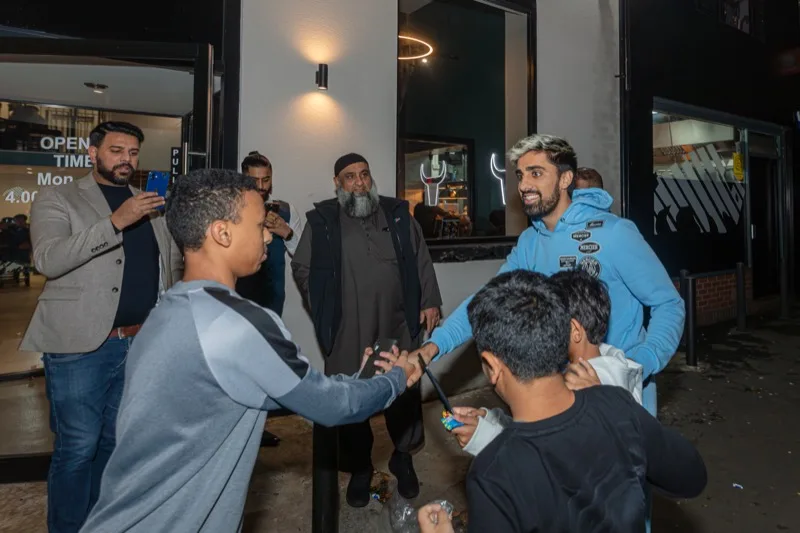 The boys at Bison Steakhouse in Beeston, Leeds had a hearty visit with none other than celebrity guest Mo Vlogs in town to bite into their famous steaks, chops, pulled beef and more!
Tucking into some mammoth-size platters, Mo Vlogs was spoilt for choice with prime Aberdeen Angus hand pressed burgers, sriracha hot wings, sirloin and rib eye beef steaks, peri peri chicken, loaded fries and oh… so much more!
Mo Vlogs who saw fame originally from his YouTube channel with over 11 million subscribers, also has millions of followers on his social media platforms.
His visit to Bison Steakhouse in Dewsbury Road, Leeds was part of his Yorkshire tour organised in association with Asian Express newspaper.
Bison Streakhouse commented: " Mo Vlogs gave our crew and customers a really great surprise with his visit.
"We're dedicated to offering our customers an unmatched experience, and Mo Vlogs got a tase of our VIP treatment.
"As a family-friendly business, we strive to perfect every meal. Our secret ingredient? We carefully mature our beef for a full 21-days, resulting in a taste that's simply extraordinary. Not to mention, our burgers are hand-pressed for that perfect texture, and our prime cut steaks are a huge hit! It's no wonder that people travel from near and far to taste our incredible food.
"We've recently expanded and have big plans to open new steakhouses and takeaway style branches in the near future."