People of South Asian ethnicity are between 2.5 to 5 times more likely to have type 2 diabetes than people of white European ethnicity1
Disclaimer: This advertorial has been initiated, developed and funded by Novo Nordisk as part of its Make Type 2 Diabetes Different campaign. Novo Nordisk supported Arvind with writing the article. The opinions expressed are Arvind's own and are not medical advice. Everyone who has type 2 diabetes is different, and Arvind's story may not be representative of the experiences of everyone who lives with the condition. Always consult your healthcare professional before changing your diet, exercise, or management of your type 2 diabetes.
Arvind, 64, a retired manufacturing professional who lives with his wife and family in Leicester explains how he's found a daily routine that helps keep his diabetes under control.
Read my diary entry to hear about the small lifestyle changes in my daily routine that help keep my type 2 diabetes under control.
When I was diagnosed with type 2 diabetes over 10 years ago, I had no idea where to start with the lifestyle changes my doctor told me to make.
Now, I've found a routine that I not only enjoy, but also helps keep my diabetes under control. Let me talk you through a day in my shoes.
Arvind's Diabetes Diary
Morning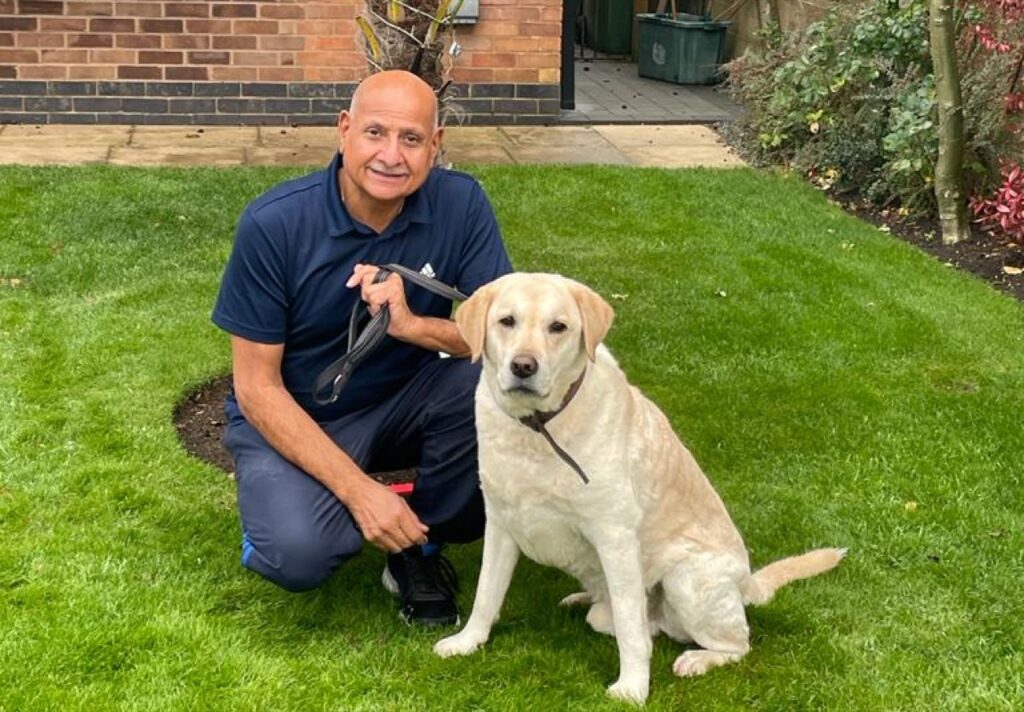 Today started like most days, with a warm pint of turmeric water and an early-morning dog walk.
We use turmeric a lot in our cooking, and after hearing about its supposed health benefits, I love adding it to hot water in the morning instead of drinking tea.
Before heading out with my dog Oscar, I weighed myself and checked my blood sugar, which I try to do once a week to keep myself on track.
Walking Oscar around the village is my favourite way to keep moving, so I walk him for an hour and a half at least four days a week. I love stopping for chats with my neighbours and discovering new walking routes, so that's a huge motivator for me!
My health initially took a turn for the worse when I changed jobs and went from being on my feet all day at work to sitting at a desk. Now I'm retired, making the effort to stay active is really important to me.
When I got back from my walk, I had a light breakfast of protein yoghurt and fruit. I have a real sweet tooth, and before I changed my routine I used to eat a bowl of sugary cereal and full-fat milk to satisfy my morning cravings.
During breakfast, I planned my day – now I'm retired, I like to stay busy, and planning makes me feel more in control of my diabetes.
Today's to-do list included housework, gardening and a game of badminton before my grandchildren got home from school. I've started to rethink what I would normally consider as exercise – if I'm moving my body then it counts, and daily chores are a great way to keep fit!
Afternoon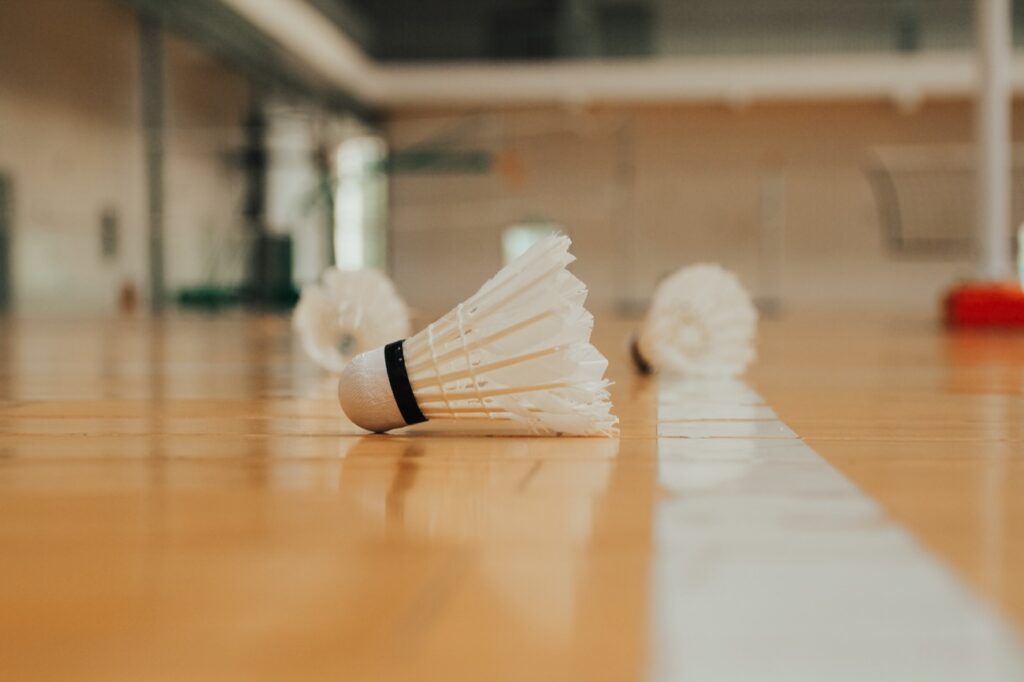 After weeding the garden, I took a break for lunch.
Having type 2 diabetes has made me step out of my comfort zone and spend more time in the kitchen, finding ways to make my diet healthier – some more successful than others! We try not to have South Asian food for every meal as I now know it's often heavy in carbohydrates like rice and potatoes, which I'm trying to cut down on.
Today I made an omelette and salad, washed down with another pint of water. I drink at least four pints of water a day – I had to find something to replace my favourite fizzy drink when I realised how sugary it was!
Now, whenever I'm at the supermarket, I always read the food labels so I know the sugar content and can choose healthier options. It was hard to remember to do this at the start, but now I've gotten into the habit it's become second nature!
I do a few different types of exercise each week to keep things interesting, including badminton, walking cricket and Zoom classes online. Today was Wednesday, which was badminton day. I love team sports, and knowing I'll see my friends motivates me to keep working towards my goals even on those days when I'm not feeling quite as energetic.
Evening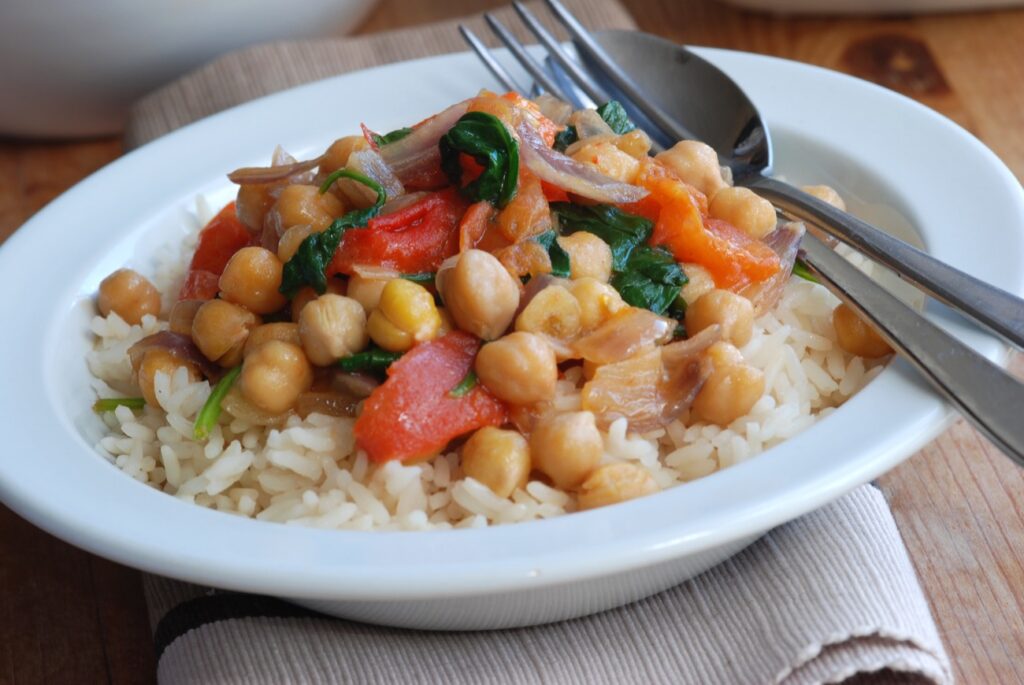 After a day on my feet, I had dinner at 5pm. We always eat as a family, and this evening we had a curry with a small portion of brown rice. My wife is a brilliant cook, and she helps keep my diabetes in check by adapting our favourite traditional recipes.
Today, we swapped the meat in our curry for lots of vegetables, including lentils, chickpeas, and spinach, which we cooked with cooking oil spray instead of vegetable oil. We baked the samosas rather than fried them, but recently I discovered an air fryer so might start using this more!
I've been limiting how much salt I eat since I was diagnosed, so instead we add extra spices, onion, and garlic to make the dish just as tasty. After dinner, I would previously be tempted by unhealthy snacks like ghatia and chevdo. But now I no longer eat after 6pm, and so I've cut these snacks out and I've found it's done wonders for my sleep!
Since I've made changes to help me manage my diabetes, I'm full of energy and my mood has really improved – which makes it easier to motivate myself to lead a more active lifestyle. I feel great that I'm looking after myself and can focus on supporting my grandchildren as they grow up, hopefully instilling healthy habits in them too!
Inspired by Arvind's story? For more information about how you can make small changes to help manage your type 2 diabetes, including a guide to setting goals that are realistic for you, and videos translated to Bengali and Punjabi, visit: https://www.novonordisk.co.uk/disease-areas/MakeT2Ddifferentforyou/SouthAsianGoals
1 Source: English S, Tippu Z, Chan T et al. Type 2 diabetes prevalence among people of South Asian ethnicity in the UK. Diabetes & Primary Care. 2016;18:28–32
Document number: UK21DI00297. Date of preparation: January 2022.