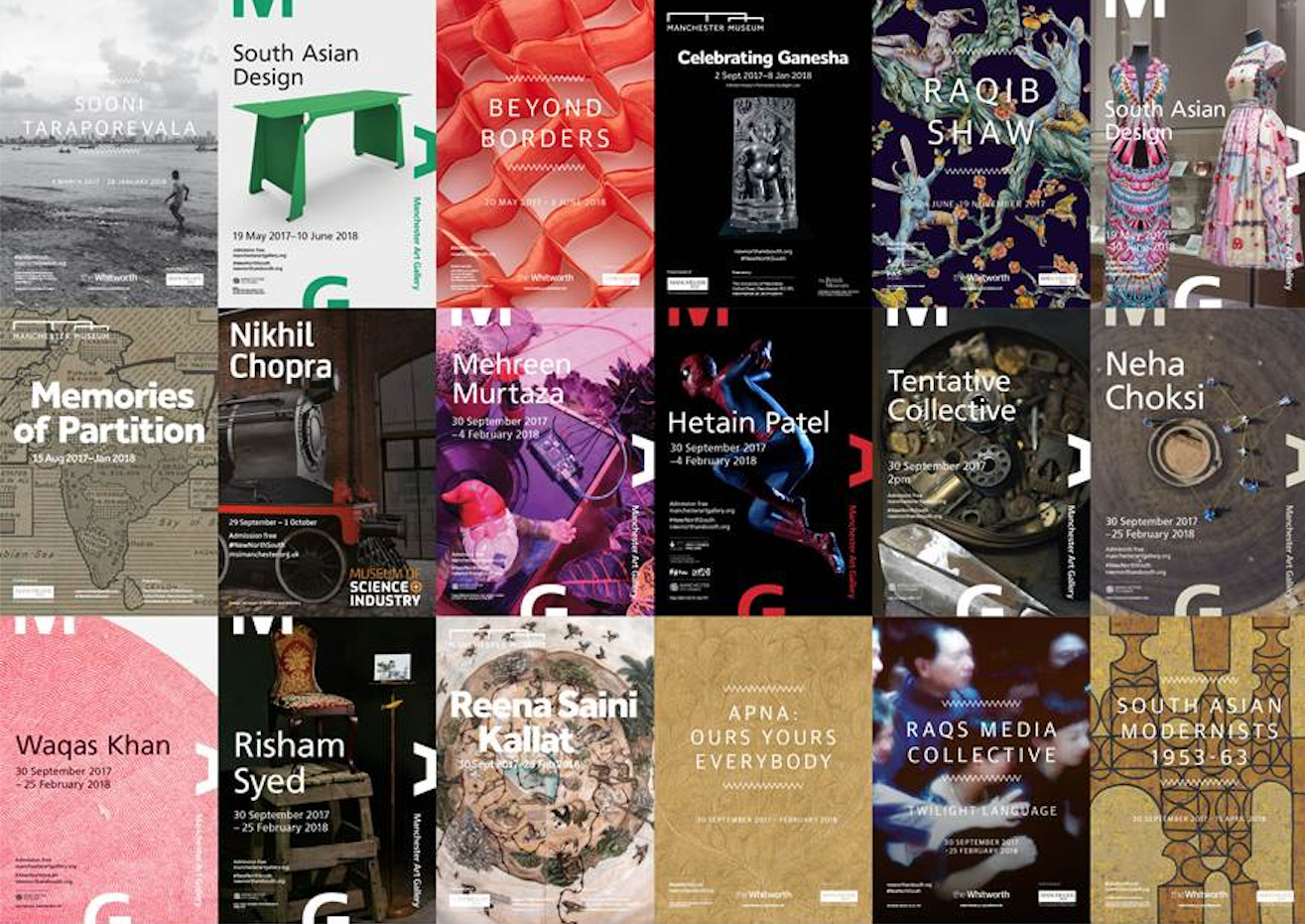 Manchester's cultural institutions has welcomed leading South Asian and British artists of South Asian decent in a celebration of shared heritage and historic connections through a series of exhibitions and performances across the city.
Marking the 70th anniversary of the creation of India, Pakistan and later Bangladesh, eight exhibitions will present both new and seminal works, while inviting audiences to experience a wealth of South Asian culture.
Dr Nick Merriman, Director of Manchester Museum and spokesperson for the New North and South said: "The programme in Manchester will shine a spotlight on South Asian art and culture through the work of world renowned artists.
"Thanks to our colleagues across the city, the opening weekend will offer something for everyone from major exhibitions, artist performances, music and film. As the New North and South network we would like to thank all the artists involved in the Manchester exhibitions for bringing their creative talent to our city."
New North and South is a network of eleven arts organisations from South Asia and the North of England, supported using public funding by the National Lottery through Arts Council England's Ambition for Excellence.
Raqs Media Collective, Jeebesh Bagchi, Monica Narula and Shuddhabrata Sengupta, have been described as artists, media practitioners, curators, researchers, editors and catalysts of cultural processes. The exhibition Twilight Language (30 September 2017 – 25 February 2018) at the Whitworth and throughout Whitworth Park will, in the Collective's own words, 'unravel worlds, make questions, haunt memorials, and follow the tangled threads of how histories and ways of thinking about emancipation intersect.' The extensive exhibition will present many works from Raqs Media Collective's practice including The Necessity of Infinity (2017) Coronation Park (2015), The Things That Happen When Falling in Love (2010) and the video works Strikes at Time (2011) and Equinox (2012). The exhibition will include several new commissions inspired by Manchester's history.
South Asian Modernists 1953-1963 at the Whitworth (30 September–15 April 2018) will reflect the pioneering efforts of Victor Musgrave and experimental Gallery One to introduce South Asia's most eminent modernist artists to Europe between 1953-63. Including works from the influential exhibition
Seven Indian Painters in Europe (1958) the exhibition will draw exclusively from the 1953-63 period, capturing the creative atmosphere of the time. Artists featured will include S H Raza, Akbar Padamsee, Tyeb Mehta, Paritosh Sen, Avinash Chandra, Anwar Jalal Shemza, Francis Newton Souza, Ram Kumar and Laxman Pai. Paintings will be supported by works on paper, exhibition catalogues and photographs by the renowned photographer Ida Kar. The exhibition is co-curated with Amrita Jhaveri, an expert in Modern and Contemporary Indian art, gallerist, author and collector.
Manchester Art Gallery will open solo presentations by five artists: Neha Choksi, Waqas Khan, Mehreen Murtaza, Hetain Patel, Risham Syed and host a one-off performance lecture from Tentative Collective.
Neha Choksi's new multichannel film installation (30 September – 25 February 2018) will feature the artist and her friends. Stemming from a conviction that to learn to be oneself, one always needs others, the film is shot at a construction site for an expansive and modernising Jain ashram in India. Each invented situation explores the interconnections and tensions between an individual and her community, solitude and gregariousness, genius and collaboration, repose and performance. Neither psychological probing nor spiritual collectivism – in short, science or religion – can fully address and encompass human desire.
Waqas Khan's minimalist ink drawings are made from networks of extremely precise dots and lines that measure less than a centimetre each. He creates expansive monochrome compositions that resemble webs and celestial expanses. Working at night, he enters a trance-like state in which he controls his breath to match his mark-making. His work is inspired by Sufi stories and songs, 'I deal with the script of the Sufi. It's a side of Islam that is peaceful, happy. For me, Sufism is like meditation, that kind of calm'.
Mehreen Murtaza will fill Manchester Art Gallery's ground floor gallery (30 September 2017 – 4 February 2018) with living plants for a new work exploring communication and consciousness. Through in-depth research, Murtaza has developed a unique narrative and sound installation which will blur the boundaries between plant neurobiology, science fiction, philosophy and spirituality to create a space that is neither fiction nor non-fiction.
Multi-disciplinary artist Hetain Patel will exhibit two video works, The Jump (2015) and Don't Look At The Finger (2017), a new commission by Film and Video Umbrella with Manchester Art Gallery and QUAD (30 September 2017 – 4 February 2018). Continuing the artist's fascination with staging archetypal Hollywood action scenes within domestic settings, each piece employs the artist's characteristic sense of humour and the scale of a Hollywood production. Don't Look At The Finger presents a wedding ceremony where bodies speak physically, and the protagonists seek human connection through ritual combat and signed languages. The Jump features Patel's homemade replica Spider-Man costume and connects the fantasy of action and superhero films with the domestic setting of his British Indian family home in Bolton.
Risham Syed's solo presentation (30 September 2017 – 25 February 2018) will consist of new postcard sized paintings of Lahore, exquisite mementos of the artist's home city. Juxtaposed with life-size objects from the construction industry such as iron rods or spiked grills, the exhibition will show a city in constant flux. Additional sculptural works that reference collective memory and colonial history will be installed in dialogue with the galleries 18th and 19th century permanent collection.
Reena Saini Kallat's solo exhibition Earth Families at Manchester Museum (29 September 2017 – 26 February 2018) will interact with the museum's rich and varied natural sciences and human cultures collection. Drawing together multiple strands of objects and specimens to invoke dense histories of human exchange and combat, coercion and conquest, Kallat creates new hybridised species of birds and animals, trees and flowers from national symbols proclaimed by nations as their own, symbolically unifying the otherwise conflicted nations they represent. The Oak tree of the USA is combined with the Palm tree of Cuba, the national bird from Israel the Hoopoe alongside the Palestinian Sunbird. Kallat will also exhibit Colour Curtain (2009), a barricade made from rubberstamps with the names of individuals who have been denied visas and Light Leaks (2008-2010), a sculpture modelled on the gates at the Wagah Attari border between India and Pakistan.
Alongside the exhibitions programme throughout September multi-arts centre HOME will showcase independent Indian cinema and Manchester-based Band On The Wall will programme a series of contemporary South Asian music events.
The New North and South network consists of Manchester Art Gallery, the Whitworth, Manchester Museum, Liverpool Biennial, The Tetley in Leeds and Colombo Art Biennale (Sri Lanka), Dhaka Art Summit (Bangladesh), Karachi and Lahore Biennales (Pakistan), Kochi-Muziris Biennale (India) and the British Council. The three year project aims to connect with diverse audiences on both continents through a programme of exhibitions and events that showcase the best of contemporary art from Bangladesh, India, Pakistan, Sri Lanka and the UK.
Find out more at www.newnorthandsouth.org and follow the conversation with #newnorthsouth.