The leader of the West Yorkshire Vaccination programme has paid tribute to the fantastic efforts of GPs, pharmacists and NHS staff, which have seen over half a million of the region's adults vaccinated. 
The latest figures show that 602,097 people have now been vaccinated, which is approximately a quarter of the adult population in West Yorkshire.
Dr Phil Wood, who heads the region's programme, said he was delighted so many of those at greatest risk from Covid-19 had now been given a first dose of the vaccine and that this was a "remarkable achievement". 
"We have been working round the clock to get people in West Yorkshire vaccinated as quickly as possible and the success of this is clear when you see how many people we have managed to vaccinate in just 10 weeks. This really is a remarkable achievement, particularly when NHS colleagues have also been dealing with such high levels of Covid-19 patients requiring hospital care.
"We are also very grateful to our partners in the local authorities and voluntary sector who have been supporting the vaccination programme and helping us to ensure as many people as possible are protected." 
Kirklees reached a significant milestone last week as the latest figures showed that over 100,000 doses of the vaccine had been given in our area.
Nine Primary Care Networks (PCN) across Kirklees covering all 64 GP practices have been working together from five GP led vaccination services. This includes Cathedral House, Huddersfield which was one of the first sites in the area to go live.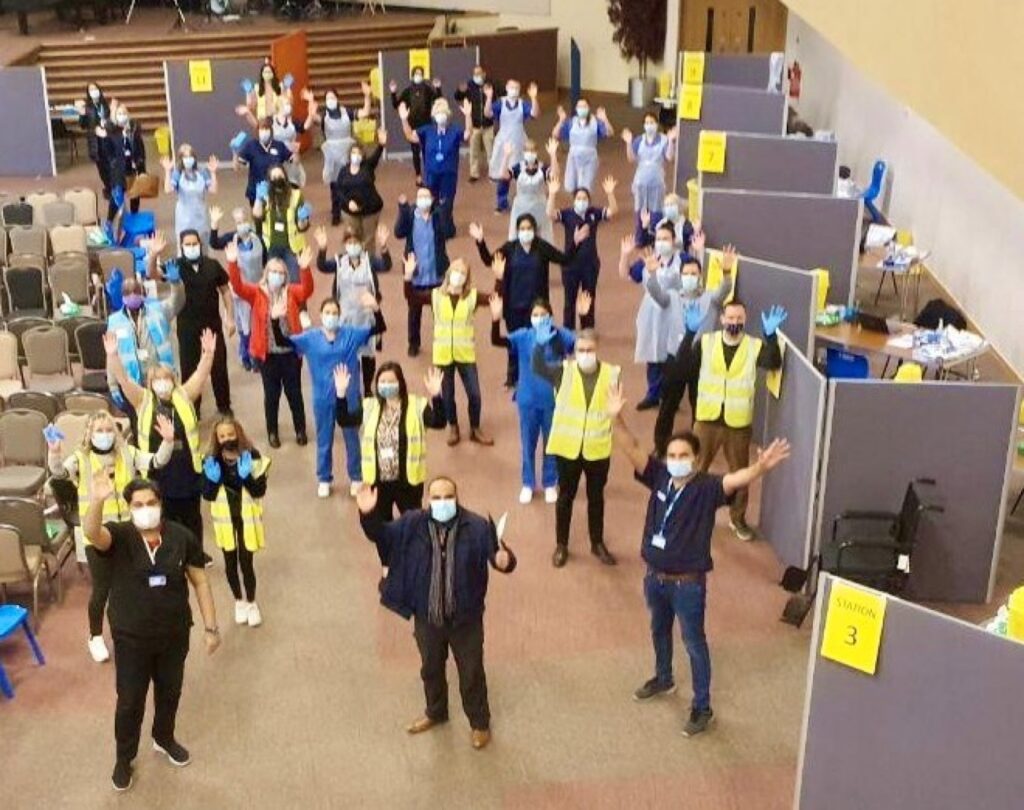 Three PCNs; Viaduct, Greenwood and Tolson have been working from this site since 16 December 2020.
Dr Sajid Nazir, Clinical Director of the Viaduct PCN said: "This has been a tremendous effort by 26 GP practices involved at Cathedral House. I'd like to pay tribute to all members of staff who have gone above and beyond their duties in achieving this feat. We've been supported by GPs and nurses who have come out of retirement, medical students, practice managers, administrators and patient representatives; everyone has played their part."
Dr Burhan Ahmed, Clinical Director of Greenwood PCN added: "It's a credit that they have been delivering the biggest vaccination delivery programme this country has ever seen, whilst continuing to provide services at their own surgeries. A big thank you to the CCG, local authority and voluntary sector organisations who have all supported the roll out."
In Dewsbury, two PCNs; 3 Centres and Dewsbury and Thornhill which cover 12 GP practices have been working from Dewsbury Health Centre run by Curo Health. The site went live last month.
Dr Mohammed Hussain, Clinical Director of 3 Centres PCN said: "An incredible amount of effort has gone into vaccinating the priority groups. The team is dedicated to making sure we vaccinate everyone who has been invited and have been working really hard to get this done. It's a real team effort made up of health and care professionals, volunteers and the voluntary sector."
Dr Indira Kasibhatla, Clinical Director of Dewsbury and Thornhill PCN added: "Over the last few weeks as well as giving the vaccination at the GP led services, we have also had teams vaccinating house bound patients and elderly care home residents. It was a real boost achieving the care home target last month and knowing we are still on track gives us all a lot of hope for the future."
Last week the national vaccination programme entered a new phase. People aged 65 were invited to book their vaccine at one of the large-scale vaccination centres, such as the John Smith Stadium or a pharmacy led service, through the national booking system.
An expanded group of clinically vulnerable people are also being invited to receive the life-saving vaccine from a GP led vaccination service.
Health organisations across West Yorkshire announced this week that people over the age of 60 living in the West Yorkshire could also now book an appointment through the national booking service as the programme progresses in the region.
Dr Sarah Milligan, Clinical Director of Tolson PCN said: "We will continue to work tirelessly to ensure each of our eligible patients are invited when they are due to get their vaccine."