Produced in partnership with the UK Government
Safety is at the heart of business thinking. Unless people feel safe, employees won't return, customers will stay away and the restart will falter, harming livelihoods and public services.
Now new 'COVID-19 secure' guidelines are available to UK employers to help them get their businesses back up and running and workplaces operating as safely as possible. It gives firms a clearer picture of how to reopen safely and gradually.
This follows the Prime Minister setting out steps to beat the virus and restart the economy, so we can protect jobs, restore people's livelihoods and fund the country's vital public services.
The government developed the 'Safe return to Work' guidelines with input from firms, unions, industry bodies and in consultation with Public Health England (PHE) and the Health and Safety Executive (HSE); giving employers and employees best practices on the safest ways of working across the economy, providing people with the confidence they need to return to work.
The guidance applies to businesses currently open. This also includes guidance for shops which we believe may be in a position to begin a phased reopening at the earliest from the 1st June.
Ultimately, the decision lies with a company's directors, and they need to feel comfortable they can operate safely.
People communting to work are advised to continue using measures such as face masks and gloves when travelling. Individuals who rely on public transport, are advised to wear face coverings and turn away from other passengers, and strictly adhere to the guidelines provided by transport services.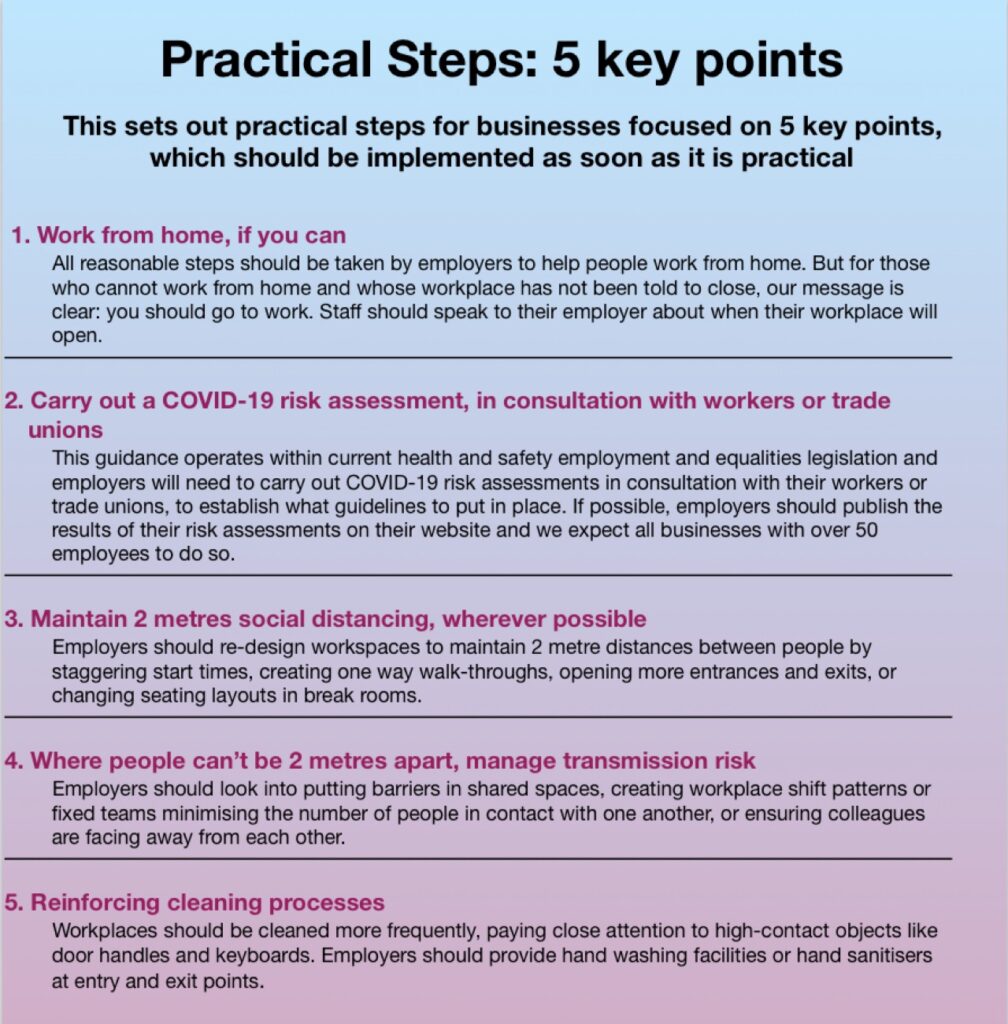 Business Secretary Alok Sharma said: "This guidance provides a framework to get the UK back to work in a way that is safe for everyone.
"These are practical steps to enable employers to identify risks that COVID-19 creates and to take pragmatic measures to mitigate them.
"And as we are able to reopen new sectors of the economy, we will continue our collaborative approach working with a wide range of stakeholders, to provide guidance for additional workplaces."
The new guidance covers eight workplace settings which are allowed to be open, from outdoor environments and construction sites to factories and takeaways.
To find out more visit: https://www.gov.uk/guidance/working-safely-during-coronavirus-covid-19
"We swiftly adapted our restaurant to a takeout service only"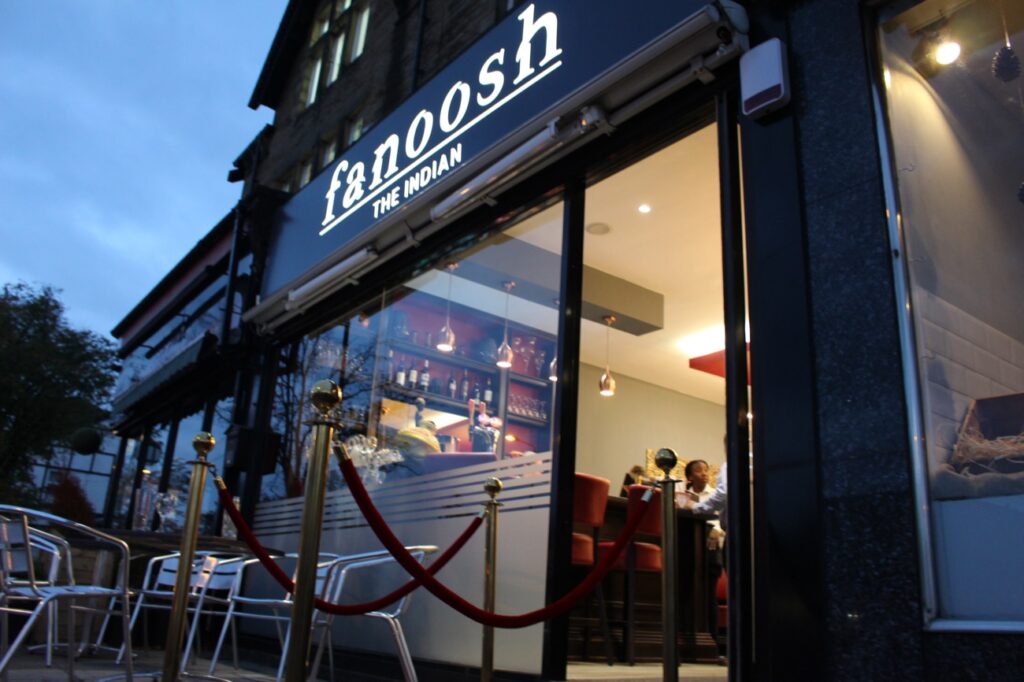 A small boutique Punjabi restaurant in the leafy suburbs of Leeds trialled a takeout service only when lockdown measures were imposed.
Fanoosh the Indian in Street Lane, Leeds, had been a popular eatery fully booked on most days before the pandemic.
Owner Nadim Hanif says how implementing social distancing measures and ramping up hygiene has kept the business alive.
"We realised that to survive the financial impact of the Covid-19 lockdown, we had to take some drastic measures.
"Following our trial for a week, we decided that this was the best way to keep cooking and providing gourmet India Punjabi food for our locals.
"We brought in 50% discounts for NHS workers, and up to 30% for our regulars – that's been our way of helping out during this troubling period.
"With already a five-star rating our hygiene standards and cleanliness are quite high.
"However, to keep our team safe we implemented more frequent handwashing, wiping down all kitchen surfaces and ensuring everyone maintains a safe distance from one another.
"Delivery drivers have been trained on how to successfully make no-contact food drop offs, which includes wearing gloves and masks.
"We changed to contactless payment systems, and changed the way we handle food for dispatch to omit person-to-person contact.
"We strictly limit the number of people in the store and customers are encouraged to use the hand sanitiser gel provided for them in the restaurant upon entering and before leaving.
"Throughout the lockdown we've encouraged customers to follow the Government's guidelines on social distancing, and we've had little or no issues with this. We will continue to use these measures for as long as necessary to ensure the safety our workers and our customers."
IKEA: Taking steps to make sure stores can safely reopen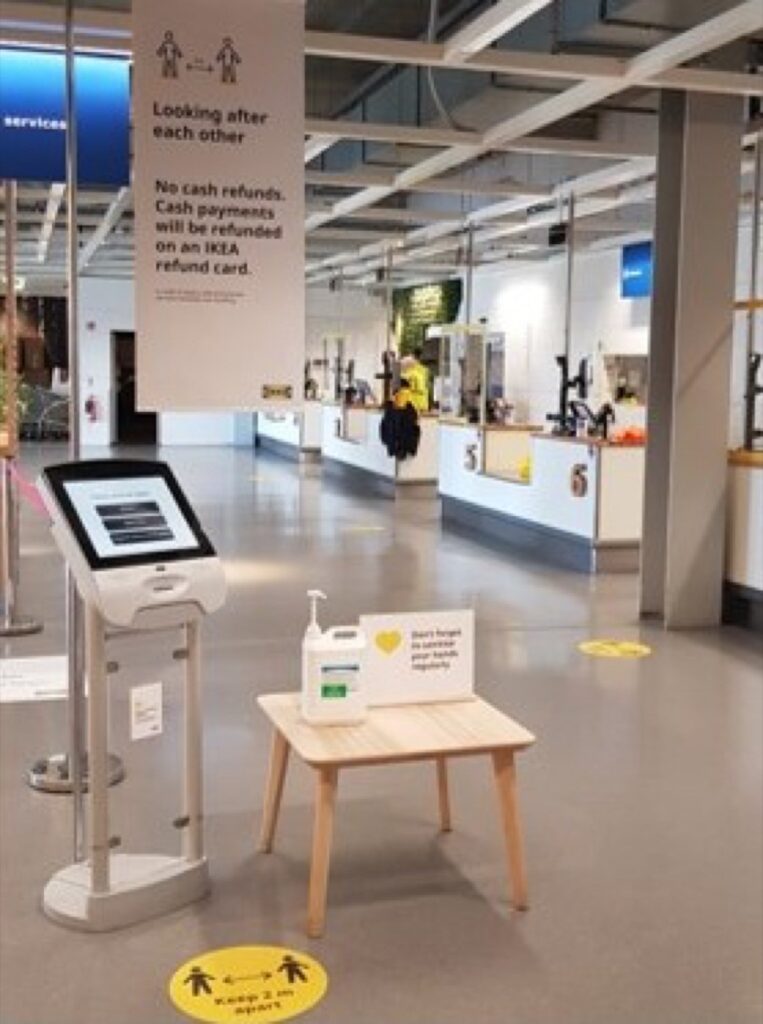 After initially closing all of its 22 UK stores, IKEA is now undertaking considerable planning for a safe and phased reopening.
Peter Jelkeby, IKEA's Country Retail Manager for the UK and Ireland, explains the steps IKEA, will be taking to make staff and customers safe.
"Throughout the coronavirus pandemic, our highest priority has been the safety of our co-workers and customers. Prior to the Government's decision to close non-essential retailers, IKEA had already closed its 22 UK stores. During the closure, we have continued to operate our online business, supplying products to customers.
"Throughout this period, we have enforced safe systems of working for those supporting fulfilment operations, fully in line with UK social distancing guidance. However, many co-workers were also moved onto the furlough scheme.
"Over time, as we have scaled up some of our online operations, we have brought more of our co-workers back to support these operations.
"In line with the Government's roadmap for easing the lockdown restrictions, we are now undertaking considerable planning for a safe and phased reopening. Working towards the reopening date, we will bring back co-workers as and when safe systems of working are implemented, and in line with our reopening plans.
"Prior to reopening, we will only bring back those required to prepare our stores and operations, preparing the training, communications and measures needed to ensure co-workers feel safe and comfortable to return.
"We have a wealth of experience to draw upon in terms of safe ways of working. Plans also include the specific requirements set out in the Government's workplace guidance and the guidance developed by the British Retail Consortium, with our Union, Usdaw.
"We are working to a comprehensive global Reopening Manual, which is adapted and fully aligned to meet and support UK guidance and social distancing requirements.
"The plan is developed nationally and then adapted to each region, nation and store. Risk, legal and Public Affairs have maintained a consistent dialogue with the authorities, including government, devolved administrations, Primary Authority, health bodies and others to ensure we have clarity at all times on what the plan needs to deliver."
5 steps to working safely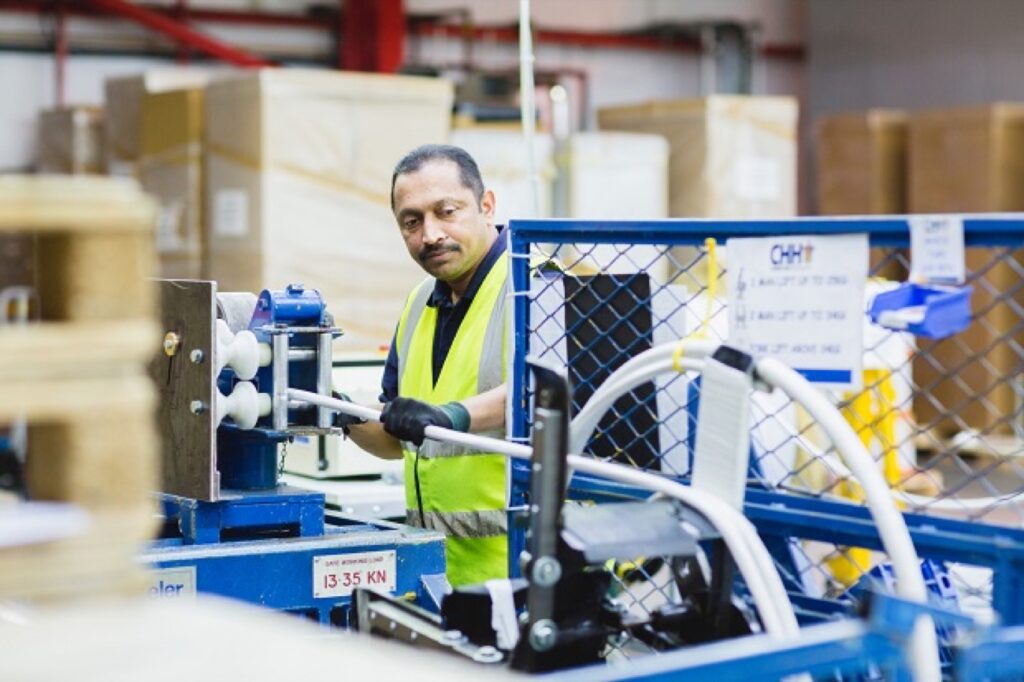 Practical actions for businesses to take based on 5 main steps. Make sure you read all the guides relevant to your workplace. Each guide has specific actions for businesses to take based on these steps. Further guidance will be published as more businesses are able to reopen.
Carry out a COVID-19 risk assessment
Before restarting work you should ensure the safety of the workplace by:
• carrying out a risk assessment in line with the HSE guidance
• consulting with your workers or trade unions
• sharing the results of the risk assessment with your workforce and on your website
Develop cleaning, handwashing and hygiene procedures
You should increase the frequency of handwashing and surface cleaning by:
• encouraging people to follow the guidance on hand washing and hygiene
• providing hand sanitiser around the workplace, in addition to washrooms
• frequently cleaning and disinfecting objects and surfaces that are touched regularly
• enhancing cleaning for busy areas
• setting clear use and cleaning guidance for toilets
• providing hand drying facilities – either paper towels or electrical dryers
Help people to work from home
You should take all reasonable steps to help people work from home by:
• discussing home working arrangements
• ensuring they have the right equipment, for example remote access to work systems
• including them in all necessary communications
• looking after their physical and mental wellbeing
Maintain 2m social distancing, where possible
Where possible, you should maintain 2m between people by:
• putting up signs to remind workers and visitors of social distancing guidance
• avoiding sharing workstations
• using floor tape or paint to mark areas to help people keep to a 2m distance
• arranging one-way traffic through the workplace if possible
• switching to seeing visitors by appointment only if possible
Where people cannot be 2m apart, manage transmission risk
Where it's not possible for people to be 2m apart, you should do everything practical to manage the transmission risk by:
• considering whether an activity needs to continue for the business to operate
• keeping the activity time involved as short as possible
• using screens or barriers to separate people from each other
• using back-to-back or side-to-side working whenever possible
• staggering arrival and departure times
• reducing the number of people each person has contact with by using 'fixed teams or partnering'