By Khalil Alam
India already hosts a wealth of boxing experience and talent like legendary boxers Vinjinder Singh, Mary Kom, Hawa Singh and Dingo Singh and is now hoping to attract more Indian boxers to the sport and through its leading boxing promoter Arif Khan.
Khan is hoping to gain world recognition through his "Punch Boxing Series" and believes it will become a global leader in the sport.
Khan who has a background in media spoke passionately to me about his boxing project and how it will be showcased globally throughout the world including the UK in a couple of weeks.
Khan who was originally hoping to concentrate on a domestic cricket league met one of the leading figures in boxing Shri Abhay Singh Chautala who is the President of Haryana State Boxing Association in India; Chautala encouraged Khan to develop the boxing league project.
Khan began his sport business called Sports oodles aiming to promote Indian sports at Global level and organised the first women's amateur boxing tournaments that was a huge success with around 300 women participating from the whole country.
Khan also mentioned that female boxing is growing and being supported and encouraged in India and there is no inequality, sexism or stereotyping when compared to male boxers.
Encouraged by his amateur boxing success, Khan started the Punch Boxing Project that delivered shows in Delhi, Dehradun, Goa, Mumbai, Jaipur and Greater Noida whilst he also promoted the AIPS cricket league.
The boxing talent in India is huge and Khan wants the sport to grow in popularity with a lot of amateur boxer's now turning professional who are attracted by the limelight, glamour, love for the sport and a chance to showcase their boxing ability in the ring on national and international television.
India already has a great boxing platform with talented boxers, good promoters and coaches but needs more major brands to be attracted to the sport that will sponsor the events and be part of the sport, supporting the Indian boxers.
Khan's boxing shows have been going strong since 2018 organised in various cities in India with the Mumbia show having several boxers from different countries participating that included Cameroon, Armenia, Holland and Thailand.
The Punch Boxing nights have been very successful and Khan has delivered great boxing shows through a lot of hard work, his passion for the sport of boxing and his commitment to deliver the best, putting Indian boxers on the global map and in the future he hopes to develop a recognised world title/trophy.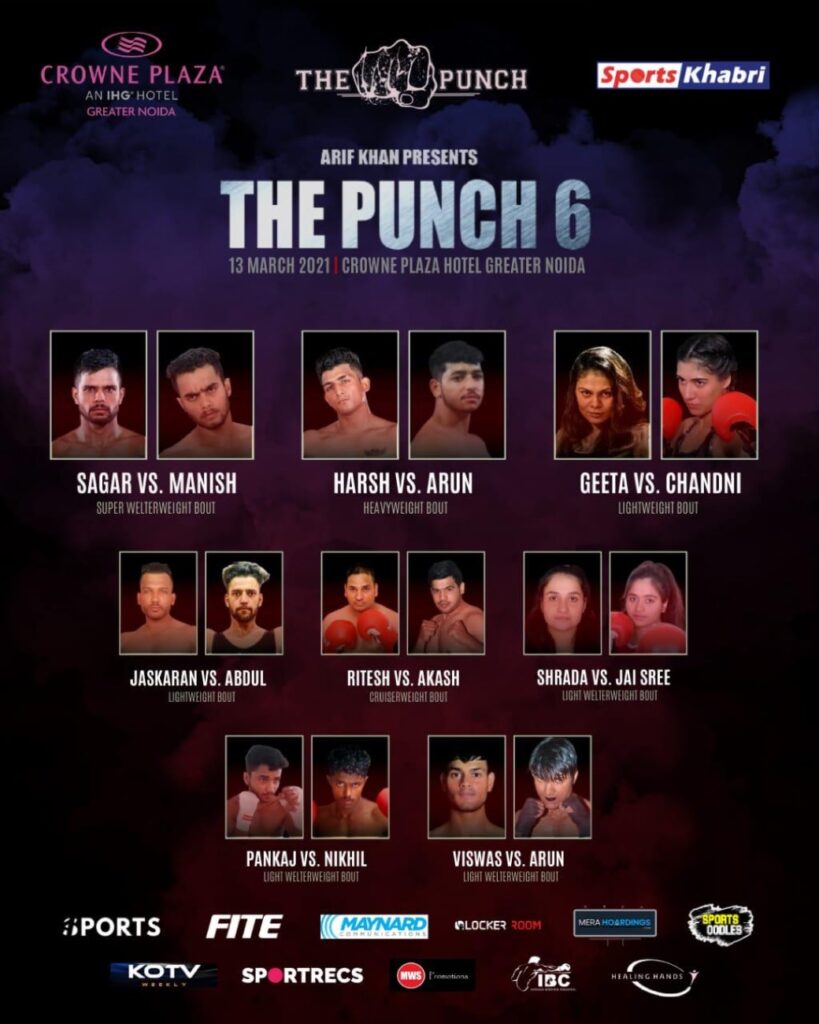 The boxing events that are delivered by Khan are described by him as extraordinary with great matchmaking between the boxers where the fights are very competitive and equally matched. The whole show is a brilliant night of boxing and the viewing fans are the biggest winners on the night.
Khan's current stable of boxing talent includes Sagar Narwat, Akash Girjapokar, Harsh Gill, Chandani Mehra and Shiva Thakran (who themselves have a huge fan base with millions of social media followers) and he believes that these boxers will make a huge impact in 2021 and hopefully compete for major world titles in the near future.
Khan's upcoming boxing show will be on 13th March 2021 and will be aired live on international television and various social media platforms including Fight TV, KO TV and One Sport in India, the show will be targeting up to 200 million viewers.
Watch The Punch Boxing 6 live and exclusive in the UK on FITE, go to www.fite.tv for ordering information