A medic who survived the coronavirus is saving lives in more ways than one – this time through the plasma in his blood.
Dr Wassim Shamsuddin, a Consultant Anaesthetist at Milton Keynes University Hospital Foundation Trust, has made his tenth donation of convalescent plasma at Oxford donor centre this month after recovering from COVID-19.
He is encouraging others like him to donate their plasma and be part of the convalescent plasma trial.
NHSBT is urgently asking more males, and in particular those from BAME backgrounds to come forward as they are more likely to have the antibody-rich convalescent plasma needed.
Just over a third of first time donors from an Asian background were able to give high levels of antibodies for the trial. People in this group who needed hospital treatment are also likely to have high antibody levels.
The 40-year-old from Bicester said: "I first donated in June when the appeal first went out for more male donors and have been returning regularly over the last few months.
"Like all of us, I have seen how the virus has disproportionately affected the BAME group. Working in ICU, I have seen the effects this virus has had on individuals including those fighting for their lives."
"Knowing that people have lost their lives to the virus and seeing this for myself, if plasma could be the difference between life or death, I'm glad that I have been able to play my part in helping others."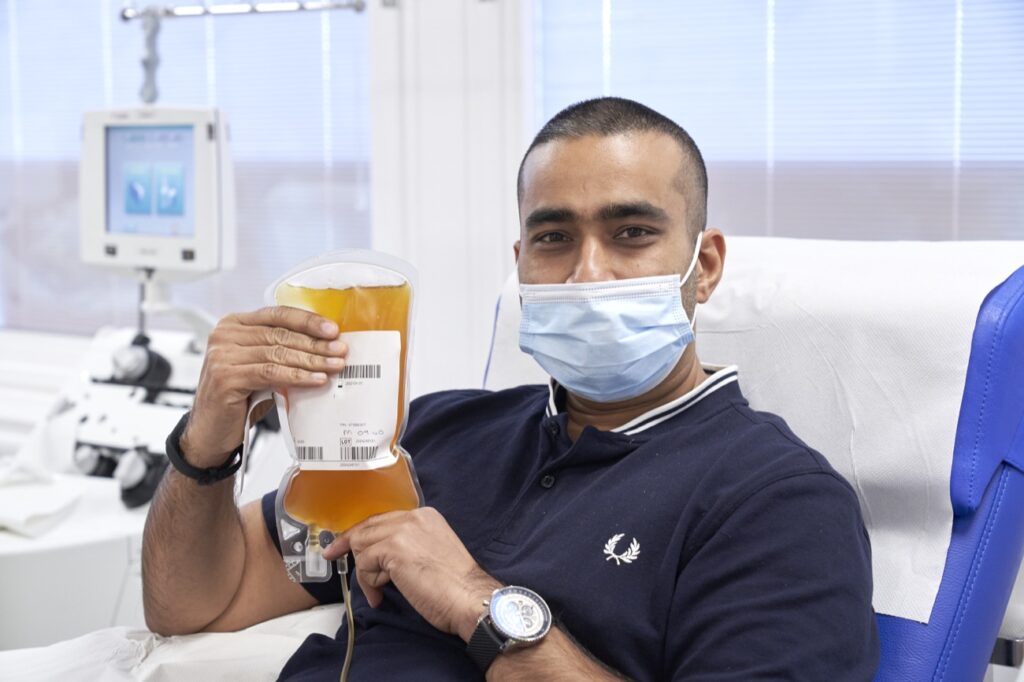 "I would urge anyone who has had Covid to get in touch with your local donor centre. It doesn't take long and you are really well looked after by the amazing staff. I look forward to seeing them each time I visit."
"This important trial is asking for more people to donate, and men in particular from Asian backgrounds to come forward as we have a greater chance of having high antibody levels, which means we can potentially donate many times.
"Our donations could save lives, and you could play a part in that."
Anyone aged 18 or over who has had COVID-19 can offer to donate blood plasma. Donating is easy – it takes just 45 minutes and the whole appointment, including time for snacks, lasts approximately 1 hour and 15 minutes.
Convalescent plasma is being collected at NHSBT's 23 donor centres around the country including London, Birmingham, Manchester, Luton and Leeds, as well as in pop-up donor centres. By the end of this year, there will be 42 plasma donation points across England so that 80% of potential donors can reach one within 45 minutes.
If you've had confirmed coronavirus or the symptoms, you can volunteer today to donate plasma at www.nhsbt.nhs.uk or simply search online for 'donate plasma'.