A primary school teacher who launched her first self-illustrated children's book, focussing around the current pandemic, hopes it will help children understand how we can all unite and defeat the Covid-19 virus.
Sukhraj Kaur, a 30 year old graduate from Bradford, lives her day-to-day life working full-time with children in primary education. And like most of us, has always had a list of things that she 'wishes' she could or wants to do, and like the rest of us, ended up putting them on the back shelf while everyday routines take over.
That was until the dawn of 2020. Being the year she would end her 20's, she decided to become more proactive and put those wishes into a 'bucket list.
Amongst the list was writing a children's book, something that was always put off because of 'not having time.' Fast forward to March 2020 and, like everybody else living in lockdown, she found herself with an abundance of spare time to finally put pen to paper, and with the perfectly relevant coronavirus storyline.
Specialising working with children in early years and Key Stage 1, she knew who her target audience would be. She was able to forecast how sensitively the matter of Covid-19 would need to be discussed with children upon reopening schools.
Forseeing how young children would naturally and openly discuss the new experiences they encountered during lockdown – such as not being able to play outside or knowing people who fell ill, she decided to approach the storyline with the same amount of sensitivity as she would in the classroom.
Her book 'Evil Dr Virus and the Invisible Pink Slime' has been written with free advise on planning for families to extend the reading experience at home, and promote quality time together through fun and exciting activities that also support learning and development.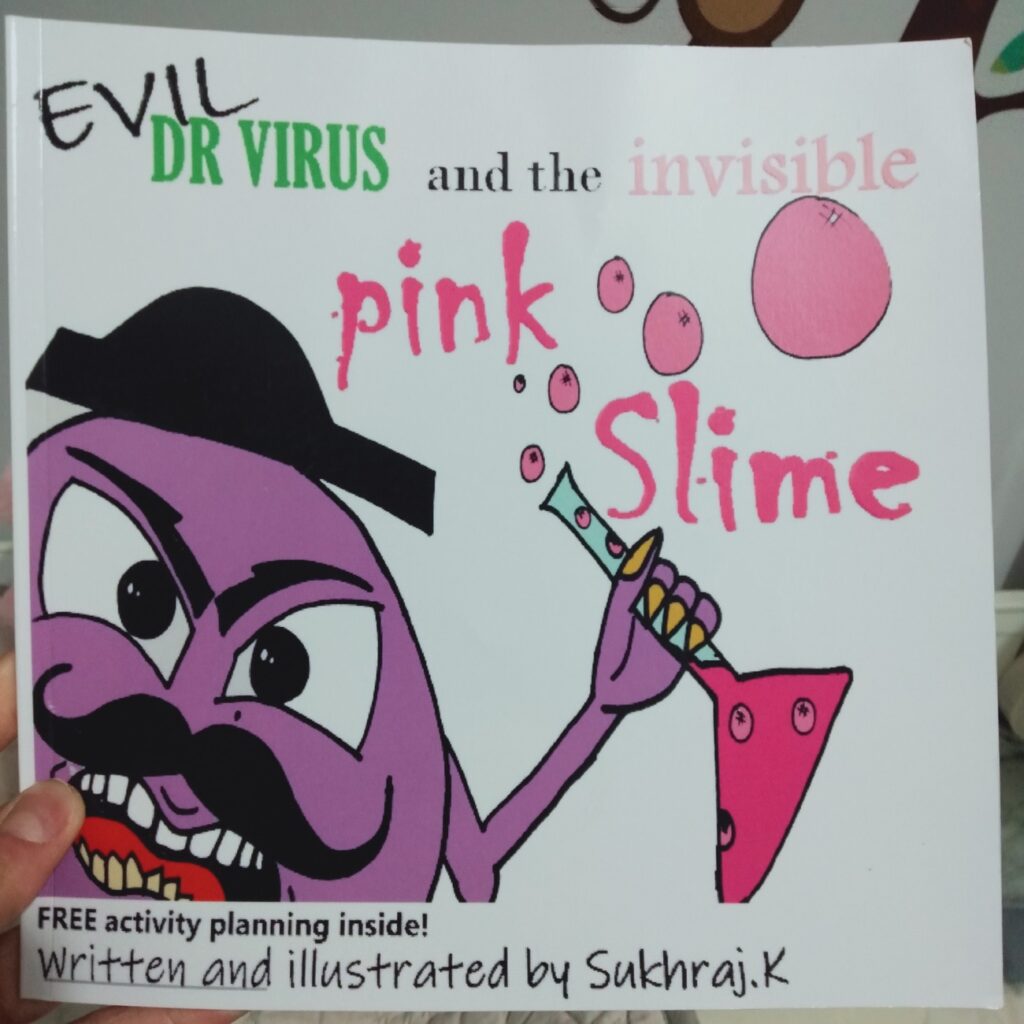 Featuring an original and memorable villain 'who we can't help but to love and hate', Evil Dr Virus's plans to cover the city in an invisible pink slime full of germs explains the importance of hand washing and preventative measures.
"I was inspired by the events of 2020 using a child-friendly story line," says Sukhraj.
"It draws on the huge memories that all children will have of not being able to play outside, not going to school, food parcels, missing loved ones, watching the news, the word 'virus' and the excitement of being able to see friends and family again. This makes the book highly relatable.
"It's a great story to read both at home and school, and encourages children to take an active role in 'washing their hands to defeat Evil Dr Virus and his invisible pink slime.'
"Better still teachers and practitioners can find free planning and resources specifically designed to accommodate areas of learning in early years and Key Stage 1, such as – descriptive writing, persuasive writing, instructive writing, being imaginative, role play, number, reading, health and self care and many more."
The book has quickly taken off and is already being used in schools after the announcement of the second lockdown, in PSHE lessons and in class assemblies to reiterate the importance of washing hands and self isolation in order to look after our loved ones.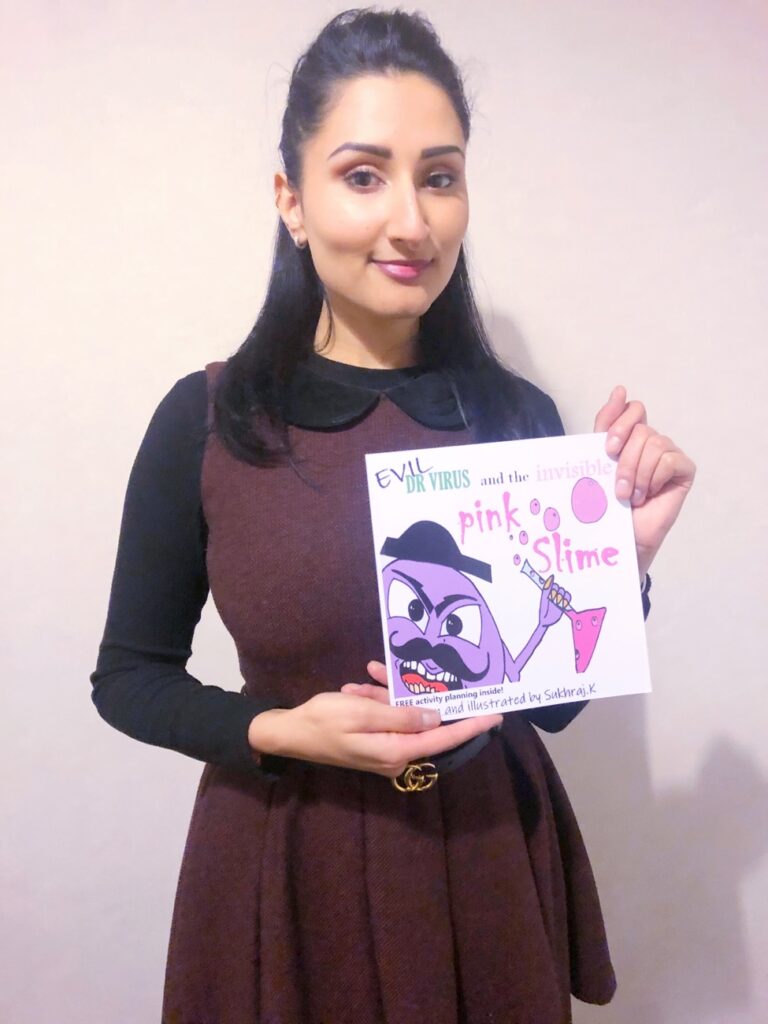 Explaining the processes she had to go through getting her first book published Sukhraj says: "Once the draft version of the book was ready, like many of us regular Joes, I had no idea what the next step should be.
"Eventually after weighing up the pros and cons to her options,(my excited impatience also playing a small role), I decided to try my hand at self publishing. Many webinars, YouTube videos, nights researching, and meltdowns later, I managed to finally pull it off."
But writing the story was the fun part, finding an illustrator was more difficult for Sukhraj.
Being known for being 'artsy', and with some encouragement from family, she decided to eventually have a go at the illustrations – not a type of art she has ever ventured into before.
"After a conversation with my sister around racial profiling and current sensitivities, I made a conscious effort to show a realistically diverse community in the illustrations, purposely choosing to represent different ethnicities in a range of professional roles," she explains.
"As well as this I also wanted to acknowledge the work of many Sikh volunteers who stepped up to independently feed their communities during lockdown. I also wanted to create the opportunity for conversations that could test and possibly question stereotypes by showcasing food parcels delivered by a volunteer wearing a turban and beard."
Following the huge success of her first published book, the only thing Sukhraj is trying to fathom is other authors inquiring about her illustrations for their own books!
Additional activity planning and all the resources for practitioners along with the book can be found FREE at www.storieswithplanning.co.uk. Alternatively the book itself is available on Amazon and currently on SALE at £7.99 : Search Sukhraj K
Or: 'Evil Dr Virus and the Invisible Pink Slime'.