People will be able to get half price meals when they eat out at restaurants, cafes or pubs in August in a bid to help boost the leisure and tourism industry.
The Eat Out to Help Out scheme announced by The Chancellor, Rishi Sunak, will see the government pick up 50 per cent of the bill.
There is a cap of £10 per person, but it applies to all food and soft drinks orders that are eaten at the place that you bought them, including kids' meals.
It means that an £80 meal out for a family of four will be reduced to £40 under the plans.
The money-off meal deal will only be applied to food orders placed on Monday through to Wednesday next month, kicking off on 3rd August and running through until 31st August.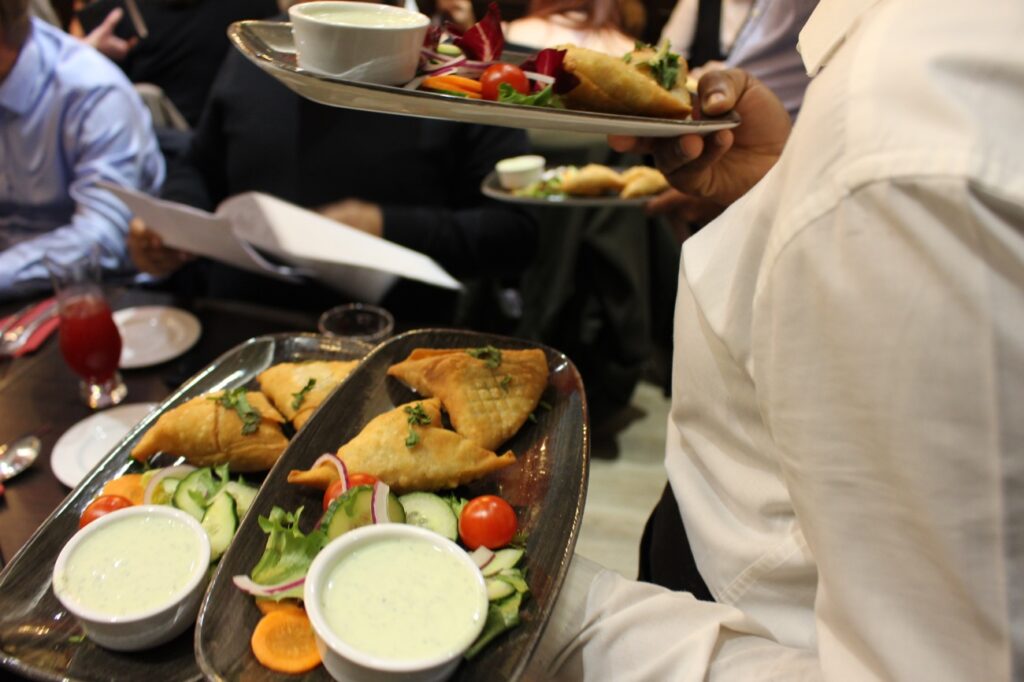 Here's how the Eat Out to Help Out scheme will work
Where can I use the discount?
Diners will be able to claim the offer when they dine-in at any participating restaurant, café, pub or other eligible food service establishment.
How much can I save?
While it's been billed as a 50% discount, it won't quite work out to be half price in many cases. The maximum amount of money diners can save is £10 per head, per meal. There is no limit to the number of times you can use the discount, so in theory you can get half price meals on every Monday, Tuesday and Wednesday in August; so if you're someone who usually dines out regularly, the savings could quickly add up.
When can I use it?
The discount will be available throughout August, and is redeemable at participating restaurants on Mondays, Tuesdays and Wednesdays. The idea is to help boost restaurants, bars and cafes during typically quieter times and ensure custom isn't just concentrated at the weekends.
There's no limit to how many times you use it
You can use the discounts as many times as you like, as long as it's on orders made on Monday through to Wednesday in August. That means you could get up to a half price breakfast, lunch and dinner three days a week if you wanted to.
Can be used in work and school canteens?
Staff and pupils can use the scheme to get money off their lunch during the school day, as long as they sit in the canteen to eat it. It means that workers who have to head back to the office can also use the discount too.
Can I use it on booze?
No – the discount is applicable only to food and non-alcoholic drinks, as is the reduced rate of VAT. There's been some criticism that this doesn't support traditional 'wet-led' pubs that don't serve food.
What about takeaways?
The clue's in the name we're afraid – the Eat Out to Help Out discount will only be available on dine-in meals.
It's hoped the discount scheme will encourage people back out this summer and help hospitality businesses back on their feet.
A leisure scheme like this has never been tried before in the UK, with Mr Sunak telling the Commons that the coronavirus "moment is unique" and calls on policymakers to be "creative".
A website has been launched, through which operators can register to take part in the scheme. Businesses will be fully reimbursed for the discounts, he promised.
"Each week in August, businesses can then claim the money back, with the funds in their bank account within five working days," said the Chancellor.
Records businesses must keep
• For each day you're using the scheme, you must keep records of the:
• total number of people who have used the scheme in your establishment
• total value of transactions under the scheme
• total amount of discounts you've given
• If you are using the scheme for more than one establishment, you must keep these records for each.
Many restaurants and bars quickly adapted their business models to serve takeaway food during lockdown – but the scheme aims to encourage people back through their doors to bring them fully back into operation.
More details of the incentive have been published, including information on how businesses can register. Visit https://www.gov.uk/guidance/register-your-establishment-for-the-eat-out-to-help-out-scheme