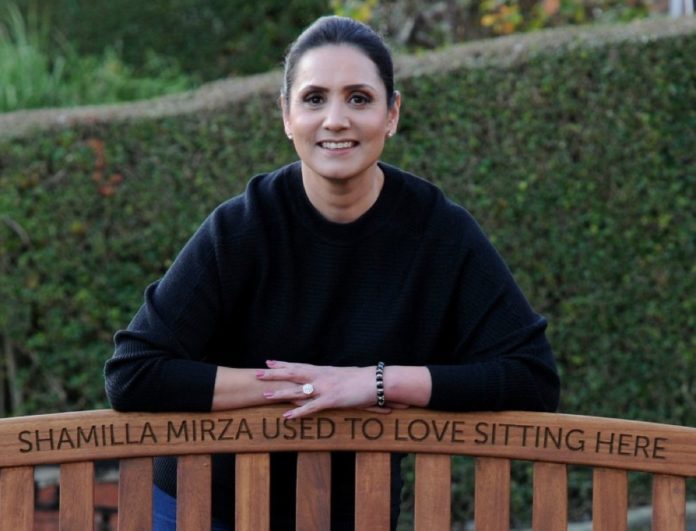 When 45-year-old Shamilla Mirza found a pea-shaped lump in her breast, she was shocked to be diagnosed with breast cancer.
It was a particularly difficult time for her family as Shamilla's dad had only died three months earlier from a brain haemorrhage.
---
Shamilla from Manchester, had a mastectomy and breast reconstruction, followed by chemotherapy treatment. She was treated at North Manchester General Hospital and The Christie.
Now, the brave breast cancer survivor has unveiled an engraved park bench – but one unlike any other.
In a twist to the 'in memoriam' benches that are a familiar site in beauty spots across the country, Shamilla's bench attests to her recovery from cancer and salutes the scientists, doctors and nurses who are making game-changing progress in tackling the disease.
The inscription reads: "Shamilla Mirza loved sitting here….and still does thanks to advances in cancer research."
The bench was revealed to launch the 'Re-Write Cancer' campaign – a £20m joint fundraising appeal from Cancer Research UK, The Christie Charitable Fund and The University of Manchester.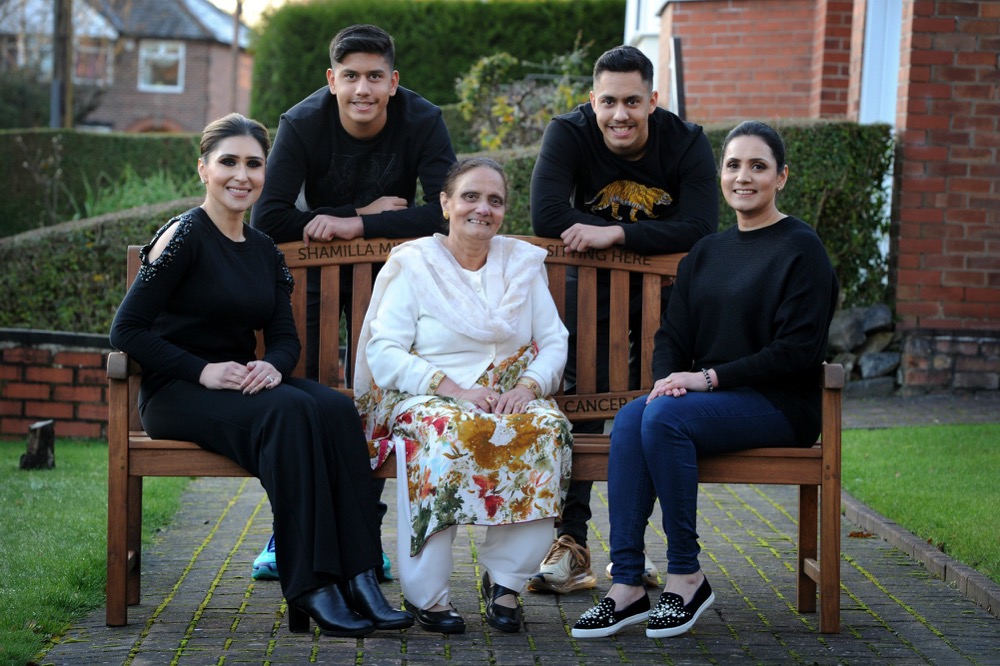 The campaign aims to help meet the cost of a new £150m cancer research facility. The new building will bring together the largest concentration of scientists, doctors and nurses in Europe to collaborate and accelerate progress for cancer patients.
The world-class facility is due to open in 2022. Adjoining The Christie NHS Foundation Trust, it has been purposefully designed to foster collaboration and speed up progress on behalf of cancer patients in the North West and across the world.
Shamilla's bench will be installed in Heaton Park where she enjoyed spending time during her recovery from cancer.
Shamilla, who works at a Tesco store, credits her family for their unparalleled support which gave her the strength to face the disease. Her mother Arshad Mirza and sister Nabila Mirza still attend every follow-up medical appointment with her.
Her two sons Zakir Baig Mirza, 16, and Zain Baig Mirza, 18, have also proved to be a great source of comfort.
She said: "I can not thank my family enough for giving me the courage to face the disease and get on with the treatment.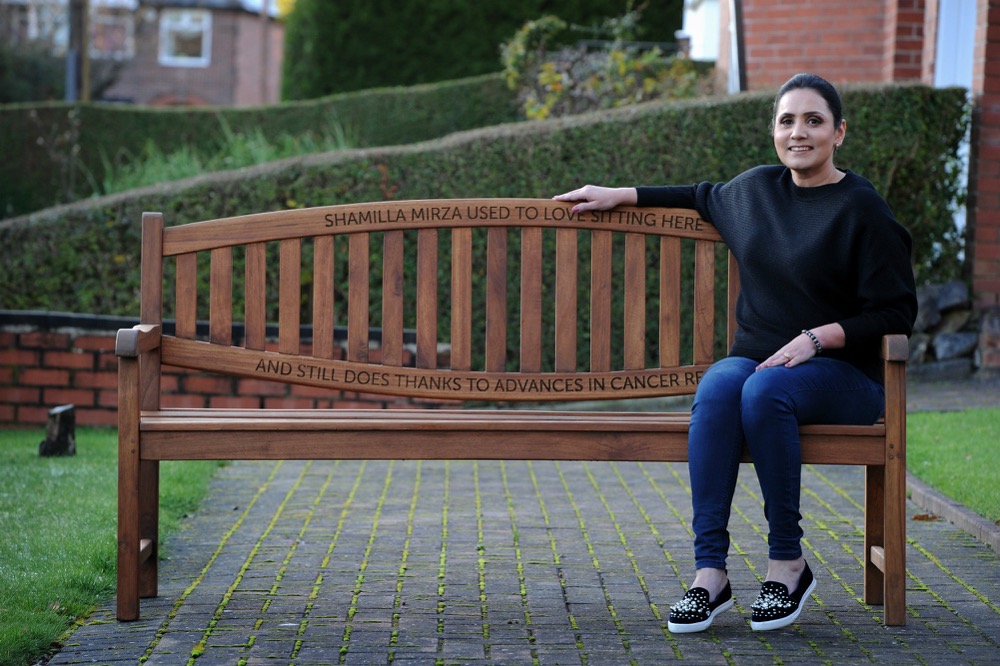 "Plans for the new research building sound exciting and it's amazing that such a world-leading facility will be built on my doorstep in the North West. Research into cancer is the key to changing lives now and in the future. Without it I simply wouldn't be standing – or sitting – here today."
The new purpose-built biomedical facility will house several hundred members of staff and attract collaborators from far and wide. Its adjoining of The Christie will enable cells and samples from cancer patients to be taken to the research lab in a matter of minutes – facilitating world leading research which will lead to new cancer treatments.
Manchester is a place of world-firsts in cancer research, including the first clinical use of Tamoxifen for breast cancer and the first single harvest blood stem-cell transplant.
Cancer cases in Greater Manchester are significantly higher than anywhere else in the UK – every day 18 people die from the disease in Greater Manchester. This amounts to 6500 people a year – making the death toll around 10 per cent higher than the UK average.
Cancer Research UK chief executive, Michelle Mitchell said: "I'm thrilled at plans for the new research facility.
"We're in a 'golden age' of cancer research, with survival rates having doubled over the past 40 years. This has largely been driven by improvements in treatments and early diagnosis, but we still have a long way to go in the fight against the disease.
"By 2030, the building will be at the heart of our ambition to lead the world in clinical trial recruitment – supporting the development of new and kinder cancer therapies."
Roger Spencer, chief executive at The Christie, said: "This is a hugely exciting time for The Christie and its partners.
"We have an opportunity to create a truly unique research facility integrated within the hospital with scientists, researchers and consultants all working together in one place, developing and shaping treatment and research from basic scientific discoveries through to patient care. It will ensure our patients receive access to the very latest personalised and innovative cancer treatments alongside world-class clinical and scientific expertise."
President and Vice-Chancellor of The University of Manchester, Professor Dame Nancy Rothwell said: "As an institution and research community we were all deeply saddened by the fire of 2017, but the scope and vision outlined for the new project is very exciting. It is matched only by our ambition to enhance Manchester's reputation as a world-leading centre for cancer research.
"With our partners, Cancer Research UK and The Christie, we genuinely believe this facility will be at the epicentre of some of the world's most important cancer-related innovations in diagnosis, treatments and clinical trials."
Cancer Research UK, The Christie NHS Foundation Trust and The University of Manchester have worked together for more than a decade under the umbrella partnership of Manchester Cancer Research Centre (MCRC).
Cancer survivor Shamilla Mirza with commemorative bench

Cancer survivor Shamilla with sons (L-R: son Zakir Baig Mirza, Shamilla Mirza, son Zain Baig Mirza)