Opinion piece by Abbas Salihu – Vice Chair of the Armed Forces Muslim Association
Before I joined the Army, I was unsure that I would fit in as a black man.
I had always wanted to join the army, ever since I was a young boy. I loved the idea of serving for your country, just like my grandfather who fought during the WW2.
I remember learning in history class at school that men of all nationalities and backgrounds served in both World Wars alongside British soldiers and I thought, 'I could be one of them'.
Despite initial concerns from those around me, I was excited to join the army. During my training, I was the first black solider appointed as Captain of the Army Judo team.
When I look back, it was completely unheard of, but at the time, I was so pleased that the only barrier to my progression was my own motivation and determination to succeed; nothing else.
I thought that the colour of my skin would be a challenge, but that was not who I was known for being, instead, I was Abbas the Captain of the Army Judo team.
I was 20 years old when I joined, and in the part of London where I grew up, racism was arguably at its peak. This experience and exposure to it only strengthened my determination to be part of something great, to prove to others that hard work and patriotism isn't something determined by the colour of your skin.
"If it were not for people like my grandfather, and other black soldiers who fought for equality, we would not be enjoying the value of freedom today."
Recent campaigns over the past few years suggest that the general public are unaware of the contribution made to British Armed Forces by those from diverse faiths, nationalities and heritage.
400,000 Muslims fought in WWI, whilst 2.5 million Muslims supported the allies during WWII. It is vital that this is recognised as we continue to commemorate our fallen soldiers year on year.
If it were not for joining the Armed Forces, I would not have met what I consider my second family – the Armed Forces Muslim Association (AFMA), who provide incredible support and I am proud to be part of a strong network of serving Armed Forces personnel.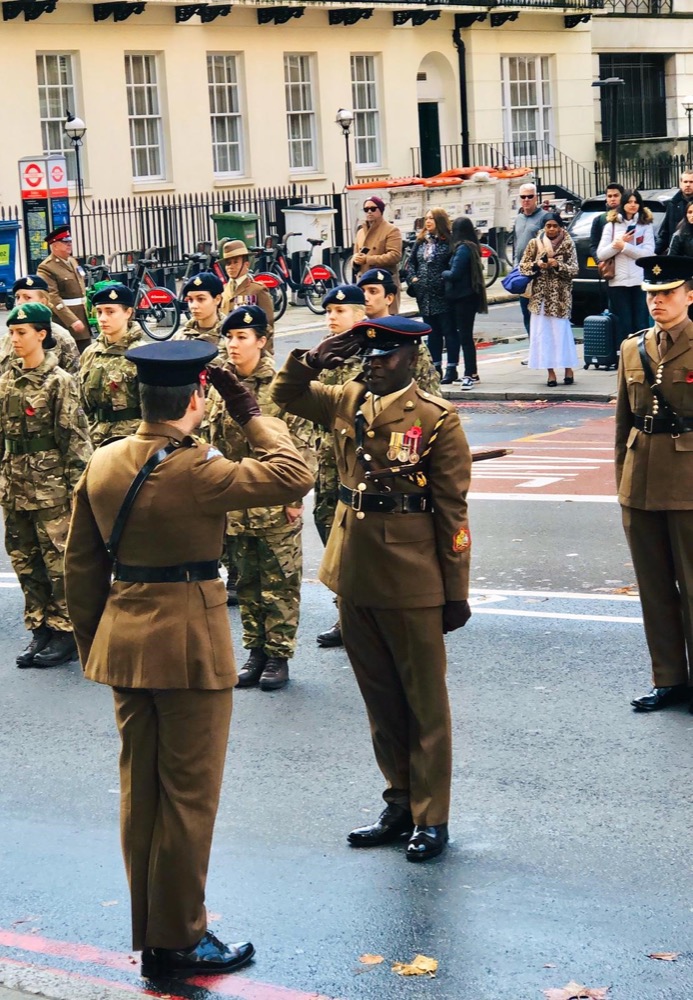 I was proud to commemorate those that fell for our country on Remembrance Sunday, parading at St Pancras Parish Church and at the War Memorial outside Euston Station.
Fellow members of AFMA were also showing their respect across the country, many at the Cenotaph in London, and the National Memorial Arboretum in Staffordshire.
We all felt connected to the service because there was a strong and powerful recognition of our predecessors who sacrificed their lives with the added responsibility on us to continue their legacy.
Being in the Armed Forces is full of challenges and is a job like no other. Having to be away from my family for long periods of time when I was on operational tours was the biggest challenge I have had to overcome.
We are more than aware of the headlines and perceptions of the Armed Forces, especially considering reports in the media about institutional racism. However, I can honestly say for me personally that 16 years later this has not been an issue.
I believe the service is committed to incorporating diversity and representation with different backgrounds, faiths, beliefs, genders and sexual orientations protected. I take great pride in seeing first-hand how the Armed Forces has a zero tolerance policy, and strives to uphold the ultimate standards of respect. Racism has no place in the Army.
The future for soldiers like myself in the Armed Forces is exciting. I look forward to seeing the representation of minority groups grow because regardless of anyone's colour, race or religion, serving for your country is a unified achievement.
To find out more about the Armed Forces Muslim Association please visit: https://afma.org.uk/