A father-of-two who was initially diagnosed with tension headaches by doctors, discovered he had a rare inoperable cancerous brain tumour after a self-funded private consultation.
Amanpal Uppal, 35, fondly known as Pali, started experiencing short headaches in April this year and was referred for a CT scan and blood tests. He went to A&E but the CT scan was not carried out and was, instead, sent home simply diagnosed with suffering from 'tension headaches'.
As he had never suffered any health problems before, his family urged him to book a paid-for private scan as soon as possible.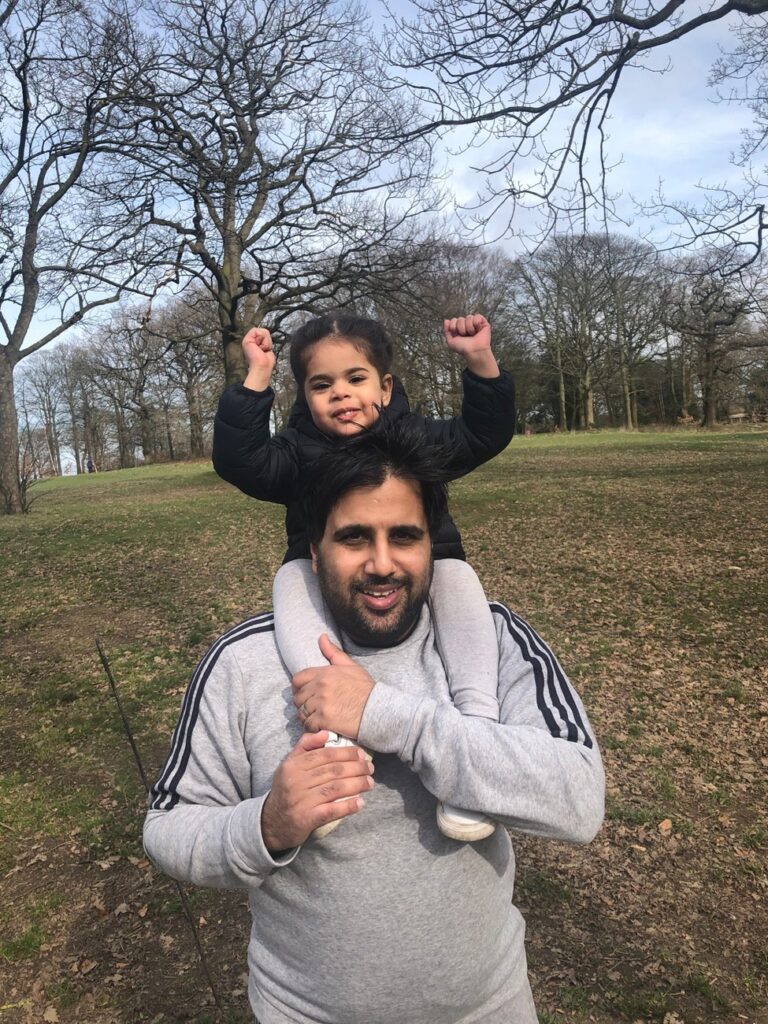 The private scan revealed a mass on his brain, and was immediately rushed to hospital for further tests. He was eventually diagnosed with a stage 4 Diffuse Midline Glioma brain tumour.
Elder sister Kiren Sirha says the lives of their whole family changed when Pali started suffering from headaches around April this year.
"My father and husband went to pick Pali up after his private scan because he was told it wasn't safe for him to drive. They rushed him to A&E, and within a few hours neurosurgeons told us brain surgery was necessary the next afternoon."
During surgery, the fluid on the brain was syphoned off using a procedure called ETV, and a biopsy of the mass was taken from the back of the brain.
Pali spent the next six days at Leeds General Infirmary, alone, without his family by his side due Covid-19 restrictions in hospital.
Having endured numerous scans, brain surgery was followed by staples in his head, and difficult conversations with medical professionals all by himself.
He coped amazingly well and was finally discharged to go home to his wife Jas, and two little girls – one-year-old Mia and three-year-old, Millie.
"The following week, we received the results of his biopsy – the worst news yet," adds Kiren.
"The biopsy revealed a cancerous tumour called Diffuse Midline Glioma, Grade 4 H3K27M mutation.
"This is a highly aggressive tumour that is particularly resistant to conventional treatment. Due to the position and depth of the tumour in the brainstem doctors concluded that, at present it would be inoperable.
"However, Pali started the standard treatment of advanced radiotherapy for a period of three weeks from the end of June.
"Those three weeks were the most gruelling any of us have ever experienced and the effects of radiotherapy have hit Pali hard."
The past few months have been very distressing for Pali's family and friends. It has become challenging for them to see their beloved Pali endure weeks of radiotherapy and the debilitating side effects that have followed.
"Pali is our world, he is the rock of our family as a father, husband, son, brother and dear friend to so many. He has a heart of gold and never fails to put others before himself, he is our inspiration every day, we are so proud of him," Kiren says.
After discussing treatment options with Pali's medical team, it has been concluded there are very limited treatment options available in the UK.
Upon research and conferring with oncologists, Pali and his family were told trial drug ONC201 could be the most effective treatment for his specific tumour as well as an immunotherapy treatment in Germany.
However, ONC201 could not be funded by the NHS. So now, the family are trying to raise the funds for the treatment themselves.
"We are determined as a family to go above and beyond the NHS to fund Pali's treatment," says a determined Kiren.
"There are so many more treatments available worldwide. It's such shame that the UK is so behind on research and treatments when it comes to anything related to brain cancer – almost 40 years behind in research!
"ONC201 is a Phase II trial drug in Germany which can fight the exact mutation of Pali's tumour, it has shown very promising clinical results.
"The drug alone will cost £5,000 per month and, if effective, will require long term use. The medication, along with doctors consultations and other potential treatments such as, immunotherapy in Germany which will range around £60,000 per treatment.
"It is vital that we raise money for Pali's treatment as this is the best treatment for him and will directly fight and shrink his tumour with fewer side effects.
"Hopefully, once the tumour, has shrunk, and is stable, we hope Pali can have surgery to remove it. We've researched into this, and places like India/Hong Kong/Malaysia who are much more advanced, are willing to carry out such a surgery – something which is not available in the UK.
The family have set up a GoFundMe page under 'Fight4Pali #TeamPali', where they have currently raised £65,000 of the £120,000 needed.
"These innovative treatments are all very costly and far more than we can afford as a family," adds Kiren.
"We are therefore asking you to kindly support our efforts to obtain this life saving treatment by contributing to this page. This really is the only option we have and wouldn't be able to do this without your support.
"Any donation is much appreciated, this treatment is our only option and we can't stress enough how much your donation counts.
"We as a family will do whatever it takes to help him and we can't thank you enough in advance for becoming a part of our extended family and joining us in our fight #TeamPali."