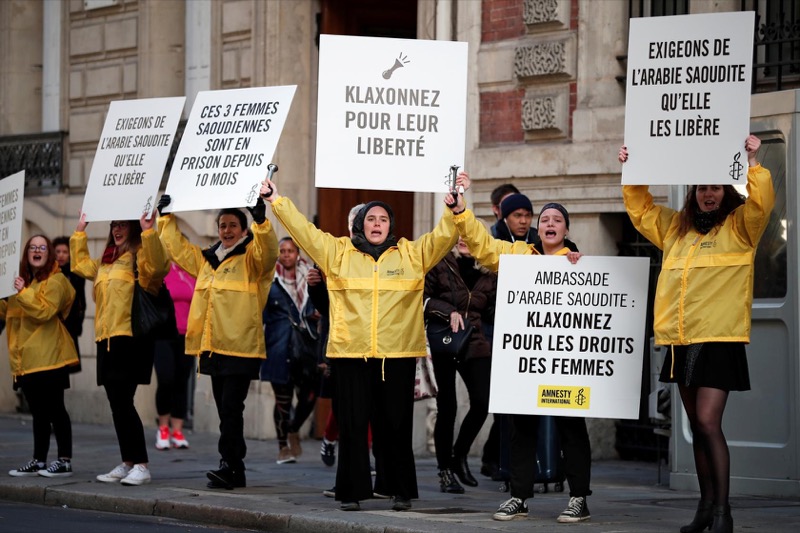 Reporters were banned from entering the courtroom as eleven female Saudi Arabian activists attended the latest hearing of their trial. Their charges, which have not been made public, relate to their human rights work and social media blogs and posts.
Foreign diplomats and representatives of media were marched out from the building despite petitioning the authorities to attend the trial.
To date, 36 countries, including all 28 EU members, Canada and Australia, have called on Riyadh to free the activists.
The Saudi Arabian public prosecutor's office previously announced that the group of women arrested undertook "coordinated activity to undermine the security, stability and social peace of the kingdom".
The charge sheets for two of the detainees that Human Rights Watch were able to obtain and examine, relate to human rights work, including promoting women's rights and calling for an end to Saudi Arabia's male guardianship system.
Among those arrested in a sweep that began in May 2018 were the rights campaigner Loujain al-Hathloul, the university professor Hatoon al-Fassi and the blogger Eman Al Nafjan, all of whom had participated in campaigns for the right of women to drive.
The activists were detained a few weeks before the ban on women driving cars in Saudi Arabia was lifted in June 2018 under efforts to relax social rules and boost the economy.
Some of the charges fall under under an article of the kingdom's cybercrime law stipulating jail sentences of up to five years.
Human rights groups have urged Crown Prince Mohammed bin Salman, who promised to modernise Saudi Arabia, to consider acquittals or pardons for the women.