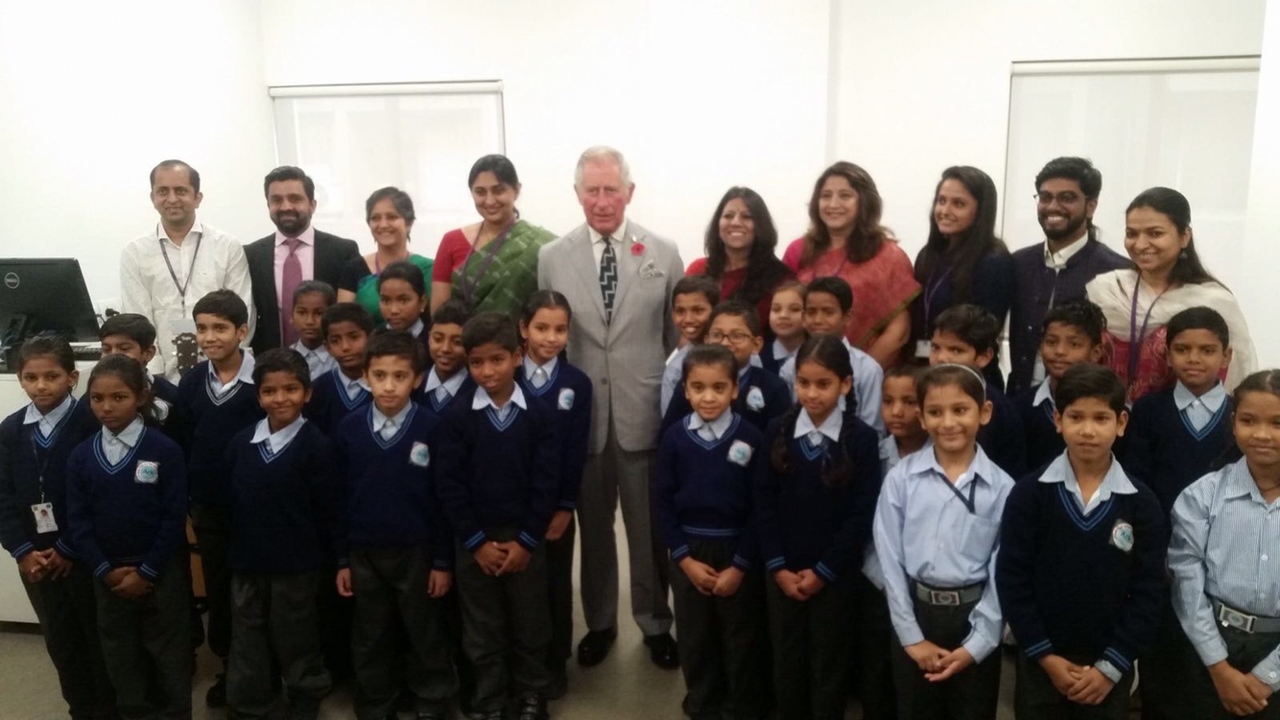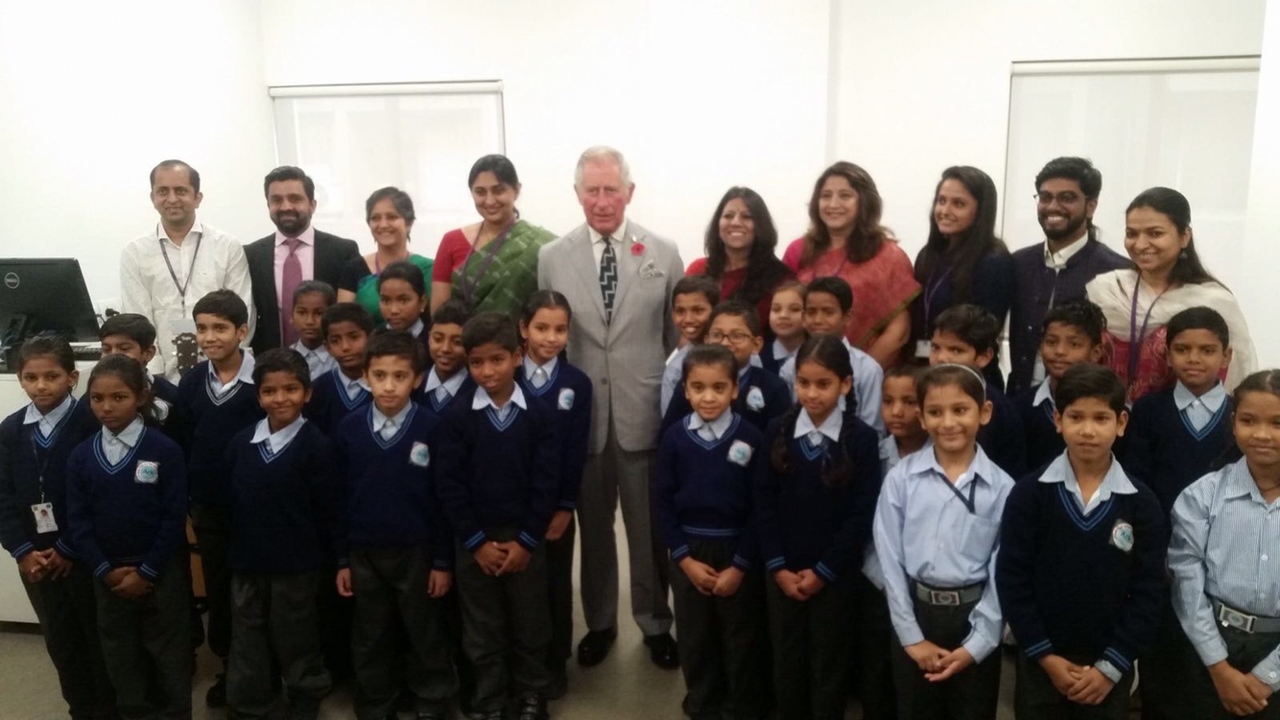 His Royal Highness, The Prince of Wales – Royal Founding Patron of the British Asian Trust – met children from the SDMC Lajpat Nagar-III school – a partner supported school – and participated in a Development Impact Bond (DIB) round table at the British Council in New Delhi today.
Quality of education has always been important to the British Asian Trust and to build on this momentum, the Trust is developing a $10 million Education Development Impact Bond (DIB) for India which was discussed during a round table event with The Prince of Wales.
This performance-based mechanism will unlock new impact capital to replicate and scale effective education interventions and create a paradigm shift in education financing in India.
While school enrolment numbers in India are high at 96%, quality of learning remains poor.
Less than 50% of children in grade 5 can read at grade 2 level Hindi text (Annual Status of Education Report 2016, ASER Centre). By using the DIB model of funding, British Asian Trust is pushing boundaries and finding innovative ways to achieve impact.
Innovative financing is a relatively new concept for the philanthropy sector, which has long relied on traditional means of grant funding. The British Asian Trust believes the very best of Government, private markets and civil society can find new solutions to the most difficult social problems and create greater impact from every unit of money spent. The radical approach is the first of this size for the education sector in South Asia.
Manoj Badale, Chairman, who accompanied The Prince of Wales on the visit said, "The British Asian Trust's $10 million Development Impact Bond is designed to improve learning outcomes for over 200,000 marginalised children in India.
"In Rajasthan, Gujarat and Delhi it will catalyse a system level change that could ultimately benefit millions of children."
Richard Hawkes, Chief Executive of the British Asian Trust, who joined The Prince on his India visit and participated in the DIB round table said, "In India, the DIB will provide funding to four local not-for-profit delivery partners over four years, delivering a range of operational models including principal and teacher training, direct school management, and supplementary programmes.
Moreover, the DIB Outcome Fund, being convened by the British Asian Trust, will only be paid when and if the target learning outcomes are achieved. Some formal commitments have been made towards the Fund"
Hawkes concludes, "At the heart of our programme strategy is a real determination to continue applying business principles to the work. We are convinced that only by applying these to philanthropy and to development are you really able to meet the needs of the greatest number of people. That is why we are incredibly excited about social impact investing and the DIB that we have been working on."
Amitav Virmani, CEO of The Education Alliance who is working with the SDMC Lajpat Nagar III School run in Partnership with Peepul said "We have seen the tremendous difference that this partnership approach has made to the quality and rate of learning across 30 such SDMC schools. We are eager to see further innovative approaches to education succeed in India. I am really encouraged by plans for this Education Development Impact Bond and the scale of change it promises."
British Asian Trust's NGO Partner, The Education Alliance (TEA) introduced the concept of government- partnership schools to the South Delhi Municipal Corporation (SDMC), whereby the government and NGOs work closely together to catalyse improvements in learning. This programme supported by The British Asian Trust started with 1 school and 9 children in 2015, has now expanded to 30 schools and 5000+ children, and has so far shown that engagement with government schools provides a sustainable model for long-term provision of quality education to disadvantaged communities.
The $10 million Education Development Impact Bond has been developed by the British Asian Trust together with UBS Optimus Foundation. The British Asian Trust will also be working in partnership with DFID who will contribute technical assistance and insights to the project.