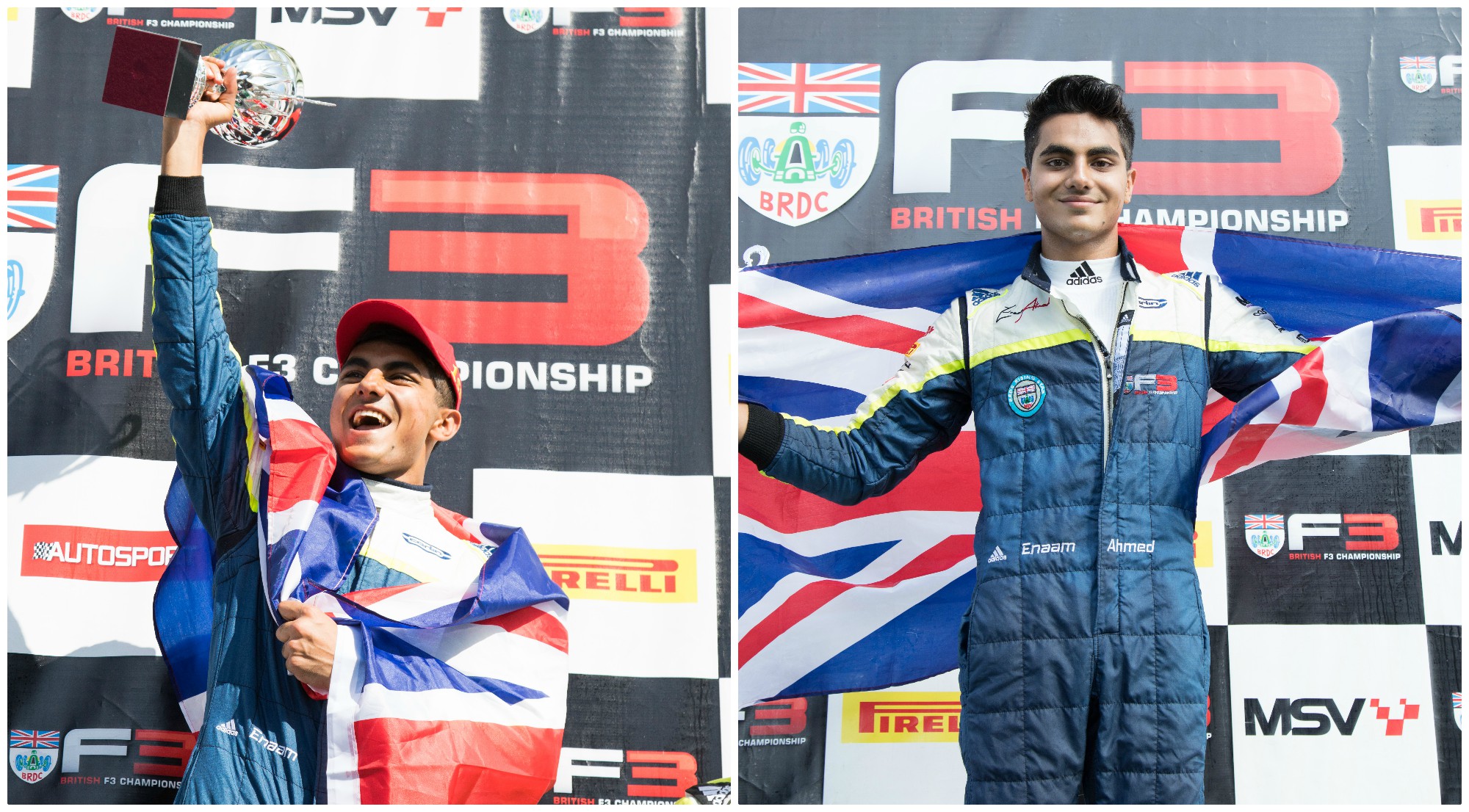 Whiz kid racing car driver eclipses Lewis Hamilton on his quest for F1
It has been a sensational year for 17-year-old racing car driver Enaam Ahmed, a season which has incredibly seen him eclipse the feats of superstar F1 driver Lewis Hamilton.
The F3 prodigy has dominated the field in British F3 this year where he became the 2017 BRDC British Formula 3 champion, winning an impressive thirteen titles in the season to surpass the Formula One Legend Ayrton Senna's win record.
The late great Senna won an impressive twelve F3 titles back in 1983, but Ahmed has eclipsed this with his thirteen wins, finishing the year as he started it with yet another victory.
Enaam's history making didn't stop there though he etched himself further into the record books as he managed to achieve the highest ever points tally in British F3 history, as he achieved a stunning 654 points, which was 164 points better than his nearest challenger. This another record for the amazing Ahmed as it is the highest points difference in history between first and second.
Enaam secured his title with three races to spare and his record breaking season saw him crowned the youngest ever British winner F3 champion and he was also awarded the 2017 Jack Cavill pole position cup for the most poles with eight throughout his stellar season.
Enaam who was previously a success in karting where he was the youngest driver to win both the World and European KF3 Junior Championships in the same year when at the tender age of fourteen, surpassing his idol Lewis Hamilton's feat who won it when fifteen.
Reflecting on his incredible season and feats the racing protégé isn't getting carried away and just wants to focus on getting better and realizing his dream of being an F1 driver he said: "This year went really well, it wasn't an easy thing to do.
"I worked with the best team (Carlin Motorsport), who were phenomenal with me and I couldn't have done what I did without them. We all worked really hard as a team together to perfect my car to every fine detail and I am really happy to win the British F3 title.
"I am set to compete next year in the FIA European F3. This will be a huge step up for me and I am under no illusions, it will be very tough.
"Winning the British F3 title was good, but I didn't really celebrate it too much I wasn't really phased by it because I'm not going to stop now.
"I am hungry to achieve more and pit myself against the best from around the world, and to do this I need to continue to work hard, there are lots of very talented drivers out there all over the globe, I would definitely celebrate winning the European F3 title, but to do this I need to work on every fine detail.
"My team and I are all winners, we are a very motivated group, my focus is to keep working hard with my team to get to that next level."
The 17-year-old has the world of racing at his feet, and his exploits this year have already seen people compare him to British f1 superstar Lewis Hamilton but Enaam isn't letting this phase him he said:
"To be compared to the likes of Lewis Hamilton is incredible but I'm only young and I have a long way to go yet, there is a lot of good talent out there and I feel I am ready to test myself against the best at my level of racing.
"It was watching Lewis Hamilton that got me into racing, it was his championship win in '08' that got me interested, his win made me want to try racing, so I started go karting a bit like Lewis did and it's just gone from there really."
Enaam has now set his intentions on becoming an F1 driver and is putting in the hard work to achieve his dream he explained
"I am focused full time on racing and committed to racing now, travelling around the world, working with mechanics, it is what I love to do despite the long hours, I left school once I finished my GCSE's.
"My parents have been really supportive from the start, they get scared from time to time but they stay out of the way and let me do what I need to, they have been brilliant.
"My sponsors have also been brilliant and really helped me get to this point, with the focus being on me and what I need to do.
"I work with Carlin Motorsport and have for over a year and a half now. They are the best team to work with, we are like a family we are all brothers in arms."
Ahmed went on to explain his love of the sport and what he gets from racing he explained:
"I love racing because I like pushing myself beyond what I think is possible, being brave in a racing car, it's not easy at all turning around those corners at such high speeds, I like facing my fears going well over the limit and defying physics, I often surprise myself with what I can do."