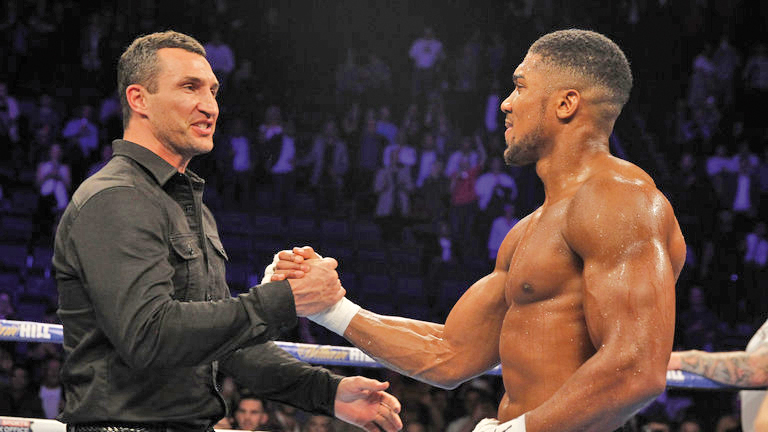 Nearly every person that I have spoken too in the last couple of weeks from casual sports viewer to the hard-core boxing fan has been talking about the Anthony Joshua vs Wladimir Klitschko fight taking place this weekend.
I have not seen so much anticipation and discussion about a boxing match-up since Mike Tyson faced Britain's loved boxing icon Frank Bruno.
This fight is without doubt the biggest fight in British boxing history and with a 90,000 capacity crowd at Wembley and tickets being sold in the black market for up to £1,000; this will definitely be a night to remember.
Joshua will be defending his IBF heavyweight title and hoping to capture the vacant WBA strap in the process.
Joshua in an interview recently stated that he no longer dreamt of fighting in America and believed that UK is now bigger in boxing terms:
"Britain is always overlooked. People said, 'You have to go to America to be respected'.
"No, not any more. You come here, you come and fight us. That's what I like and it's amazing how the tables have turned.
"British boxing is booming at the minute. And not just me, the younger fighters coming up are phenomenal fighters as well."
Joshua added: "Look at the deal they just managed to pull off in America with HBO and Showtime.
"I haven't even had to have a fight in America, so I don't think it's that important to have to go to America to make it bigger than what it is already.
"It speaks for itself. Lewis-Tyson was in Memphis, Pacquiao- Mayweather was in Las Vegas. I've never fought in America and they have done a deal for the third time in history. It shows how massive British boxing is."
Joshua is referring to deal that American Broadcasters HBO and Prime Time have agreed with both Joshua and Klitschko and both channels will be televising the fight together for only the third time in the history of the sport.
Joshua has been looking "awesome" in previous fights and I do not see any of the current heavyweights being able to topple the British heavyweight power house.
However Klitschko is the former undisputed heavyweight king who has recently looked rejuvenated and hungry to gain his world titles he lost against Tyson Fury. He has studied Joshua's boxing skills for several months before agreeing to this fight and feels he has the upper hand entering into this bout reminding everyone that Joshua was his previous sparring partner.
There is no heavyweight fighter on the planet that can match Joshua for boxing power and speed, but Klitschko despite his recent loss to Tyson Fury is probably still the most experienced and technically the best boxer out there.
In my opinion Joshua is the modern day version of Kid Dynamite Mike Tyson who would usually win fights against his opponents before a punch was thrown as his opponents looked terrified by just his presence in the ring. I think something similar happened to Molina in Joshua's previous fight as he was on the run from Joshua from the opening round; he looked terrified and did not want to engage in the fight.
Joshua has learned fast in the professional ranks and is now much more patient and methodical in his attacks and that was evident from this bout with Molina. Joshua used his long left hand jab to break through Molina's defence and then the heavy right hand shots with spit-fire accuracy and power.
The older but talented heavyweight Klitschko is now the veteran fighter in boxing terms and will be eager to prove that the Fury loss was just one bad day in the office where he just did not manage to punch back until the 12th round at which stage Fury had won the fight. I'm expecting a different fighter against Joshua and if there are any flaws in Joshua's boxing skills then Klitschko will expose them.
Kiltschko vs Joshua is a make or break fight for both men.