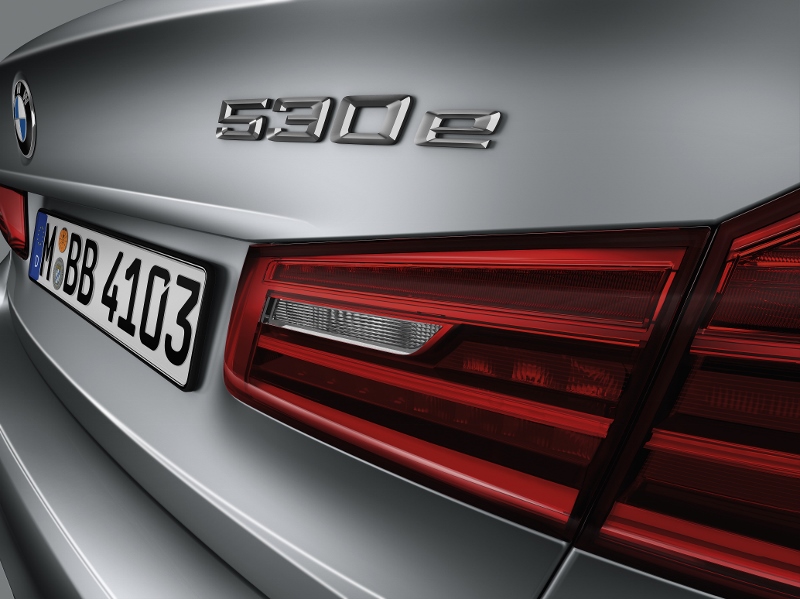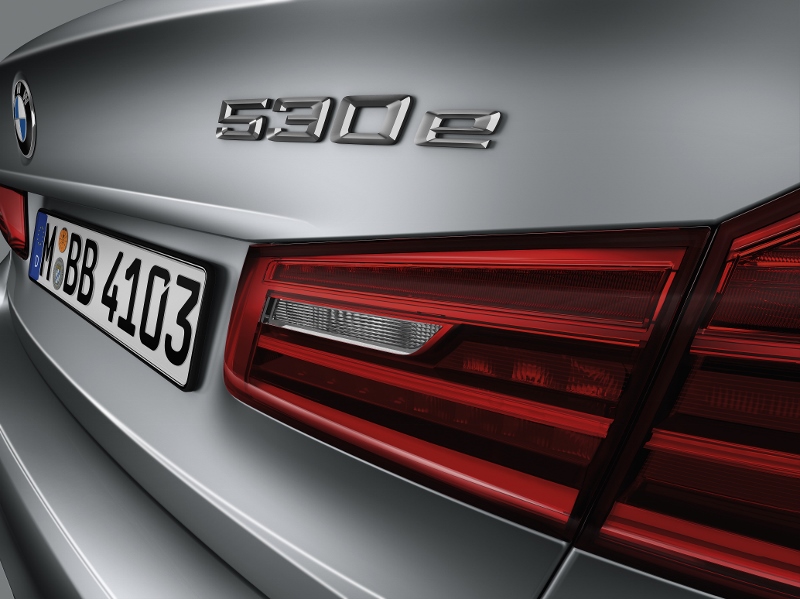 Okay, so it's not the plushest executive car, nor the sportiest and BMW has ditched 50/50 weight distribution for its 530e iPerformance, which raises an eyebrow or two.
The new 530e iPerformance plug-in hybrid comes with a 182bhp 2.0-litre four-cylinder petrol engine up front and an 111bhp electric motor sitting where you'd normally find a torque converter for the eight-speed automatic gearbox. It's got a 9.2kWh battery pack under the rear seats that can be charged in less than three hours, and a 46-litre fuel tank over the rear axle. The weight distribution has ended up at 47% front, 53% rear instead.
Still, with the standard G30 5 Series being such a beautifully balanced machine, what difference will a slightly weightier bottom make? Performance, both the green and the grunt kind, appear solid.
Claimed CO2 emissions are as little as 46g/km, while combined fuel economy is 141.2mpg. Yet, as anyone with a cursory knowledge of hybrids will tell you, you'll be catching fairies before you achieve those figures in the real world.
Perhaps more representative, then, are the claimed 0-62mph sprint time of 6.2sec and 146mph top speed – or 87mph on electric power alone. Incidentally, due to system losses, that's from a combined power output of 249bhp.
Is the 530e the ultimate combination of performance and parsimony, then?
Start off in all-electric Max eDrive mode and it's a magnificently quiet car, but its modest performance is best suited for crossing town rather than country. The claimed 31-mile range disappears alarmingly quickly at motorway speeds, too.
Switch to Auto eDrive mode and the petrol engine kicks in when required. At gentler speeds the transition is smooth, but bury your foot hard to the accelerator stop and it's less sublime, with a consistent two-second delay as the gearbox sorts itself out, before the colourless but largely unobtrusive background buzz from the engine kicks in.
Pace is good, mind. There's enough of it to breeze you past bumbling trucks on a B-road, or carry you easily into three-figure speeds on an autobahn.
On turn-in, there's more body lean than you'd get in the lighter, conventionally powered models, but despite the uneven axle mass, there's still a decent balance.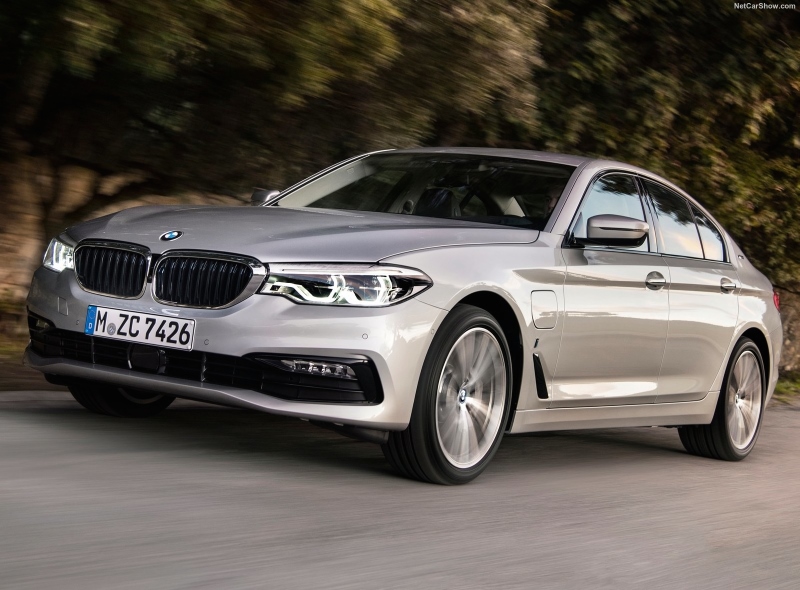 The steering is the biggest disappointment. There's not enough weight build-up as you crank on lock, so you're always making little corrections to keep the trajectory correct; it's a far cry from the intuitive helms of the other G30 models we've driven.
So is the mild thudding over ruts in the road and the fidget at high speeds, even with adaptive dampers fitted. Again, this may have been down to the tyres, but equally, it could be the stiffer springs used to counter the heavy battery. Meanwhile, the regenerative braking delivers a less progressive middle pedal, making it trickier to come to a smooth stop.
There's more to dent the 530e's credibility next to a 530d as well. The boot, which is a good-sized 530 litres in the diesel (or the petrols, for that matter), is smaller, because the repositioned fuel tank eats into the space. Now 410 litres overall in the 530e, it's the restricted height that will make it less capable when it comes to fitting bulkier items, such as a large suitcase.
Should you go for a 530e over a 530d, then? If you're a company car driver or the majority of your journeys are short and through town, maybe; you'll be able to utilise the electric motor effectively, so fuelling it will cost next to nothing.
---
Price £43,985 (less £2500 government grant)
Engine 4-cylinders 1998cc, turbo, petrol, plus electric motor
Power 249bhp (combined)
Torque 310lb ft (combined)
Gearbox 8-spd automatic
Kerb weight 1845kg
Top speed 146mph and 0-62mph 6.2sec
Economy 141.2mpg (combined)
CO2/tax band 46g/km,
---