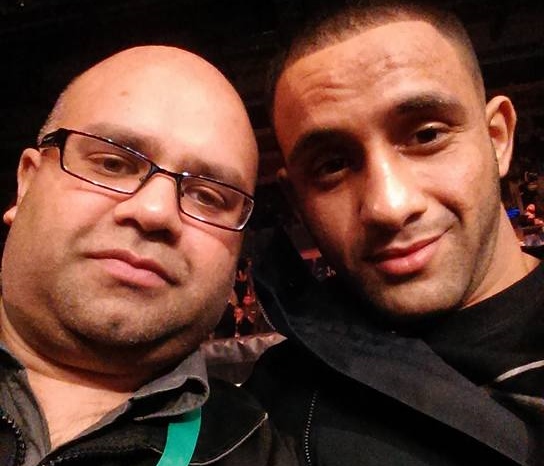 This past weekend it was a privilege to watch Britain's hottest boxing prospect, Sheffield's Kid Galahad (Abdul Barry Awad) in boxing action as he moved up in weight to the featherweight division to secure a win against late replacement Leonel Hernandez.
Galahad displayed his great arsenal of boxing skill and tremendous power to retire Harnandez at the end of round three with an eye injury.
Galahad, 26 years of age was due to face the experienced Joseph Agbeko, but the Ghanaian fell ill on the day of the fight leaving Harnandez to take on the skilful Galahad.
Galahad secured his 21st win with no losses and 12 KO's, with the fight against Hernandez proving an easy night's work as he landed powerful and hurtful body shots on his opponent at will with very little coming back from the Nicaraguan.
Galahad's continuous punishment inflicted on his opponent forced the referee to stop the fight in round three as Hernandez was unable to continue with the fight.
"I am sick and tired," of fighting inadequate opponents, said Galahad after the fight in reference to Hernandez who proved to be another easy win. Galahad is desperately seeking to challenge more harder opponent's in the future on route to world championship glory.
The world renown pound for pound best in world Andre Ward, who was commentating on the Galahad vs Hernandez bout, praised the Wincobank fighter and described the win as "responding like a champion to a late change."
There have been rumours in the past confirmed by world champion Carl Frampton that Galahad previously beat up former world champion Scott Quigg in a boxing sparring session, which is just one indication of this man's boxing ability and recognition of his boxing talent.
I have spoken to Galahad in the past and have much admiration for his boxing, showmanship and resilience both inside and outside the boxing ring. He is genuinely one of boxing's nice guys. I have no doubt in my mind that Galahad will go on and become a world champion as soon as the opportunity presents itself.