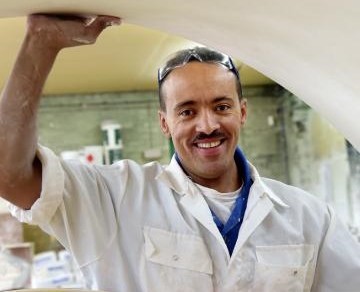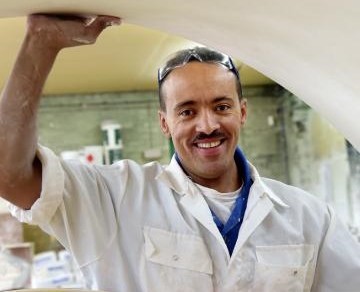 A former trainee on an innovative Leeds City Council heritage and construction skills programme has claimed a prestigious industry prize.
After finishing second last year in the national finals of the Construction Industry Training Board's Skillbuild Show while a participant on the council's 'Re-Making Leeds' scheme, Ameha Shewaye Bantiwered, 39, has now gone one step better and been named the winner in the 2016 category after again impressing the judges with his plastering skills.
Having now graduated from the Re-Making Leeds programme and secured a full-time job at Ornate Interiors, who were previously his placement provider, Ameha's success is another great example of how the scheme is providing meaningful skill training to people of all ages.
Funded by £810,300 from the Heritage Lottery Fund, Re-Making Leeds, which is delivered by the council in partnership with the Leeds College of Building and York College, offers trained professionals like Ameha the chance to further develop skills in heritage construction and short training courses and events for people to learn and up-skill.
Previously, Ameha had 13 years' experience working in the construction industry in Italy before moving to Leeds where he was earning a living as a pizza delivery driver whilst studying at Leeds College of Building.
Young people also have the opportunity to feature on the programme and take part in work-based training including; brick work, carpentry and joinery, stonemasonry, painting and decorating, lime mortar plastering and rendering, wall and floor tiling and specialist lead work.
Now in its third year, the 2016/2017 intake of trainees are now currently learning their craft with a range of placement providers.
Councillor Mohammed Rafique, Leeds City Council's executive member for employment, enterprise and opportunity said: "Since launching our Re-Making Leeds programme it has been fantastic to see so many of our graduates put the wide-ranging skills they have learned to excellent use and embark on a career in the heritage and construction industries.
"Ameha is a great example of what Re-Making Leeds can offer to trained professionals who are looking to re-skill, and it has made us very proud to see him named as a winner in this year's Skillbuild Show. This sits asides the opportunities that are also available to young people to take part in the scheme and learn their trade from a host of experts at our placement providers.

"Once again I would like to thank the Heritage Lottery Fund, our partners and of course our placement providers who have played such an important part in ensuring Re-Making Leeds is achieving such positive results."